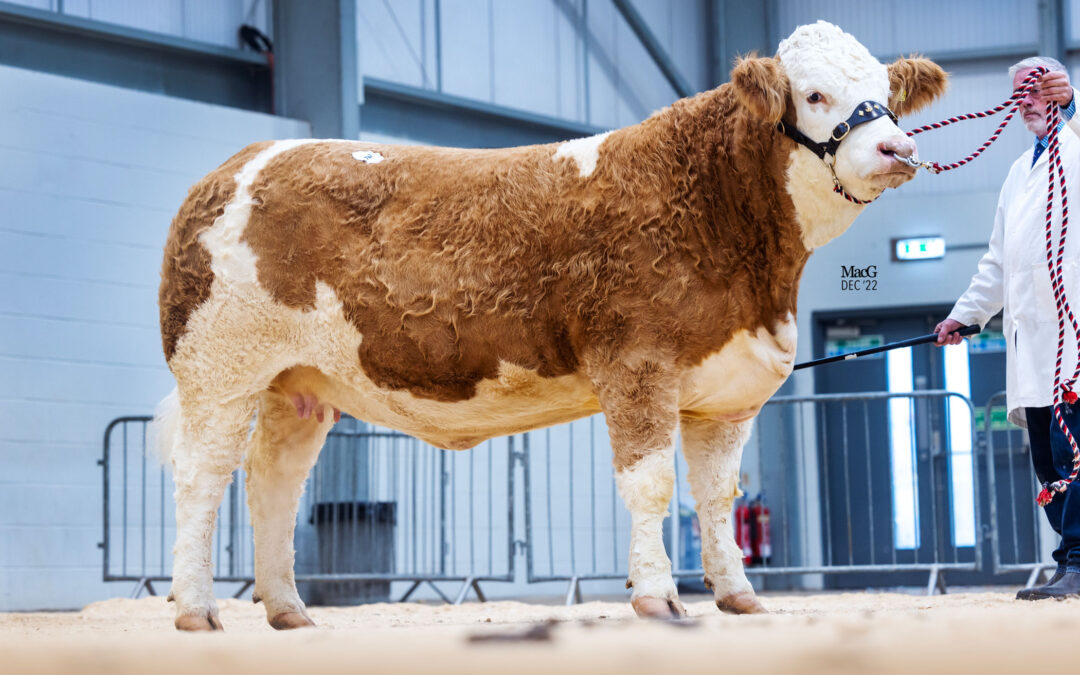 • 18,000gns a breed centre record price
• Heifers average £5202, up by £806 on the year, and a new breed centre record average
• Overhill House sells to 9000gns
• 8000gns Denizes Eve's Beauty 7th makes the top maiden heifer price
• Islavale leads the weaned calf trade at 6500gns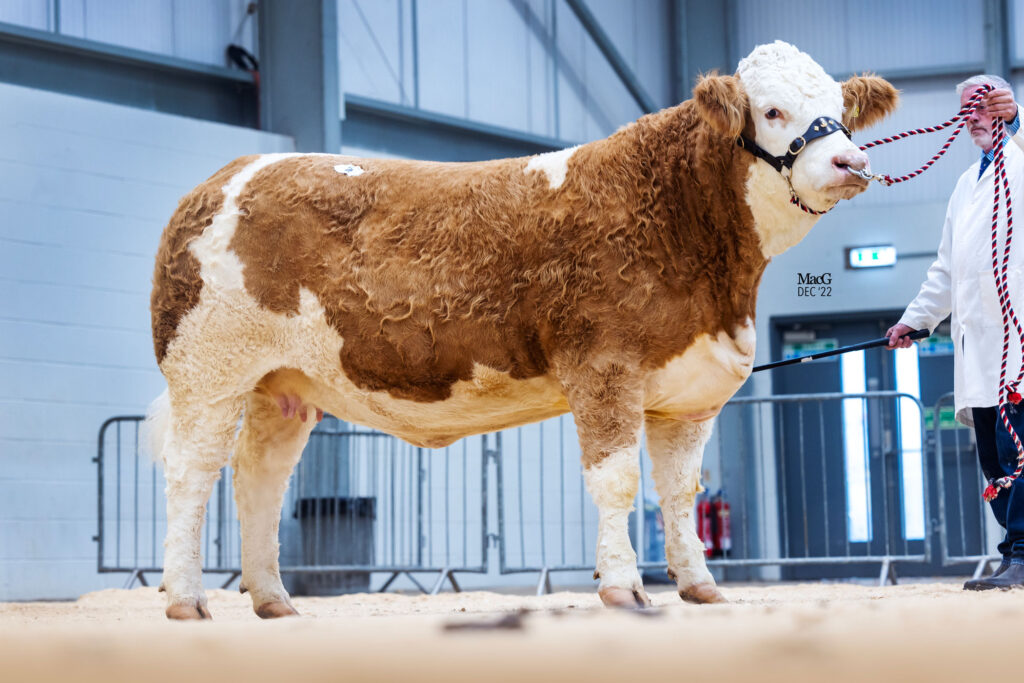 Jimmy & Kath McMillan, Bradwell Ash, Bury St Edmunds sold the in-calf heifer Brandane Lu Lu for 18,000gns to lead the second staging of Simmental Next Generation Sale of females and weaned calves at Carlisle's Borderway Mart on Friday 2nd December.

Getting the sale off to a fast start being the second lot in the ring, this upstanding February 2020 born heifer is by Sterling Gino and is out of Sterling Candy's FCUK. Purchasing the top price was Reece and Andrew Simmers for their noted Backmuir herd at Keith, Banffshire. Brandane Lu Lu is a full sister to Sterling FCUK Impuls who previously sold to the Backmuir herd for 13,000gns at Stirling in February 2019. At the inaugural Next Generation Sale last year, the Simmers bought the Female Champion, Islavale Lullaby and went on with her to win the Simmental Championship at the Royal Highland Show, and also the Simmental Scottish National Show. Commenting afterwards Reece Simmers, who watched the pre-sale show online and bid by telephone thereafter, said: "We saw Brandane Lu Lu at the Royal Highland this summer and we thought a lot of her sister who has identical breeding and who we purchased back in 2019. Brandane Lu Lu is just a quality heifer. She is powerful and has size but is sweet and feminine at the same time. We like the fact that she is due to calf to Atlow Dixon in January and that just gives you a bit of a quicker return. We are looking for ever improving quality over numbers in the Backmuir herd and just to add one or two in that vein when the opportunity arises." The Backmuir herd presently consists of approximately 80 pedigree cows.

The establishing Next Generation Sale II again saw some breed record marks set combined with new entrants to the breed buying some of the leading lots on the day. The 18,000gns top price was a centre record for the Simmental breed and eclipsed the 16,000gns price achieved at last year's sale. Twenty-two heifers sold to average a very healthy £5202 which was up by £806 on the year, and again a new centre record average for the Simmental breed. Fourteen lots in all made 4000gns or more and the sale saw a 74% clearance rate. Speaking after the sale, the British Simmental Cattle Society's General manager Iain Kerr said: "The Next Generation Sale is a fixture that the Society aims to become established and recognised for offering primarily Simmental females with style, quality, a depth of bloodlines, and full of forward potential. Quality is the key, and with the ready trade and averages for the heifers, I think this second staging of Next Gen is another positive step forward for the breed."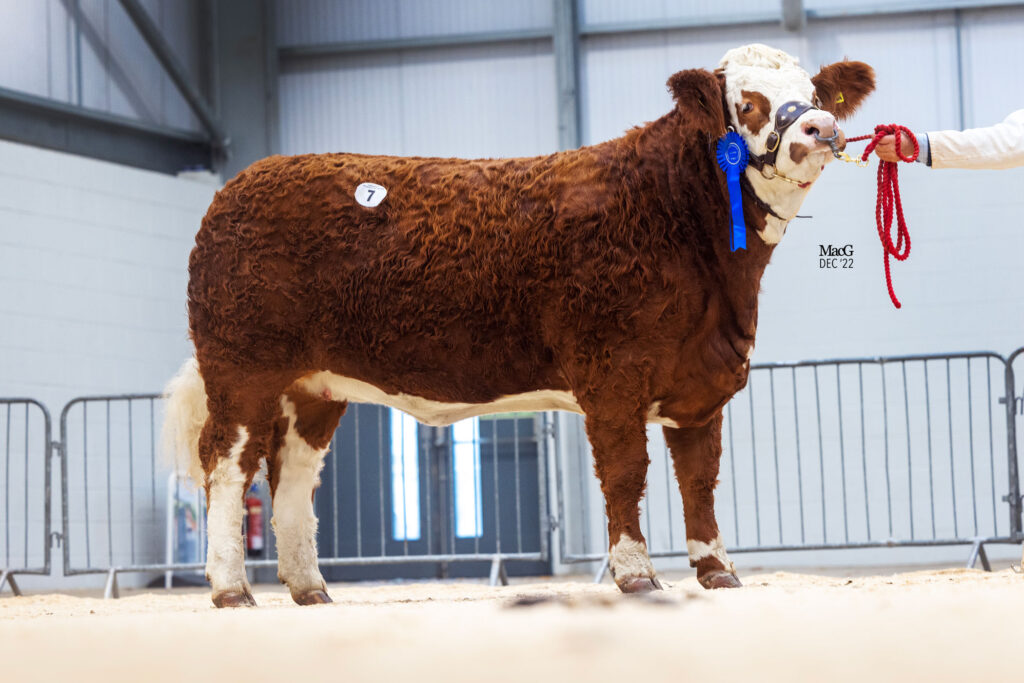 Richard McCulloch, Over Hill House, Armadale, West Lothian attained the day's second top price when selling Overhill House Luna for 9000gns. This December 2020 born heifer offered both quality and a depth of bloodlines being sired by Curaheen Drifter, who has had sons at 21,00gns and daughters to 17,000gns, and being out of Woodhall Bliss, a daughter of the noted Annick Talisker. PD'd in-calf to the herd's 26,000gns Pistyll Kingsman, this combination of breeding and performance saw Overhill House Luna being snapped up by D&R Holdings, Low Bowhill Farm, Newmilns, Ayrshire. New members to the Society but longer term supporters of the Simmental breed, D&R Holdings have previously bought Simmental females privately from the Corskie herd. Later in the day the same purchasers snapped up the January 2022 born Overhill House Nancy for 6000gns, and the second top price in the weaned calf section. Earlier this young heifer had placed second in her class to the Champion Weaned Calf in front of the judge Chris Weatherup from the noted Lisglass herd, Ballyclare, Co Antrim. Overhill House Nancy is by the herd's 24,000gns stock bull Islavale Heston, and is out of the Mohona Fletcher sired Overhill House Isla.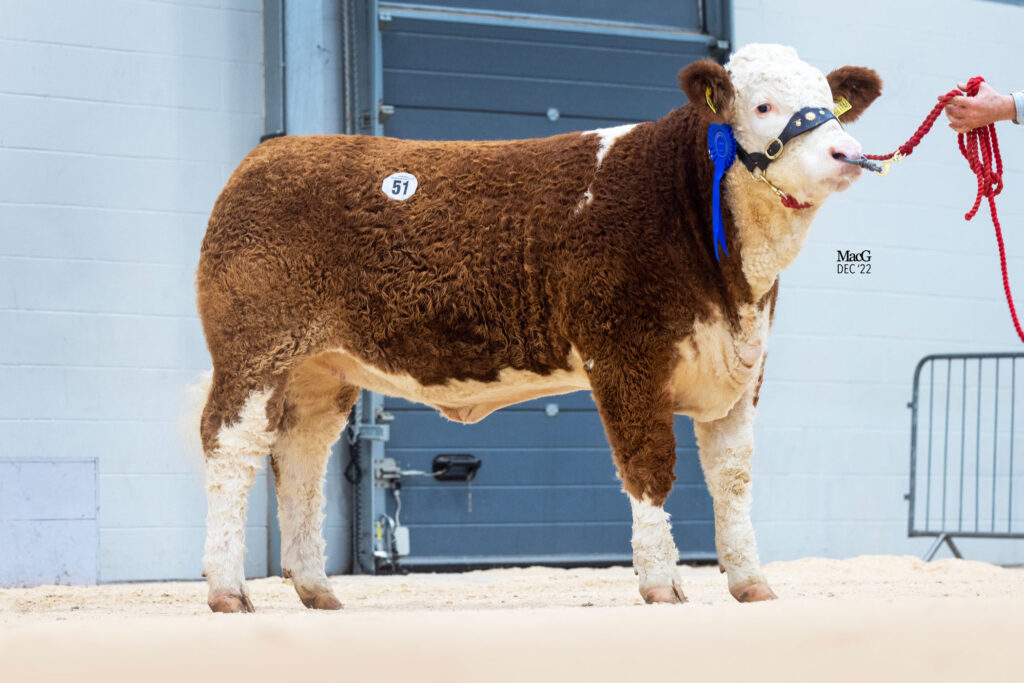 The leading maiden heifer price on the day was the 8000gns paid for Denizes Eve's Beauty 7th from the strong team offered by the Denizes herd of MA Barlow & Sons, Four Oaks, Ulnes, Nr Leyland, Lancashire. With outstanding breeding behind her, this March 2021 born heifer has Royal Highland Show Champions as parents being by the 2018 Champion Blackford Galaxy and out of the multi-title winning dam Auroch Eve who was the Royal Highland Champion in 2015 and 2016, and who was also voted the show's Simmental Champion of the Decade. Purchasing this animal was RE & SH Steggles, Honingham, Norfolk for their establishing Wacton pedigree herd. Commenting, Sam Steggles said: "I saw Denizes Eve's Beauty 7th online and just really liked her. This was reaffirmed when I saw her in the flesh at Carlisle and the combination of looks and depth of breeding is I think a good fit and really suited to the Wacton herd." The Wacton herd was established in 1973 by Sam's grandad but was largely bought out in the late 1990's. Never losing his love for the breed Sam Steggles is re-establishing the Wacton herd and now has eight animals in the herd within the space of a few months. Later in the day a further purchase for the Wacton herd came in the shape of the 4500gns Brandane Mint from Jimmy and Kath McMillan. This April 2021 born heifer is by Sterling Gino, the same sire as the day's top price, and is out of the Mendick Butch sired Sterling Bacardi's Funky. Again with a little bit of homework involved, Sam Steggles had been to view this heifer on farm prior to the sale.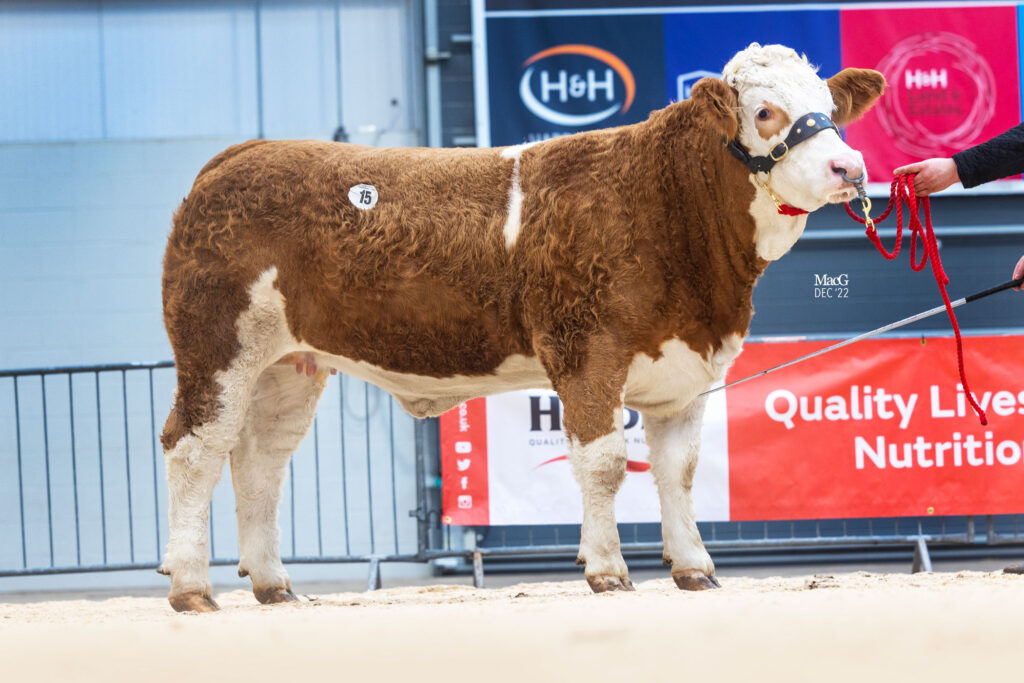 Selling at 7000gns was the served heifer Newbiemains Lady Gaga from Jim & Patricia Goldie, Newbie Mains Farm, Annan, Dumfriesshire. With 'different and new bloodlines' Lady Gaga is by the imported Irish bull Ardunsaghan Kool Kid and is out of the Islavale Cracker sired Moorglen Hit The Diff. Newbiemains Lady Gaga was one of two profile purchases on the day by Ryan Morgan who runs the establishing Swannay pedigree herd at Swannay Farm, By Evie, Orkney. Ryan Morgan purchased at last year's inaugural sale and was again very impressed with the standard of Simmental cattle on offer at Next Generation II. Of his purchase he said: "I hadn't seen either of the heifers before arriving at Carlisle but they both just stood out for me straight away. Newbiemains Lady Gaga will fit right in with the Swannay herd and her projected calving date just really works. Ranfurly Stella 13th is a heifer with style and offers some great figures which is something that I look closely at when purchasing any animal." For the Goldies it was another successful Next Generation Sale and following on from last year's joint top female price of 9000gns achieved for Newbiemains Lady Wag.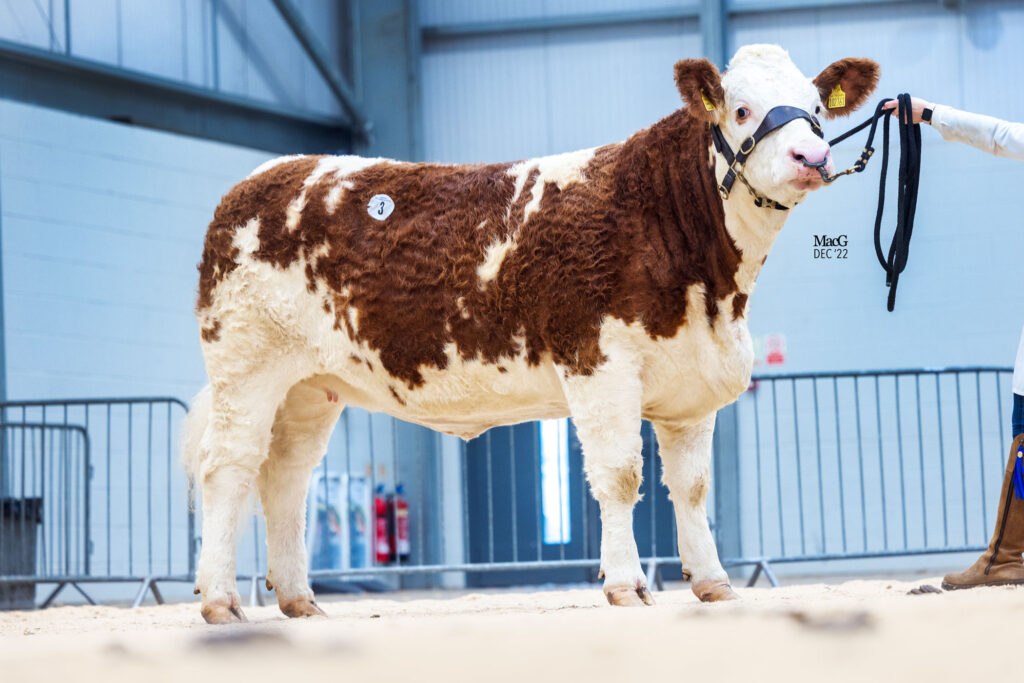 The aforementioned Ranfurly Stella 13th made 5000gns for her breeder WD & JD Hazelton, Colhannon House, Dungannon when selling to Ryan Morgan. October 2021 born this maiden heifer, with a Maternal (Milk) figure of +10, is by the 14,000gns Ranfurly Jackall who was Supreme Champion at Stirling in 2019, and is out of Raceview Fancywinty EX93 from the herd's noted Matilda Stella family. Featuring figures and breeding, Stella 13th's dam Raceview Fancywinty has previously bred the 9000gns Ranfurly Jackpot, and also Ranfurly Stella 12th, the 2022 Reserve Champion Female at Balmoral Show. These two purchases for Ryan Morgan add to the growing Swannay herd of Simmentals and with a forward aim of the herd selling at Society sales in the future. In addition to the pedigree cattle, Swannay Farm carries a commercial suckler herd and also run 400 head of sheep.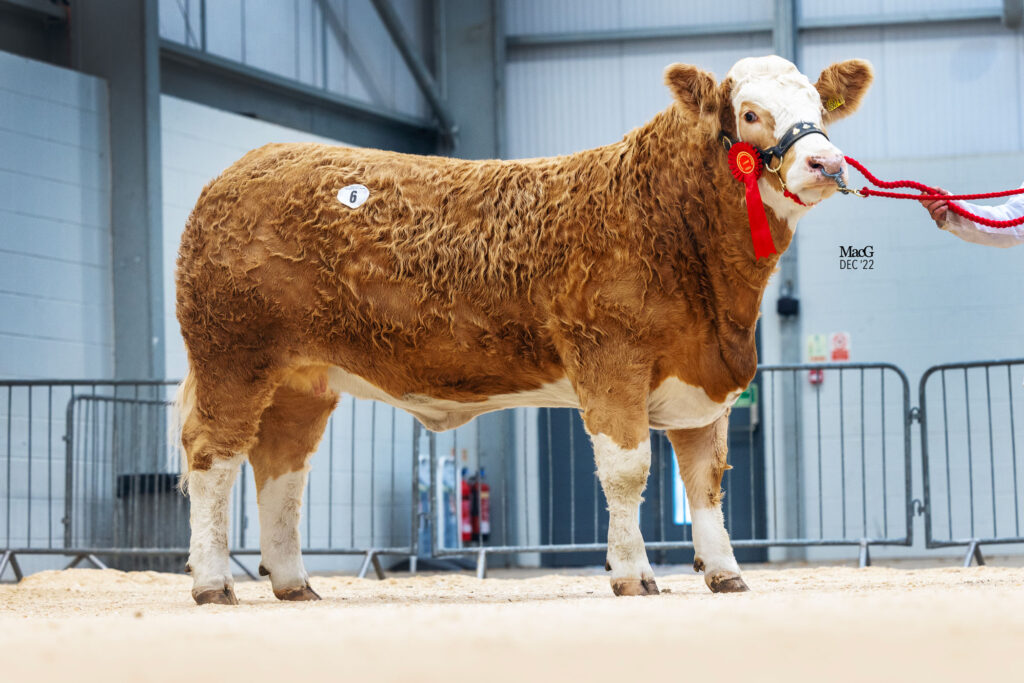 Hertfordshire breeders DA&LA Sapsed, High Heath Farm, Codicote, Hitchin made 7000gns for Heathbrow Girlie's Laurel when being another purchase by Reece & Andrew Simmers for their Backmuir pedigree herd and who noted her as being 'a great example of the Simmental breed'. A red ticket winner in the first class of the day, this October 2020 born heifer arrived at Carlisle with a significant show record behind her having Interbreed honours and a class first prize at the Simmental English National Show, and a further first prize at the Royal Norfolk. Heathbrow Girlie's Laurel is by Scotland Hill Cairo 11 EX91, and is out Heathbrow Girlie's Ivy VG88 part of the Hockenhull Girly family that has bred very well at Heathbrow. Girlie's Laurel was sold PD'd in-calf to Heathbrow Important who won the online European Simmental Bull of the Year in 2019. The sale of Heathrow Girlie's Laurel is a taster of the quality within this 40-cow herd which will be dispersed, due to retirement, at Stirling in the autumn of 2023.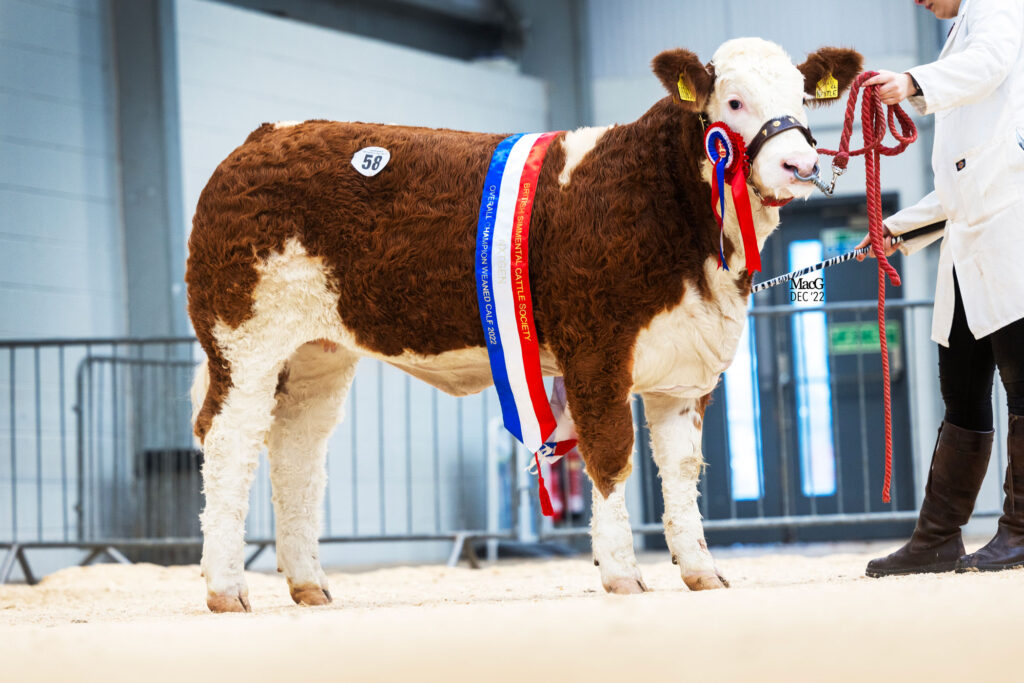 A much-anticipated entry was the youngest calf in the catalogue in the shape of Islavale Nestle from the Islavale herd of WS Stronach, Berrleys Farm, Grange, Keith, and she didn't disappoint when lifting the Champion Weaned Calf title and going on to sell for 6500gns, the top price for a weaned calf on the day. Sired by Coose Lincoln, and out of the Curaheen Bandit daughter Islavale Elisha EX93, Islavale Nestle arrived at Carlisle having recently won the Junior Female Championship at the Stars of the Future Calf Show in Stirling. With a +8 figure for Maternal (Milk), this young calf was snapped up by the noted Popes herd of JH&VG Wood, Popes Farm, Clitheroe Road, Preston, Lancashire. Commenting, Jimmy Woods said: "We had seen photographs of Islavale Nestle from the Stars of the Future show and thought she looked a lovely feminine calf. When we saw her, she really is a sweet heifer, full of character, and will hopefully go on to prove to be a real asset in the Popes herd. As always, genetics play a big part in our choice of animals to purchase and we like Nestle's breeding on both sides of her pedigree."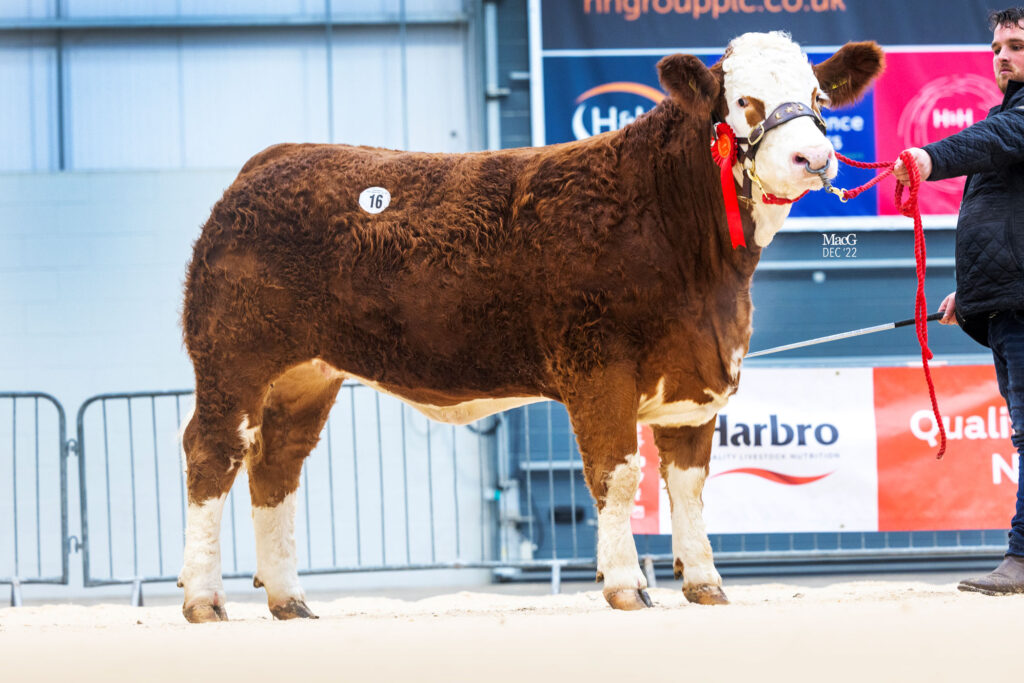 The winner of class two in the females was Denizes Matilda 8th (P) from the MA Barlow & Sons team, and who went on to sell for 6000gns to a further new breeder James Anderson & Son, Headshaw Farm, Oxton, Lauder, Berwickshire. A blood red heifer from the herd's noted Matilda family being out of Denizes Matilda 2, Denizes Matilda 8th is by the homozygous polled bull Slievenagh International 17 (PP). April 2021 born, Denizes Matilda 8th was a class winner at the 2021 Simmental Calf Show at the Borderway Agri Expo. With a very solid day's trading the Denizes herd sold heifers at 8000gns, 6000gns, 4000gns, and 3500gns through the sale.
Taking first prize in Class Three was Islavale Topaz 18 from WS Stronach, Berrleys Farm, Grange, Keith and who went on to make 5000gns when selling to the Delfur herd of Delfur Farms, Rothes, Aberlour. Entirely homebred this heifer calf is by Islavale Echo 2 13 EX92 and is out of Islavale Topaz 11 GP83. The Topaz line is noted as being one of the best breeding families in the herd and with Islavale Topaz 18 herself having a Maternal (Milk) figure of +7.

Leading Prices:
Females
Lot 2 Brandane Lulu 18,000gns to Backmuir Farm, Banffshire
Lot 7 Overhill House Luna 9000gns to Messrs Holdings, Newmilns, Ayrshire
Lot 15 Denizes Eve's Beauty 7th 8000gns to Messrs Steggles, Honingham, Norfolk
Lot 3 Newbiemains Lady Gaga 7000gns to Messrs Morgan, Evie, Orkney
Lot 6 Heathbrow Girlie's Laurel 7000gns to Backmuir Farm, Banffshire
Lot 16 Denizes Matilda 8th (P) 6000gns to Messrs Anderson & Son, Lauder, Berwickshire
Lot 26 Islavale Topaz 5000gns to Delfur Farms, Rothes, Aberlour
Lot 35 Ranfurly Stella 13th 5000gns to Messrs Morgan, Evie, Orkney
Lot 19 Brandane Mint 4500gns to Messrs Steggles, Honingham, Norfolk
Lot 12 Popes Tarkas Misty 4000gns to Messrs Fairhurst & Son, Austwick, Lancashire
Lot 18 Popes Nellys Maya 4000gns to Philiphaugh Estate, Selkirk
Lot 20 Denizes Cadette 43rd (P) 4000gns to Messrs Stanley, Derby, Derbyshire
Weaned Calves
Lot 58 Islavale Nestle 6500gns to Messrs Wood, Dutton, Lancs
Lot 51 Overhill House Nancy 6000gns to Messrs Holdings, Newmilns, Ayrshire
Averages
22 Heifers served or maiden £5202.27
2 Bull Calves £2362.50
5 Heifer Calves £3759.00