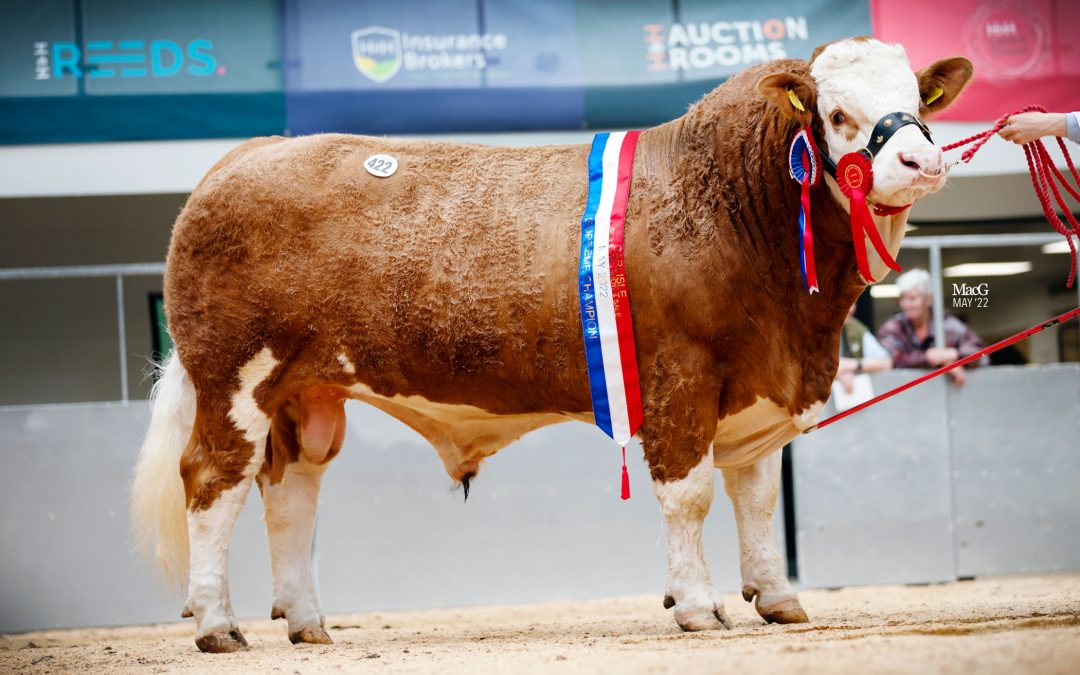 • 5000gns Tidkin Cow and Calf leads Tidkin & Jet Dispersal Sale
• 15 Tidkin cows and calves average £3353
• 28 Simmental lots in all gross £94,920
• 4 Bulls average £5565

Bulls from the Chestermann herd of N&N Gwynne, Castlewigg Farm, Whithorn, Newton Stewart, sold to 6200gns, and 6000gns to lead a ready demand for Simmental bulls and females at the Society's May Sale at Carlisle. Sitting alongside the Society's Sale was the Dispersal Sale of the Tidkin & Jet Simmental herds of Gerald & Jessica Towers, Turners Arms Farm, Yearby, Redcar, Cleveland and which saw a top price of 5000gns paid for a cow and calf, and with fifteen cow and calf outfits averaging a healthy £3353.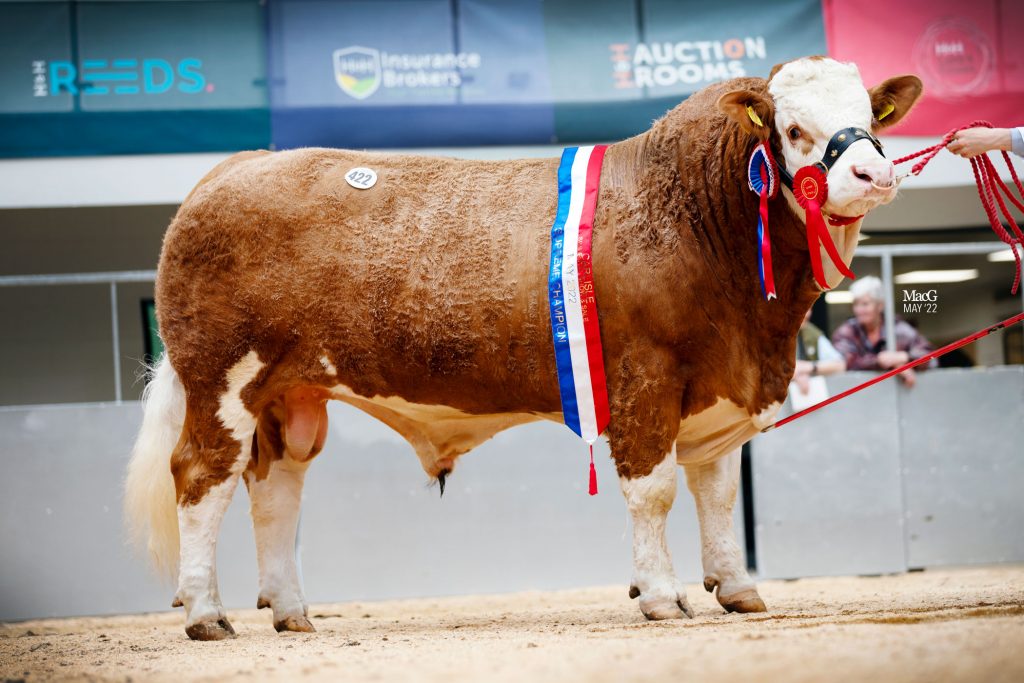 Leading the way in the bulls was the September 2020 born Chesterman Leonardo. Entirely homebred, this bull is by Chesterman Gibble 15 EX93, a daughter of the herd's noted Hirwaun Non, and is out of Chestermann Empire Sage EX90, a Sterling Empire daughter. Earlier in the day Chestermann Leonardo had won the class of Simmental bulls and Overall Championship in front of the judge and commercial producer Mr Ian Wainwright, Todhall Farm, Cupar, Fife. Commenting on his Champion Mr Wainwright said: "This is a very good commercial bull. He's a well grown, growthy, easy fleshing bull with plenty of length and good on his legs."

Purchasing the top price was IHG Warden, Skelfhill Farm, Hawick, Roxburghshire who will be putting the bull to work on 30 Luing cows to breed the increasingly popular SimLuing.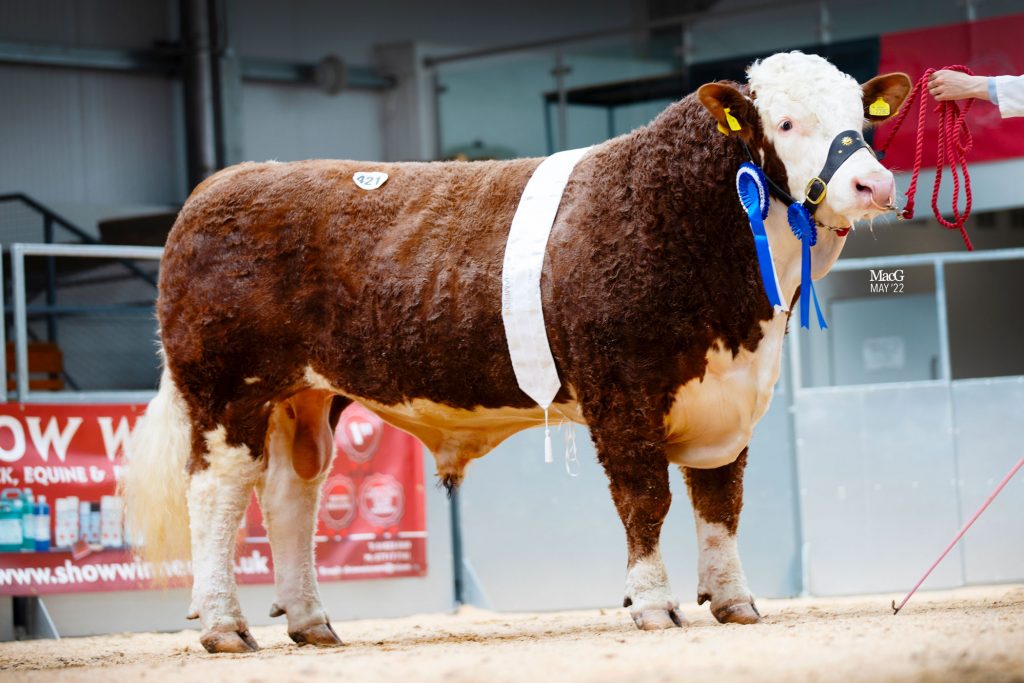 With a nifty sale one-two, the Gwynnes also sold the day's Reserve Champion, Chestermann Lexus 20 for 6000gns to Aucheneck Estates, Killearn, Stirlingshire. Also September 2020 born, Lexus 20 is another by Chestermann Gibble EX93 and this time out of Chestermann Empire Tracey 2 VG86. The 50 breeding female Chestermann herd are regular consignors at Carlisle Simmental Sales and have secured numerous Championships at this corresponding fixture over the years with their first being back in 2006 with Chestermann Siegfried.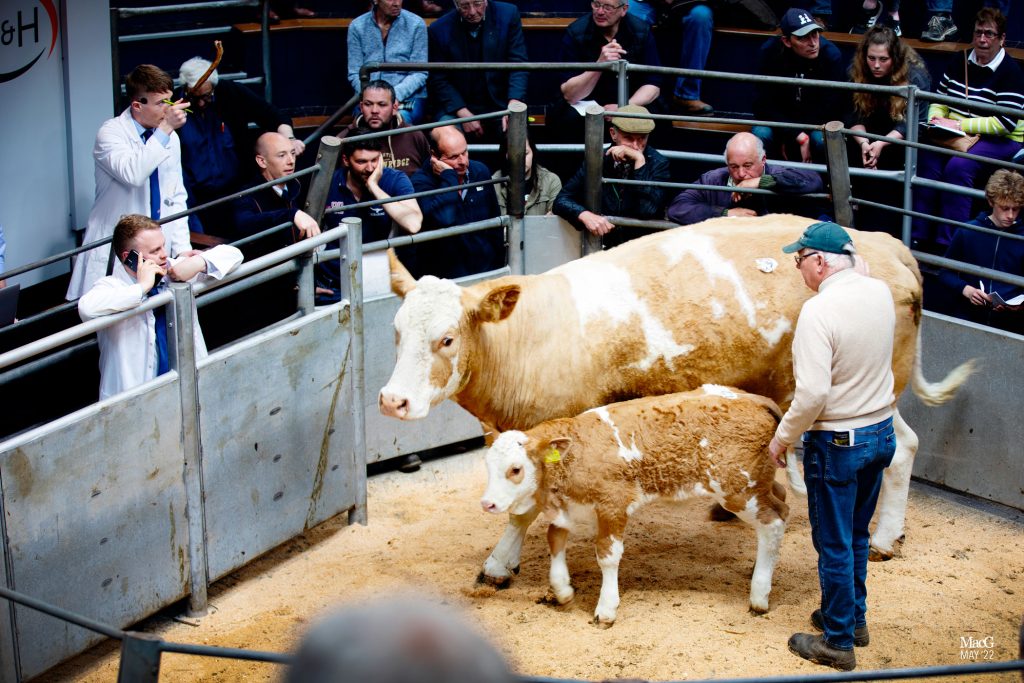 Some quality pedigree Simmental females from the Tidkin and Jet Herds met with a strong demand from a busy ringside and sold to a top of 5000gns for the 2017 born Tidkin Natalie's Illusion, who was sold with her third calf at foot, the Clonagh Lexus P sired heifer calf, Tidkin Natalie. Tidkin Natalie's Illusion is by Auroch Ace and out of Hockenhull Natalie 39th. After a visit to view the night before, the top lot was purchased by Bruce Lambie for his Fallhills pedigree herd at Fallhills Farm, Howgate, Penicuik, Midlothian.

Fifteen Tidkin cows and calves averaged £3353, with further units making 4200gns, 4000gns, and 3600gns respectively with 10 lots in all in the Dispersal making 3000gns and more.

Selling at 4200gns was the March 2019 born Tidkin Katherine who was sold with her first calf at foot, the Clonagh Joker Poker sired Tidkin Molly. Tidkin Katherine is by Clonagh Eclipse Truly and is out of Tidkin Beyonce. Purchasing this unit, and with Tidkin Katherine PD'd in calf to Clonagh Lexus (P), was DF & MG Littlefair for their Crabshires herd at West Farm, Staindrop, Darlington.
The April 2018 born Tidkin Jade made 4000gns when selling with her Clonagh Joker Poker bull calf at foot Tidkin Mascot 21. This second calver, PD'd in-calf to Clonagh Lexus (P), is by Clonagh Eclipse Truly, and is out of Tidkin Whisper. Buying this outfit was JA&E Dinwoodie, Aucherbeck Farm, Canonbie, Dumfriesshire.

The Tidkin and Jet herds had a heavy influence of stock bulls used in the herd from the Clonagh herd of Garret Behan, Republic of Ireland. One of these stock bulls, the 2019 born polled bull Clonagh Lexus (P), made 4000gns when selling to the pedigree Eifed herd of Mr DW Jones, Llangoedmor, Cardigan, Wales.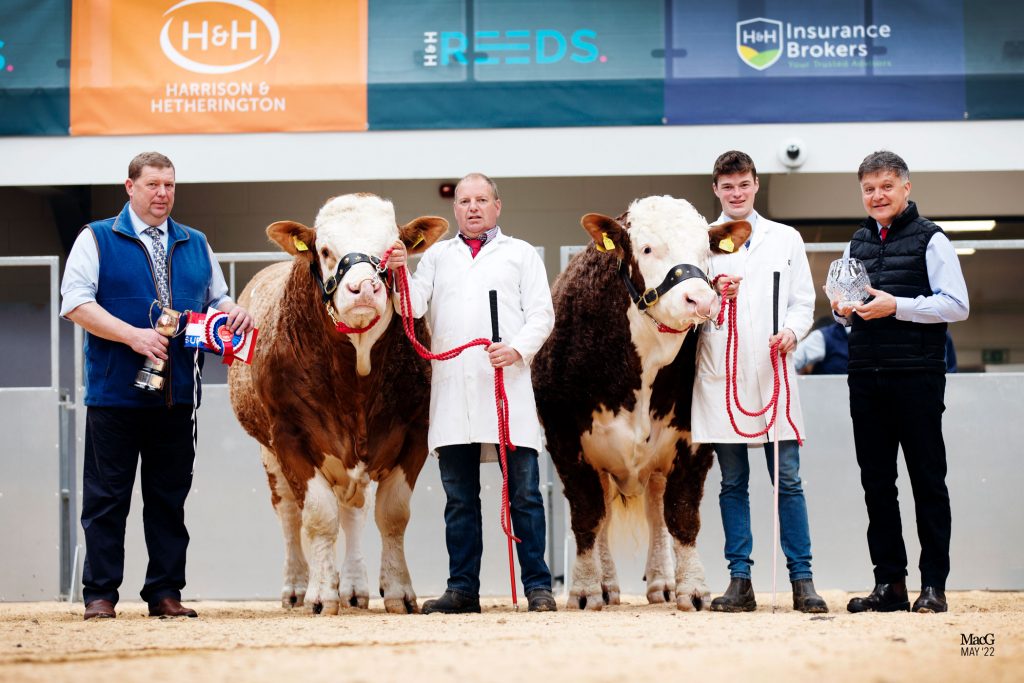 AVERAGES:
BSCS MAY SALE
4 Bulls £5565
3 Heifers £1820
TIDKIN & JET DISPERSAL SALE
1 Stock Bull £4200
15 Cows/Hfrs with Calves at Foot £3353
5 Heifers Served/In-calf £2541