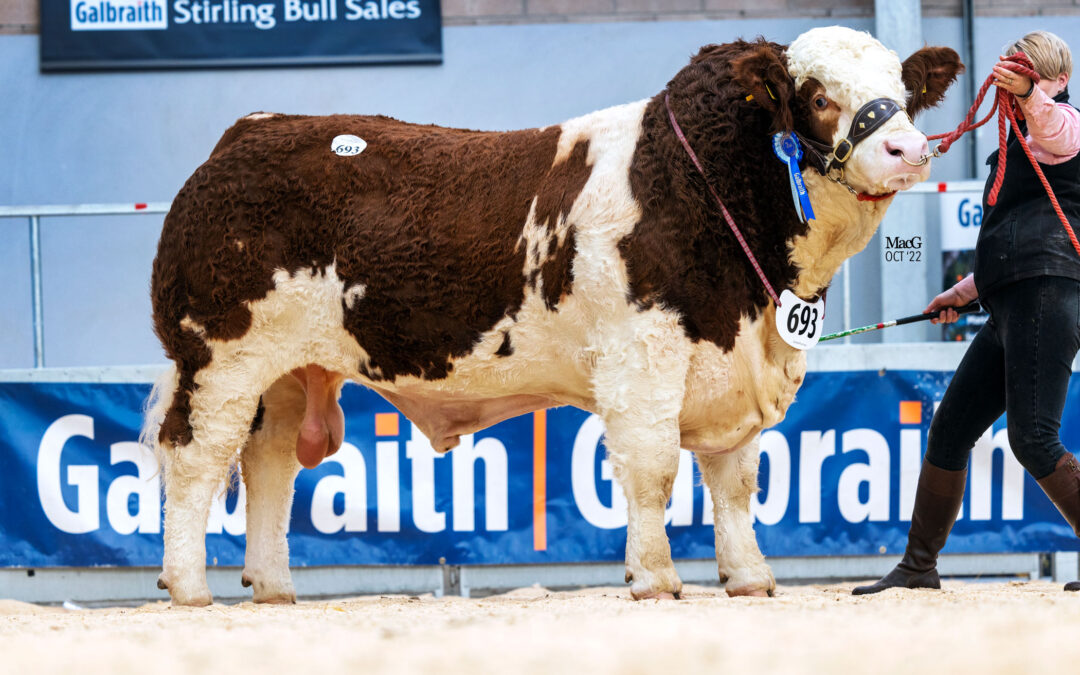 New Simmental Breed Record average of £7559 for 45 Bulls, and up by £1597 on the year
Two Bulls over 20,000gns, with 10 bulls over 10,000gns in all, and 29 at 5,000gns and above
Seven Islavale Bulls Average £13,500
Sale grosses £366,315
Springfield Heifer tops females at 6,000gns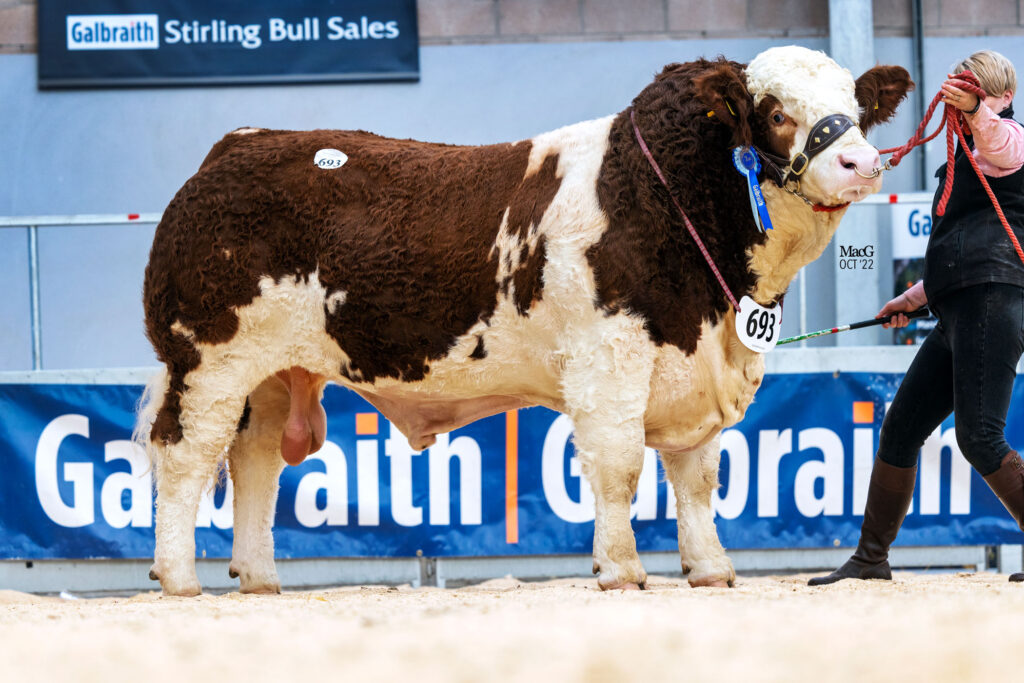 The March 2021 born Islavale Magnum from WS Stronach, Berryleys Farm, Keith, Banffshire sold for 28,000gns to fire the Simmental bull trade to a new breed record sale average of £7559, up by a remarkable £1597 on the year, at the breed's October Sale held at United Auctions Stirling on Tuesday 19th October 2022.
With commercial producers competing fiercely with pedigree breeders for the quality bulls on offer, two bulls made over 20,000gns with ten in all over the 10,000gns mark and twenty-nine at 5,000gns and more. The total Simmental sale gross on the day came to £366,315.
A tremendous team of Islavale bulls broke new ground for this prolific Simmental herd with the 28,000gns topping their previous sale best of 24,000gns and seven bulls in all selling to an incredible average of £13,500. Five of the bulls broke the five-figure mark. The sale leader, Islavale Magnum, is by the noted AI sire Team Celtic and is the first calf at sale out of Islavale Harper who herself had stood as the Senior Champion as a yearling heifer at Stars of the Future in 2017. Combining a depth of pedigree with performance figures showing +14 for Maternal (milk), this classy dark red bull was purchased for the Delfur pedigree herd of Delfur Farms, Rothes, Aberlour.
Commenting on behalf of Delfur Farms, which runs a 120-cow herd, new herd manager Garry Patterson said: "This is a big investment for the future, but we were looking for a bull that will put a serious stamp on the herd and help us to take that next step. I thought Magnum was a standout bull the minute I saw him, and with his breeding and performance figures he's just the full package. We wanted a bull which will click with our females, breathe new life into the herd, and to take that next step. We very much think and hope that Magnum's daughters will have the potential to do that and produce some first quality bulls at the same time."
The 28,000gns top price surpassed the Islavale herd's previous top sale mark of 24,000gns, and the average for the seven bulls sold smashed the previous best for a herd that has been consistently at the top end of Simmental sales over a number of years. Speaking after the sale, and commenting on the bulls they are breeding, Stewart Stronach said: "We breed the type of Simmental bulls that we like and what we think meet the needs of the market. Our aim is to breed correct, big square bulls, good on their plates with plenty of length, free flowing in their locomotion, and with character, style and presence. Our main aim is breeding first quality Simmental bulls for commercial producers and with sales to pedigree breeders a real bonus on top. We're really delighted with this trade and hope and trust that the bulls sold go on to do well in their new herds." In addition to the 28,000gns top price, further Islavale bulls sold on the day for 18,000gns; 13,000gns; 10,000gns x 2; 6,000gns; and 5,000gns.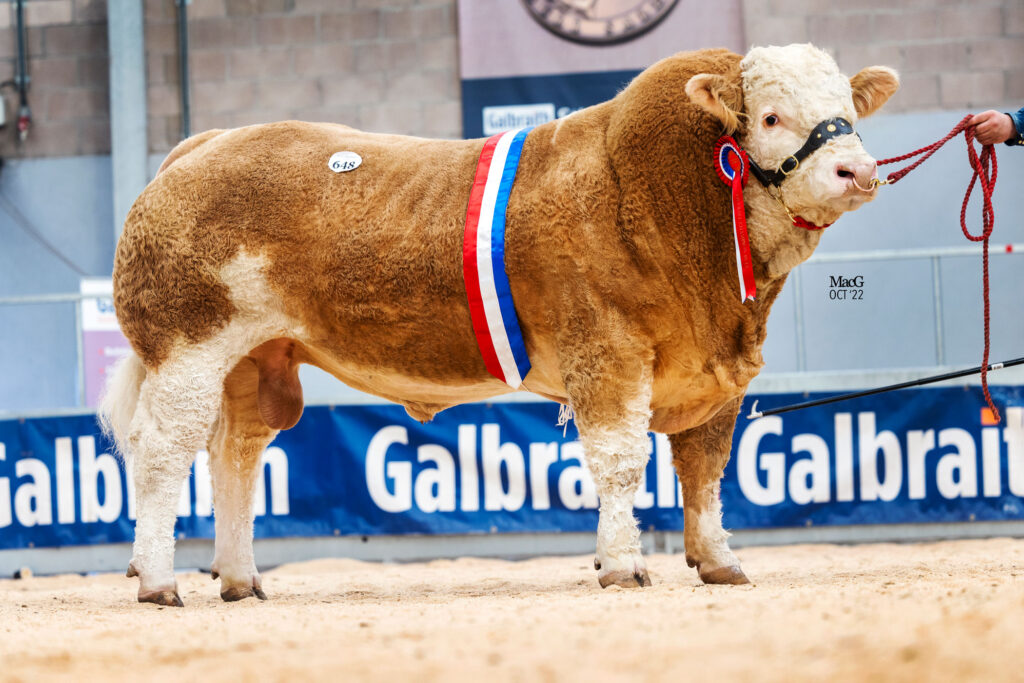 Selling at 20,000gns was Denizes Monty from MA Barlow and Sons, Four Oaks, Ulnes, Nr Leyland, Lancashire. On the previous day this January 2021 born bull placed first in his class, before moving on to secure the Senior Championship and the Overall Supreme Championship in the pre-sale show and in front of the judge Chris Martindale who runs the noted Forsdale herd at Coedfa, Oswestry, Shropshire. Commenting on his Champion Mr Martindale said: "What a modern Simmental bull this is. He's clean throughout, has a super top line, has width shoulder to shoulder, and a back end to die for. The breed is known for its maternal traits of milk, fertility, and calving ease. A bull like this will retain those advantages and by adding terminal traits just gives you something very modern that ticks all the boxes for breeders and commercial beef producers."
The Supreme Champion went to Northern Ireland when being purchased by Mr HJW and JC Moore for their noted Omorga pedigree herd at Beragh, Omagh, Co Tyrone and who said: "I've seen this bull as a calf and through the summer and he's just a very modern Simmental. I feel he's the whole package with the breeding behind him, top figures, full of shape but with style and class. Monty brings new breeding to the herd, and I'm delighted to have bought him."
For the Barlows the pre-sale show marked a first time Stirling Supreme Championship for their Denizes herd that has previously enjoyed a string of section wins and top prices at Stirling with their highest sale price to date being the 30,000gns Denizes Lancelot in February of this year. Denizes Monty is by the noted Denizes Hamish who had previously sired bulls up to 9,500gns (with his first twelve sons at Stirling averaging 7,500gns), and who is out of the herd's highly noted Auroch Eve. Monty is out of Denizes Trixi-Belle 6th who herself is the mother of Denizes Impressive, the sire of the sale's Reserve Supreme, Popes Matchmaker. Through the summer Denizes Monty had stood as Junior Male and Reserve Male at the Royal Highland Show, and he was sold with strong performance figures for calving ease, gestation length, and Maternal (milk).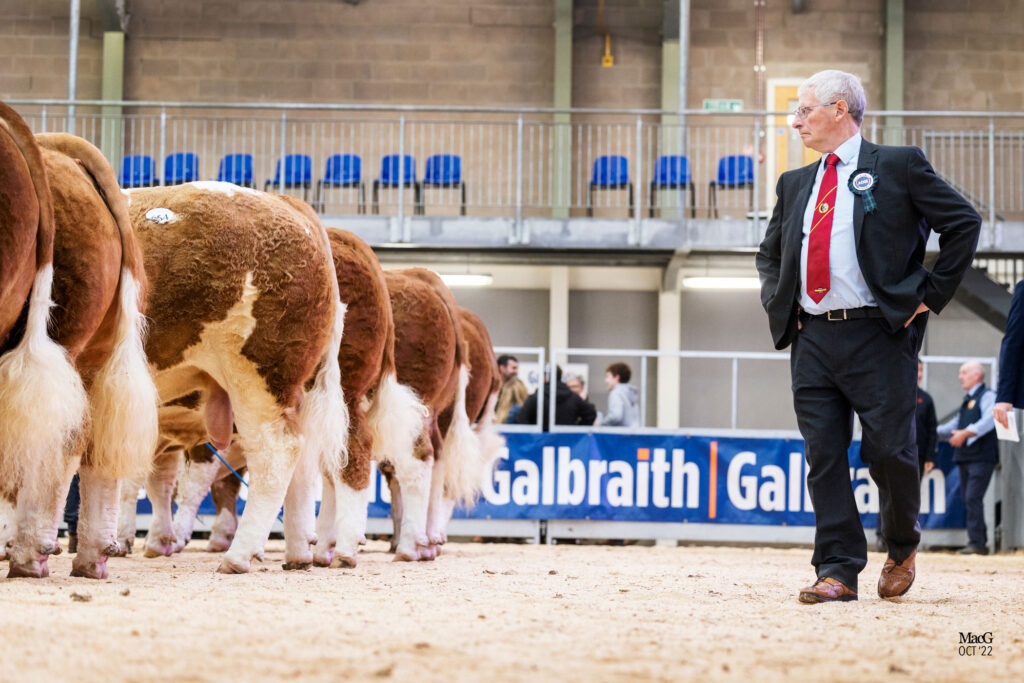 Speaking after the sale, British Simmental Cattle Society General Manager Iain Kerr said: "It's great to see a Simmental sale with an average of over £7,500gns, a new record mark, and continuing a series of strong sales and averages for the breed over this past year. There were breeders buying bulls today, but the trade was underpinned by commercial producers competing for the bulls of their choice and willing to pay five figure prices. The Simmental is a maternal mainstay of the UK suckler herd and the efficiency of females in milk, fertility and easy calving, combined with growthy, fast finishing progeny is just adding up for commercial producers. We would have liked to have seen more bulls sold but there was a strong demand for the quality lots of offer and we have to be mindful of the continued move to spring calving, and farmers taking time to consider at present in a very cost-conscious moment for the industry." A further seven bulls were sold after the sale and up to 7000gns.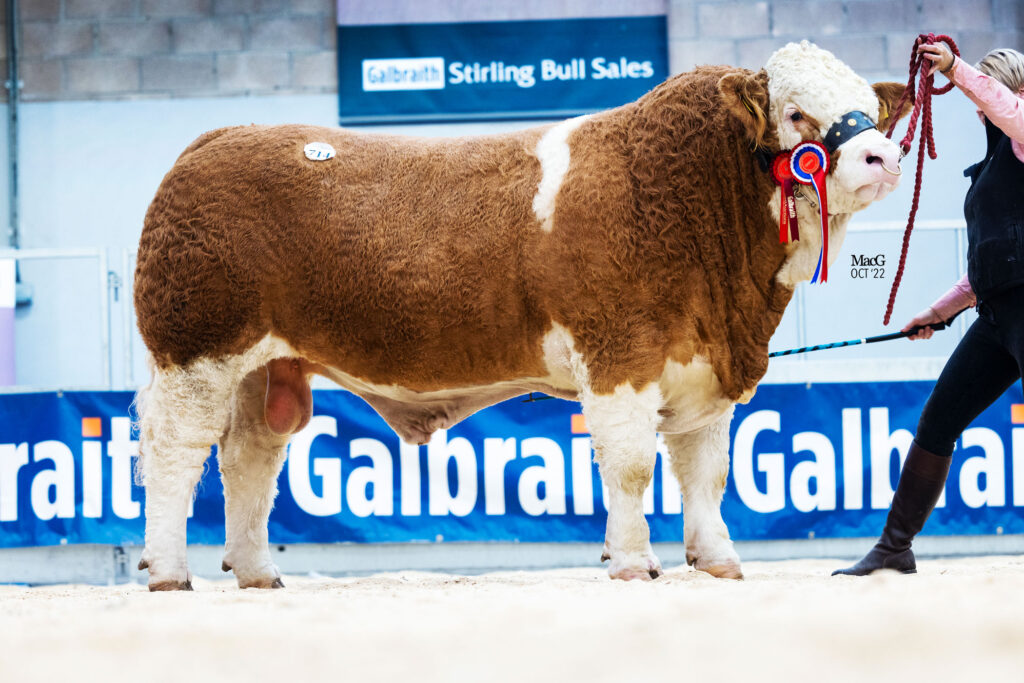 The Junior Champion came in the shape of Islavale Mint, who went on to sell for 18,000gns to Crudie Farming Company, Crudie Farm, Arbroath, who run the 45 cow Crudie pedigree herd alongside a predominantly Simmental commercial herd of 120 cows, and with 30 Blue Greys. The April 2021 born Islavale Mint is by the noted herd sire Corskie Highlander, who has previously had calves up to 15,000gns, and is out of Islavale Amber 5 VG 86, an Islavale Echo daughter. With an emphasis on ease of calving, milk, fertility and temperament, the Simmental is the go-to breed for Crudie both commercially and pedigree, and herd manager Kenny McKeague was delighted with their purchase: "Islavale Mint is a very typical Simmental bull with what we're looking for to add to the herd. He has a tremendous top line, is very square, has a good leg in every corner, and with a lot of breed character in his head. He'll go home for a period of isolation, and we'll aim to put him to some cows come March time."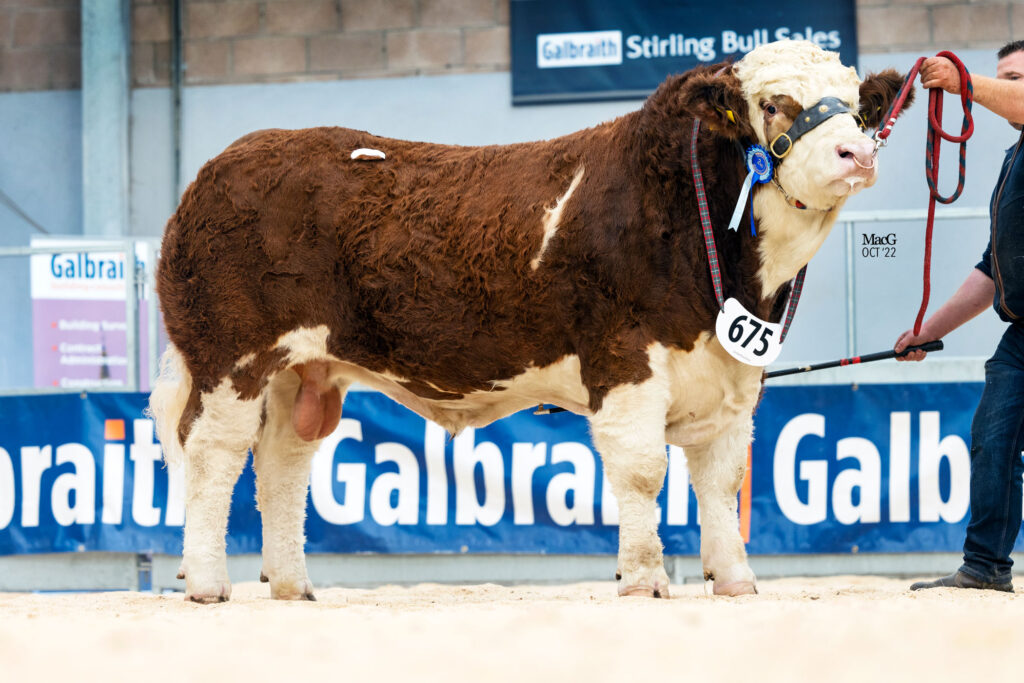 Immediately recouping a little of their outlay on the top price purchase was Delfur Farms, Rothes, Aberlour when they made 16,000gns for Delfur Maverick the second prize bull in the third class of the day. March 2021 born, Delfur Maverick is sired by the 10,000gns Woodhall Instinct 17, a previous Stirling Junior Champion, and is out of the Auchorachan ACDC sired Delfur Denise, one of the top and easiest calving lines in the herd. Again with a depth of breeding, and strong figures including a +11 for Maternal (milk), this bull was purchased in a two way split between the Fallhills herd of Bruce Lambie, Fallhills Farm, Penicuik, and the Innerwick herd of Mr and Mrs L Moffatt, Innerwick Farm, Dunbar, East Lothian. Speaking after the sale Bruce Lambie said: "I am really delighted to buy a share of this bull and he was my number one pick of the sale. He ticked all the boxes for both Dorothy (Moffatt) and I being a long clean bull with great shape and with good legs and feet. This is the first time that I have purchased a bull with Dorothy. There's a family connection and the same high health status in the herds, and Dorothy helped me get a start in the breed in 2013 when I purchased my first two heifers from her".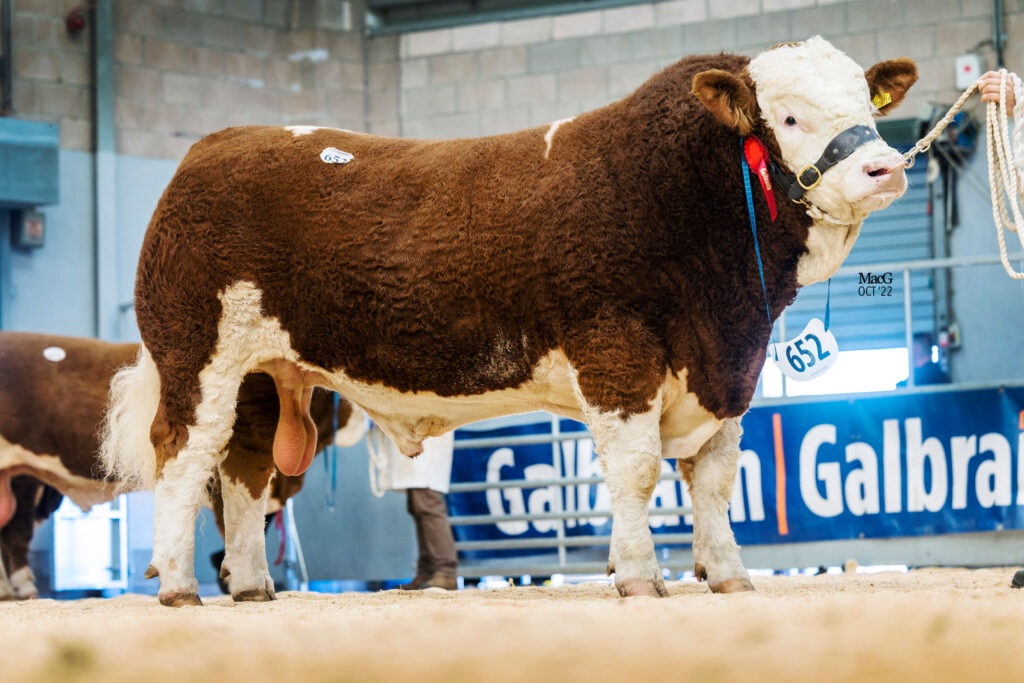 Another strong team of Simmental bulls came from the noted Corskie herd of Mr WJ and J Green, Corskie, Fochabers, Garmouth, who made 11,000gns; 10;000gns; 7500gns; 6500gns; and 5,500gns respectively to gross £42,525 and at a cracking average of £8,505. Leading the way was the 11,000gns Corskie Mikah who placed first in the second class of the day. Arriving at Stirling with a strong show record behind him, Corskie Mikah had placed Reserve Simmental Junior Male Champion and Reserve Interbreed Beef Breeder Champion at the Royal Highland Show in June and went onto be Junior Male Champion and Reserve Overall Junior Champion at the Scottish National Show, at the Black Isle. Sired by Kilbride Farm Haka and out of the Dirnanean Bradley daughter Corskie Elissa VG 88, this bull was purchased jointly by J Milne and Son, Oldwhat Mains, Turriff, and David Ross and Fiona Shand, who run the Fortmarine herd at New Deer, Turriff.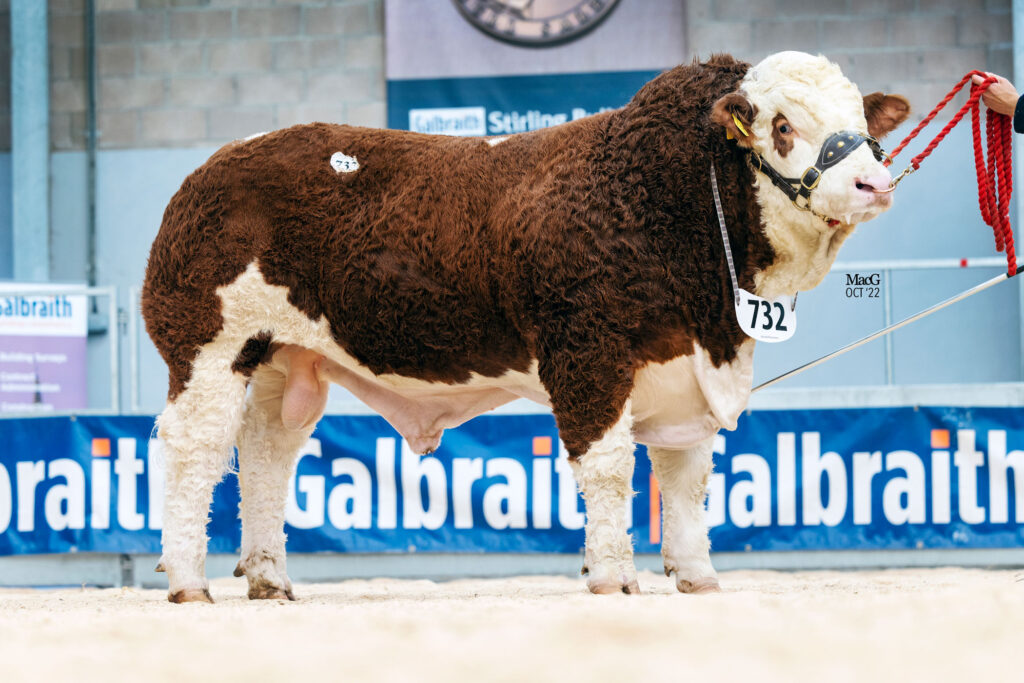 Also selling at 11,000gns Coltfield Murry, from JC MacIver, Wester Coltfield, Forres, Moray. Bred out of Coltfield Izzie G 79, who goes back to Newbiemains Cocaine, he is sired by the 14,000gns Rockytop Invader. The May 2021 born Murry, successfully shown through the summer, was purchased for export by the well know Garret Behan who runs the 65-cow Clonagh Simmental herd in Portlaoise, Republic of Ireland. A long-time purchaser of British Simmental bulls, going back to his purchase of the 8,500gns Banwy T-Rex at Perth in November 2007, Mr Behan was delighted with his new acquisition, and commented: "We focus on bulls with feminine traits and showing and sales are a huge part to the herd's success. Throughout the years and in particular the last ten the herd has, we think, achieved unrivalled success. In the past nine National Irish finals the herd has claimed the overall title at six of them including the champion and reserve in 2010".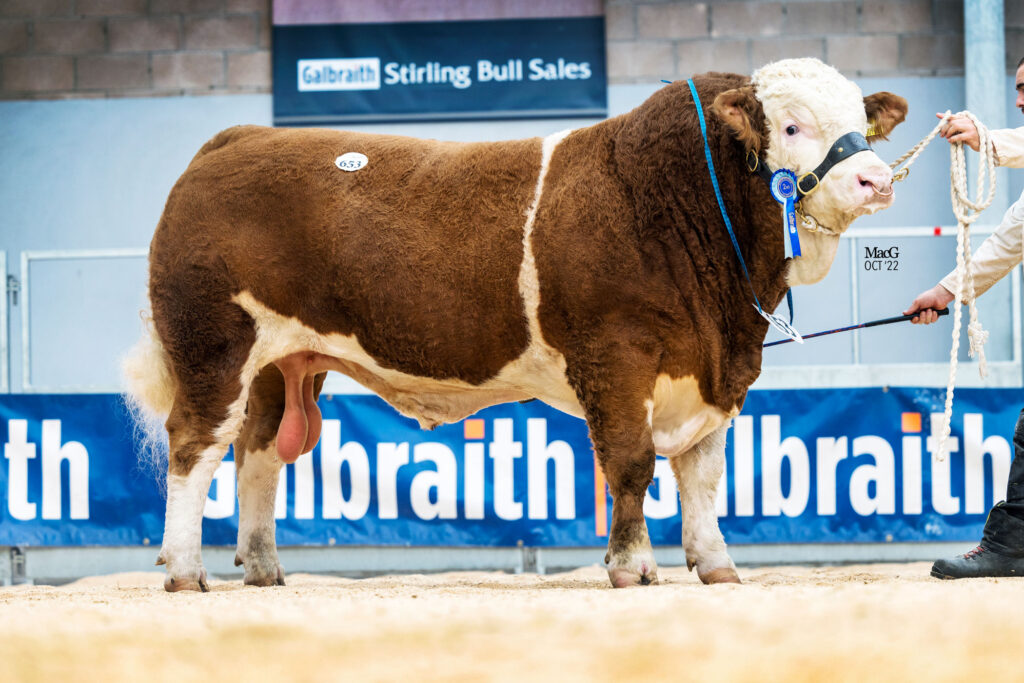 Three bulls were sold for 10,000gns, and with the first being another from the Corskie team in the shape of Corskie Monarch, and who had stood second in his class to the aforementioned Corskie Mikah. Buying this bull was J Barclay and Son for their Whiteknowes herd at Ardiecow Farm, Fordyce, Banff. Also sired by the 10,000gns Kilbride Farm Haka, he is bred out of Corskie Highness VG 86, a daughter of the 45,000gns Bel Dhu Capercaillie, and one of the best and most consistent cow families within the herd. Commenting on his purchase, Mr Barclay said, "this is the first Corskie bull we have purchased, and we were looking to bring some new bloodlines into our stock. He looks a good strong bull, and I really liked his back pedigree. Monarch will be working alongside our other four Simmental bulls and over the 270 head suckler herd. Calving in the Spring and Autumn, we keep around 50 heifers for replacements to our mainly purebred Simmental suckler herd and sell the others finished to Morrisons".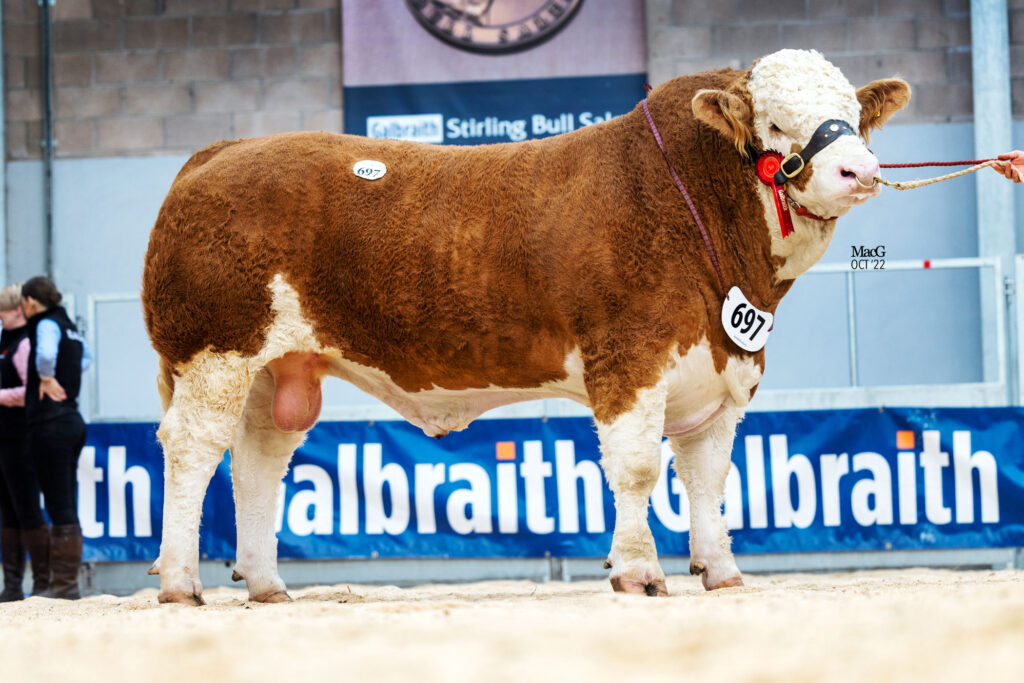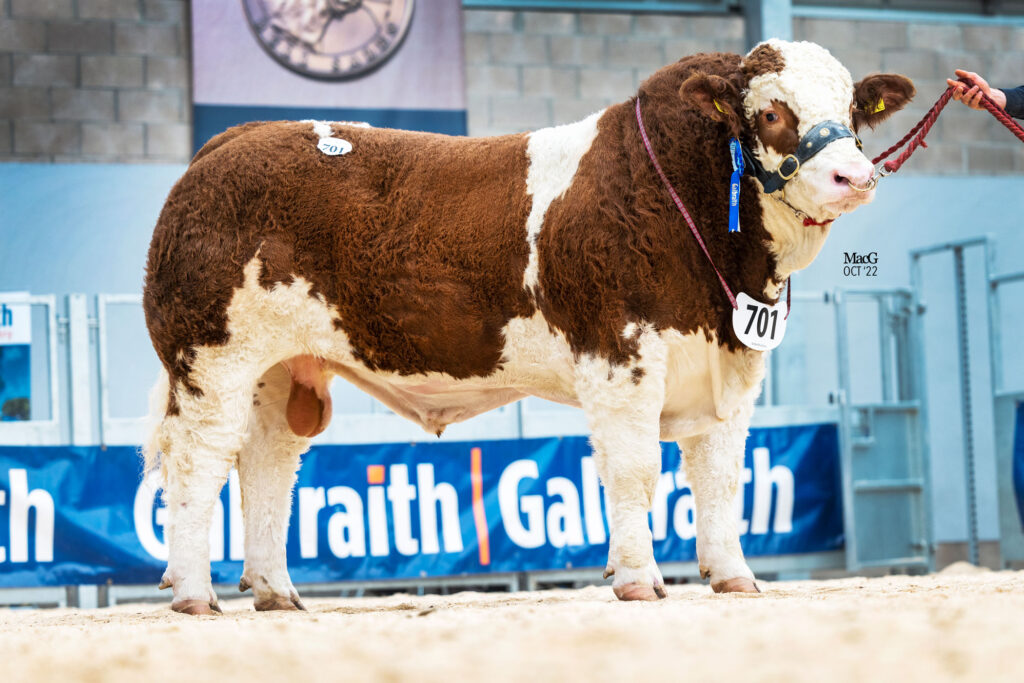 The two further bulls at the 10,000gns price, both came from Islavale team of the Stronach family. Islavale Mojo, a March-2021 born bull was the first through the ring and was snapped up by Pitgaveny Farms, Elgin, Morayshire, for their Pitgaveny herd. A previous purchaser of Islavale genetics, Mojo again caught their eye after he stood first in his class in the pre-sale show, and in front of Islavale Magnum the day's top price bull. Islavale Mojo is by Curaheen Giant, who has bred Stirling champions in the past for Islavale, and is out of the Popes Laird daughter Islavale Britney Ex 94. Islavale Mojo carried a Maternal (milk) figure of +9. The Stronach's other 10,000gns bull was the blue ticket winner and April 2021-born Islavale Maximus. This calf is a son of the popular Irish bred AI bull Dermotstown Delboy E92 and is out of Islavale Chloe Ex 91, a daughter of the 15,000gns Atlow Dixon Ex 91. With both muscle and milk, Islavale Maximus goes to work with the high-end commercial herd of A and J Craig, Castle Douglas, Kirkcudbrightshire, who are again repeat buyers from the Islavale herd.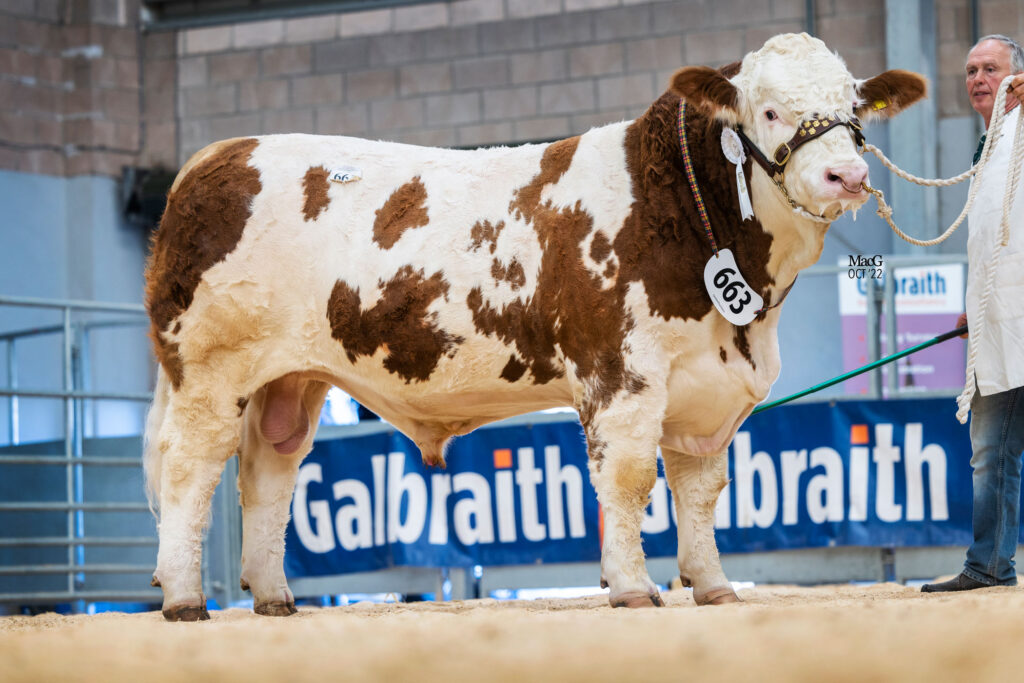 All the way from Hampshire, and in what was the herd's first time at Stirling was Mr and Mrs S and L Blomfield, Lymington, with their February 2021 born bull Sway Monarch 21 (PP). This bull brought something different to the sale with him being the only homozygous polled bull in the catalogue and, despite being full homebred, featuring some Czechoslovakian and Canadian bloodlines in his pedigree. By the homozygous polled Sway Kingsman 19 (PP), and out of Sway Babycham (P), the long trip reaped its reward when Sway Monarch made 8,500gns in selling to the Dargill pedigree herd of J C McLaren and Partners, Knox House, Crieff, Perthshire.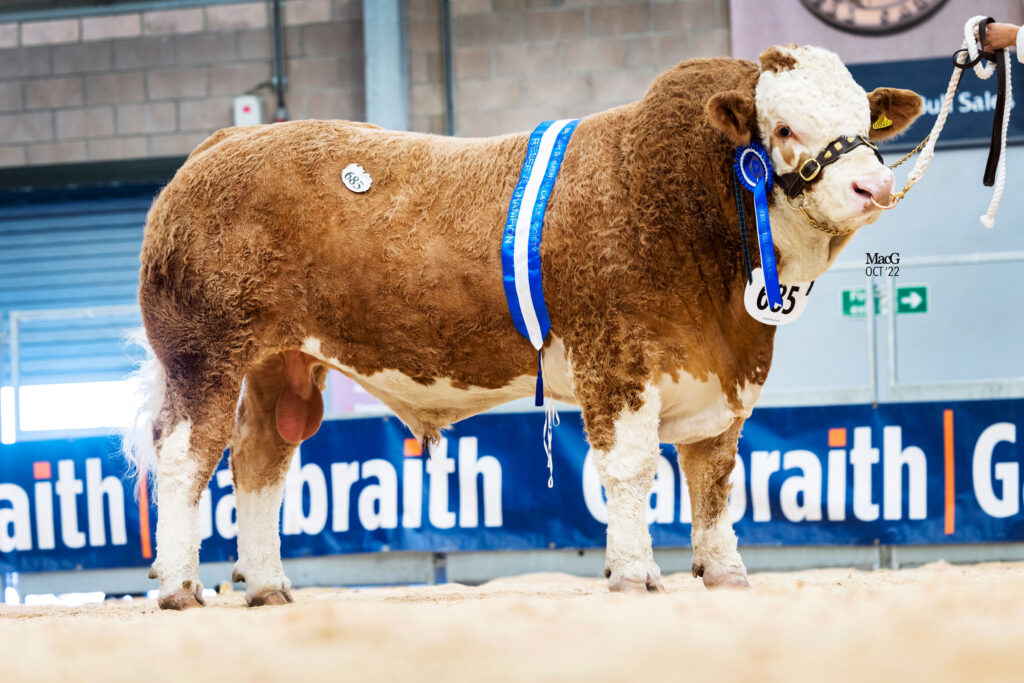 The first of two bulls through the ring at 8,000gns was the pre-sale show Reserve Supreme and Intermediate Champion Popes Matchmaker from the noted Popes herd of JH and VG Wood, Popes Farm, Dutton, Lancashire which comprises of 60 cows and followers with 80 to calf. Full of breeding, performance, and figures, Popes Matchmaker is by Denizes Impressive who is out of Denizes Trixi-Belle 6th, the mother of the 20,000gns Supreme Champion and the same breeding line as Popes Laird. Matchmaker's dam is the noted Popes Whispers Della whose dam line goes back to Greenside Whisper. With a Maternal (milk) figure of +12, Matchmaker is another bull who has had great success in the show ring this season, being crowned Reserve Junior Interbreed Champion and the Simmental Male and Junior Champion at the Great Yorkshire show in July. Heading all the way to Cornwall, this bull was purchased by Steve and Gill Gummow, to work in their well-known Killiworgie Simmental herd in Newquay. Killiworgie Simmentals have bred five figure bulls at Stirling, are prolific herd competition winners in Cornwall and the South-West, and this year won the 2022 Simmental Virtual Show competition.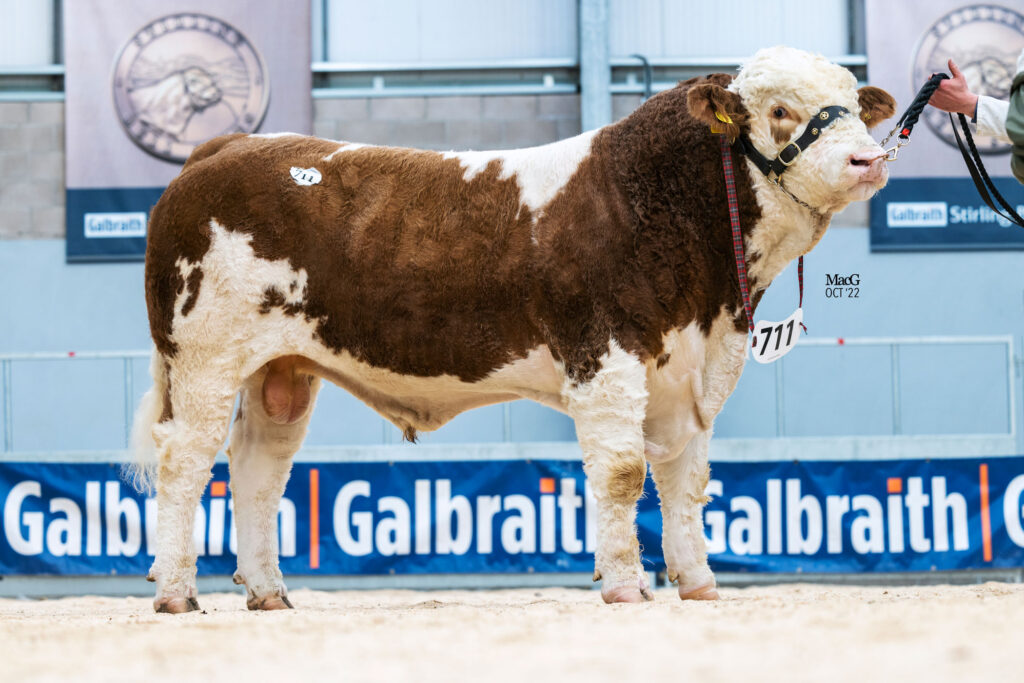 Matching the 8,000gns price tag and snapped up by Snaigow Farming, Blairgowrie, Perthshire, was the April 2021-born Team MacGregor, a heterozygous polled bull by Lopemede Gregg and out of Team Melody, a daughter of the 10,000gns Auchorachan Winger. Team MacGregor, with strong figures for calving ease and a Maternal (milk) figure of +9, was bred and exhibited by Mr R J Macgregor, Perth, Perth and Kinross.
A small but high-quality offering of Simmental females averaged £3,045 for the eight sold. Topping the lots at 6,000gns was the stylish Springfield Minstrel from Gavin Brown, Penicuik, Midlothian. A 15-month-old heifer out of Woodhall Cheeky and sired by Islavale Jabba, Springfield Minstrel was purchased by JH and VG Wood, Dutton, Lancashire for their noted Popes herd. Commenting, Vikki Wood said: "This is just a dark red heifer with a lot of class and the type of female that we feel we could breed from for progeny aimed at the Stirling market."
The Woods went on to purchase four heifers in all from Gavin Brown, with Springfield Melody and Springfield Meg, being knocked down for 4,800gns and 4,000gns respectively, and Springfield Magic at 2600gns. Melody, a July 2021 born lass, is by the same sire as her 6,000gns shed mate Minstrel, Islavale Jabba, but this time bred out of Springfield Imogen, who goes back to the Irish-born Shiloh Freedom. Springfield Meg, who has been running with Kilbride Farm Landmark, is sired by Team Celtic and is out of Springfield Ivory, who also goes back to Shiloh Freedom. In the pre-sale show of bulls the Springfield herd had one red ticket and went on to sell bulls at 5,500gns, 5000gns and 4,000gns.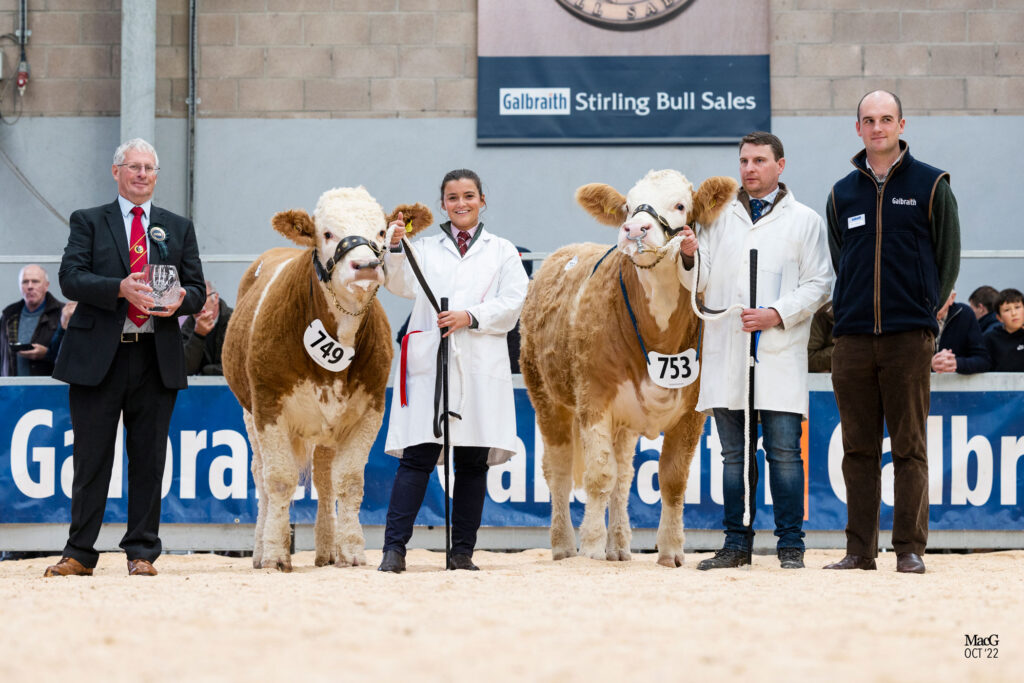 AVERAGES:
45 Bulls £7559 (+£1579)
8 Females £3045
OTHER LEADING BULL PRICES:
7,500gns Lot 646 Corskie Meldrew, sold to M Cruickshank
7,000gns Lot 688 Backmuir Mustang, sold to J & R Stanger
7,000gns Lot 691 Backmuir Macallan, sold to I J Blackhall & Sons
7,000gns Lot 731 Strathisla Mandarin, sold to W J Hollingsworth
6,5000gns Lot 647 Overhill House Marshall, sold to McKenzie Craiglands Ltd
6,500gns Lot 668 Auchorachan Malcom, sold to C & V Fraser
6,500gns Lot 680 Broombrae Monty, sold to A D Sutherland
6,500gns Lot 682 Auchorachan Magic, sold to A P Whyte
6,500gns Lot 733 Corskie Megastar, sold to C H Evans & Sons
6,000gns Lot 694 Islavale Merlin , sold to J Walker & Sons
6,000gns Lot 706 Blackford Mustang, sold to P & M Grant