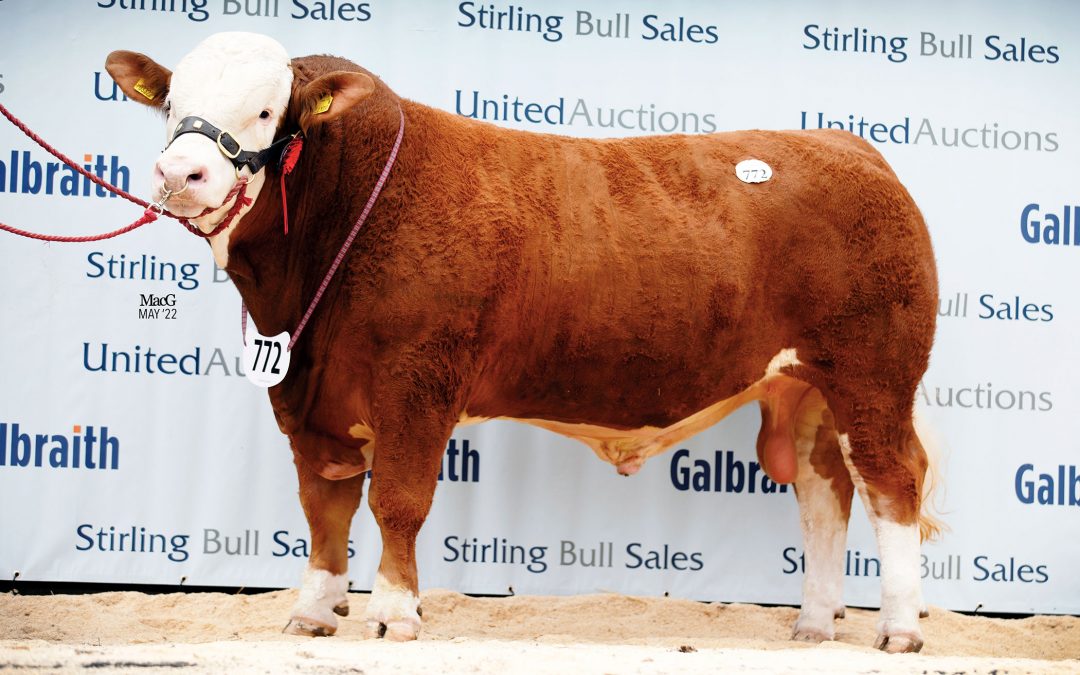 • Stirling Simmental May Average of £5632, up by £287
• 25 bulls sell, up by 4 on the year, with an 81% clearance
• 13 bulls make 5000gns and over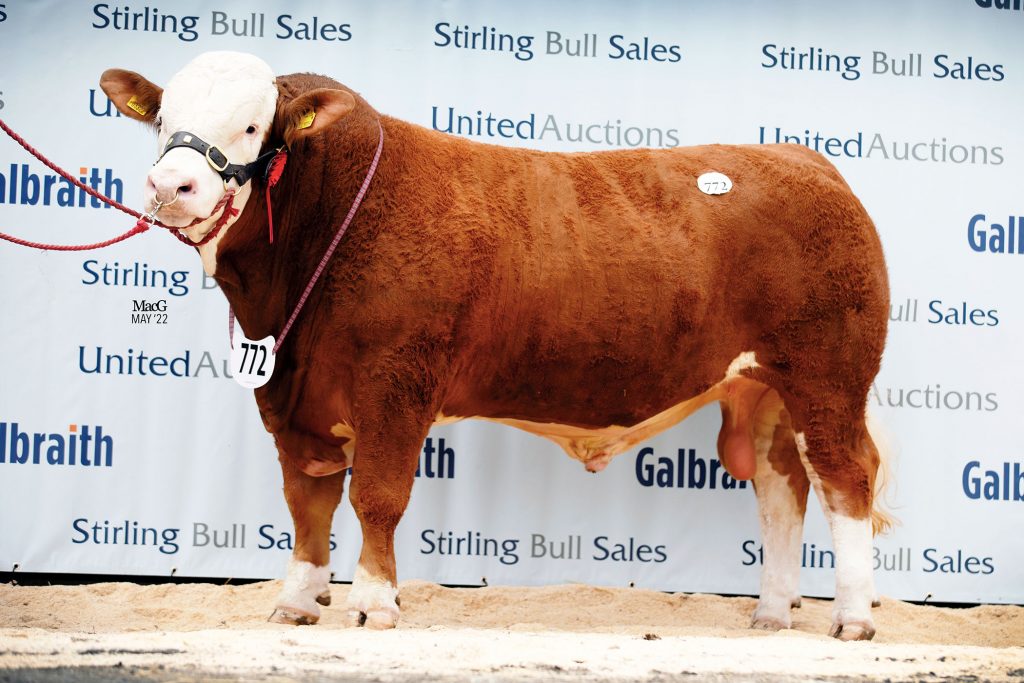 The strong commercial demand for pedigree Simmental bulls continued at the Stirling Simmental Sale on Monday 2nd May at United Auctions Stirling Agricultural Centre with a record average for the May fixture of £5632, up by £287, for the 25 bulls sold. The new mark eclipsed last year's figure which was also a Simmental record average for the May Sale.
Topping the sale at 8800gns was the September 2020 born Islavale Luxor from WS Stronach, Berryleys Farm, Grange, Keith.  This bull, a heifer's calf by Curaheen Bandit, and out of Islavale Candy 4 VG 86, was purchased by Messrs Farquharson & Son, Deuchar Farm, Forfar, Angus for use in their 50-cow commercial herd.  Commenting Clark Farquharson said: "In visiting the Islavale herd the quality of the females and the breeding behind this bull was very impressive. We like the Simmentals for their milkiness and quiet temperament and in purchasing this bull we very much hope it's an investment in taking the females in our herd to that next level." For the prolific Islavale herd it was another great day's trading with further Islavale bulls selling for 8500gns, 7800gns x 2, and 6000gns to an average of £8139 for the five sold.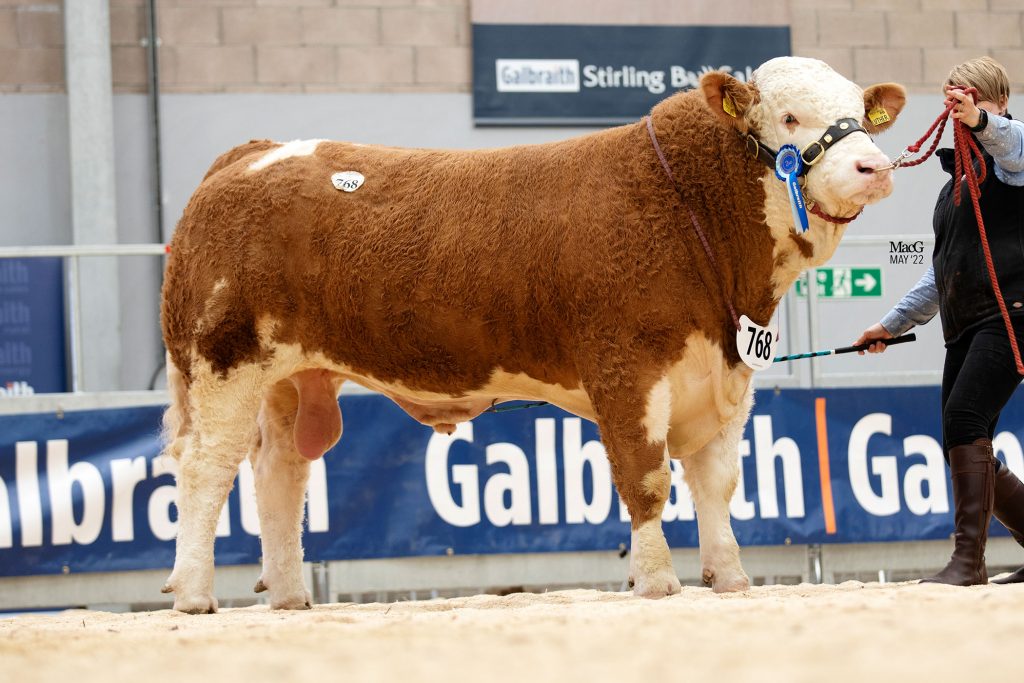 Following at 8500gns was Islavale Luther 20 who had stood second in his class to the day's pre-sale Supreme Champion judged by Jonathan Gunn of the noted Mavsey herd at Lybster, Caithness. The September born Islavale Luther, a twin to a male, is by the AI sire Dermotstown Delboy and is out Islavale Hope, a Wolfstar Elusive daughter. With both sire and dam classified to EX92 and EX91 respectively, Luther is from a maternal breeding line and with a Maternal (Milk) figure of +8. Purchasing this bull was Delfur Farms, who run the Delfur pedigree herd at Rothes, Aberlour. Speaking after the sale, Gary Patterson, the Farm Manager at Delfur Farms said: "Islavale Luther was just an eye-catching bull, very correct, and with good width. He has a depth of good breeding behind him, and I think has all the potential to be a quality female breeder." Delfur Farms presently has 140 head of cows and the majority of which are pedigree. The aim from here is to introduce Islavale Luther as the junior stock sire and with him being put to a 'good number' of the pure cows.
The Stirling Simmental trade continued the run of breed sales that has seen a commercial and pedigree demand produce both increased averages and clearance rates. Commenting after the sale, Iain Kerr, the Society's General Manager said: "With an increasing industry cost base, commercial producers are looking for all-round efficiency. The benchmark of the Simmental breed is milky fertile, easy calving females. Add that to fast growing Simmental sired progeny and being the leading beef breed for age at slaughter, Simmentals are ticking a lot of boxes for the forward beef industry." As well as the increased breed average, the sale saw 25 of the 31 bulls forward sell to give an 81% clearance rate, and with 13 bulls in all making 5000gns and over.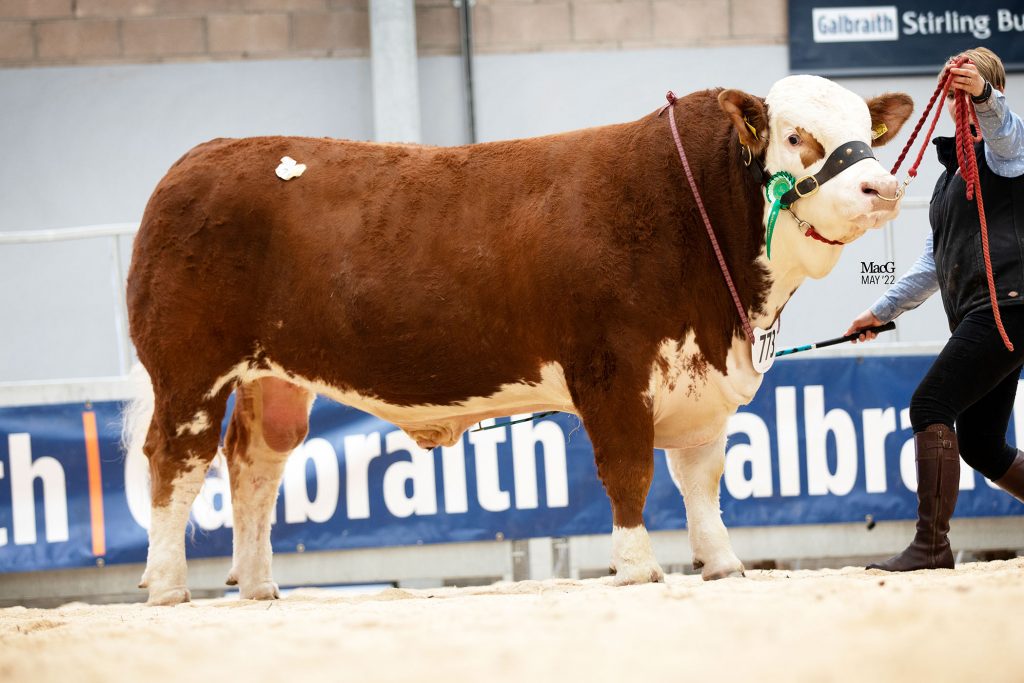 Islavale Lionel, 7,800gns
Three bulls made 7800gns. The first of these was another from the Stronach team in the shape of the heifer's calf Islavale Lionel 20. September 2020 born, Islavale Lionel is by Ranfurly Confederate C24 11 EX 94, and is out of Islavale Bramble 6 GP 82, a twin to a female. Purchasing Islavale Lionel was Charles Barclay, Craigscorrie, Beauly, Inverness-shire. A further bull at the 7800gns mark was Islavale Lazarus who stood second in his class to the Reserve Overall Champion. November 2020 born this calf is by the herd's prolific sire Atlow Dixon 12 EX 91, who has previously had bulls at up to 15,000gns. From a milky female line, Islavale Lazarus 20 is out of Islavale Girlie 5, and was snapped up by J Melville & Son, Ardwell Farm, Girvan, Ayrshire.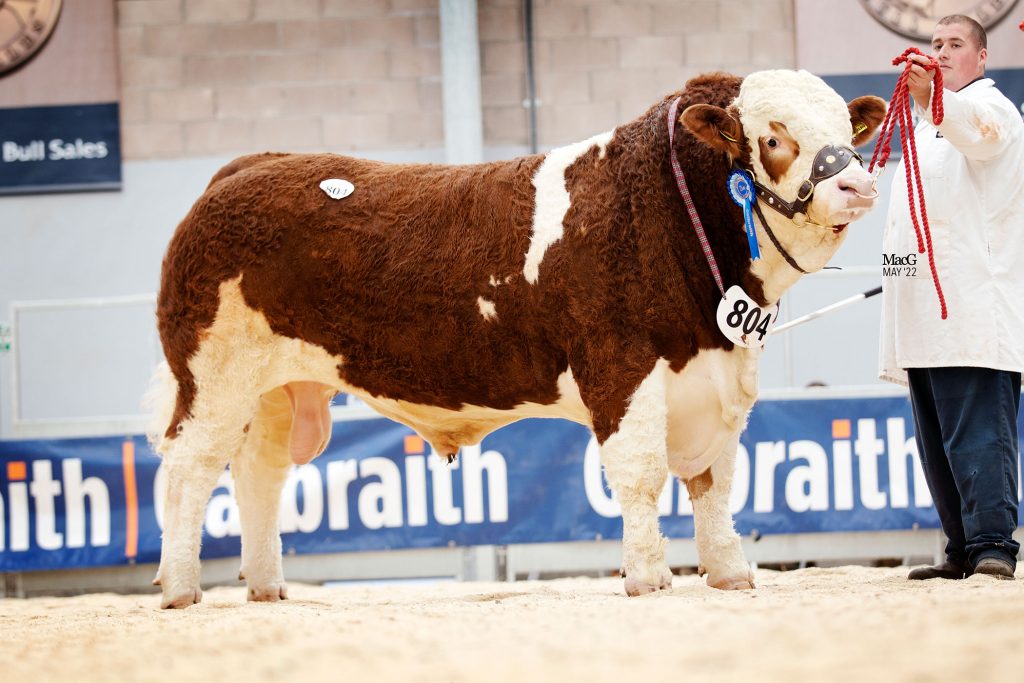 Late in the sale was the January 2021 born calf Overhill House Marley 21 from Richard McCulloch, Armadale, West Lothian. A second prize winner in the day's last class, this bull also hit the 7800gns price when selling to regular Simmental buyer Liam Muir, Upper Onston, Stenness, Stromness, Orkney. With a Maternal (Milk) figure of +7, Overhill House Marley is by Islavale Heston and is out of Overhill House Imogen, a Mohona Fletcher daughter. The previous lot in the ring, Overhill House Mick 21, another Islavale Heston son, made 5500gns when selling to T Brown, Scrainswood Farm, Alnham, Alnwith.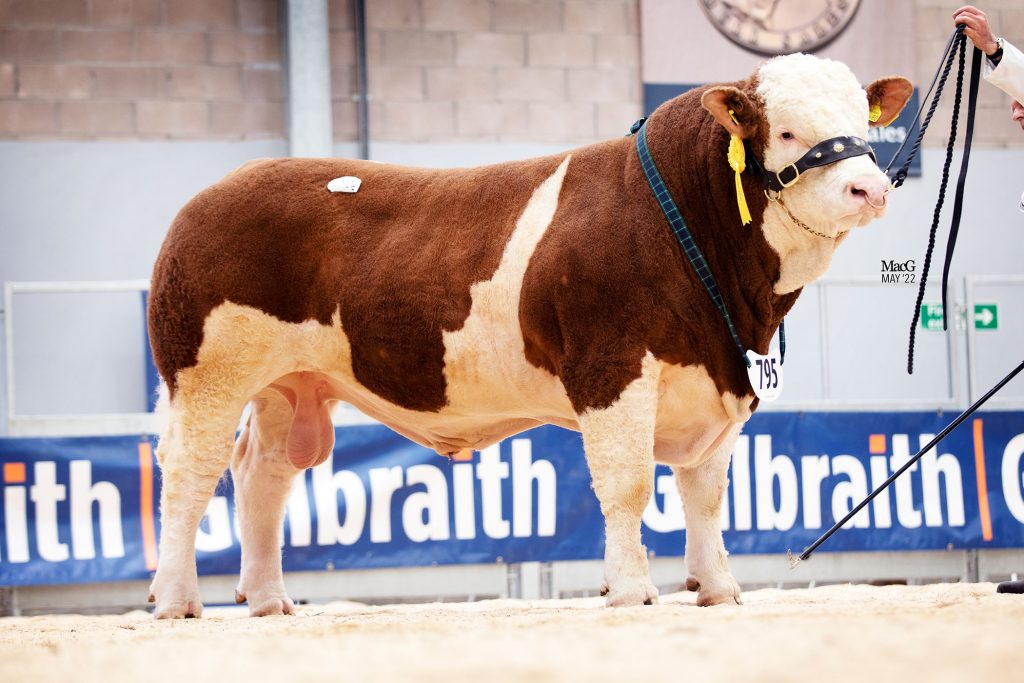 Selling at 7500gns was Grangewood Liberator from Mr & Mrs AS&YA Leedham, Pickering, North Yorkshire. A bull with tremendous width, the November 2020 born Liberator is by Ranfurly Impeccable 14 17 and is out of the Omorga Volvo daughter Grangewood Tollie's Hope. Grangewood Tollie's Hope is a full sister to the 19,000gns Grangewood Baron, and is also the dam of the 7000gns Grangewood Keegan the top price and Overall Champion at Worcester in 2021. Selling back to England, Grangewood Liberator was bought by GW Woolhouse & Sons Ltd, Church Farm, Ravensfield, Rotherham.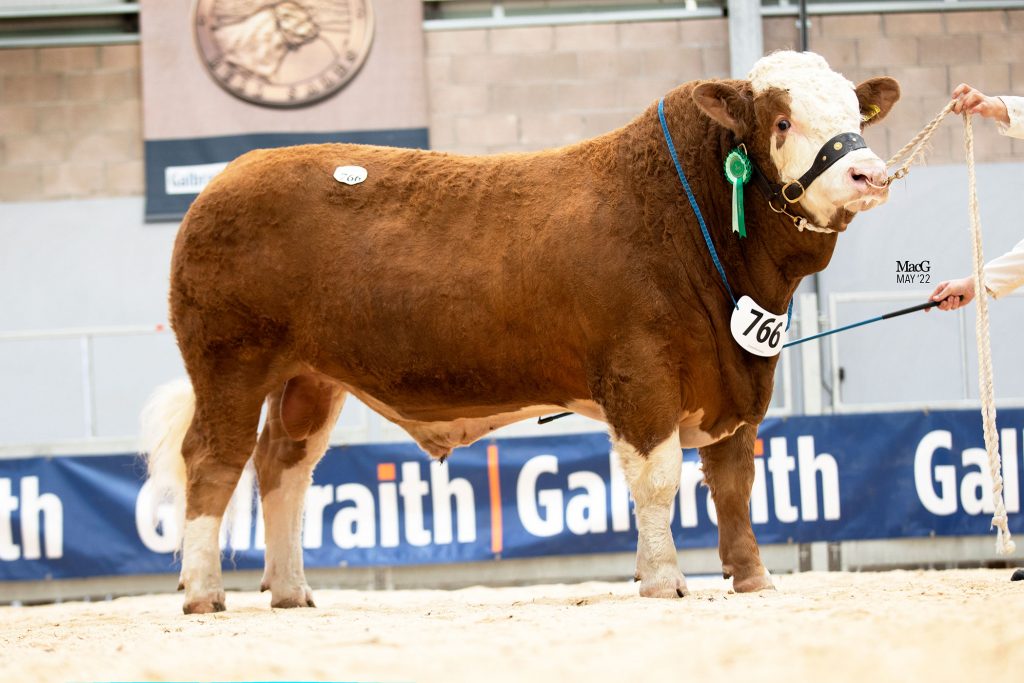 A good team of bulls from Mr WJ&J Green, Corskie, Garmouth, Fochabers met with some solid prices and topping at 6800gns for Corskie Locke 20. Featuring both depth of pedigree and performance, this September 2020 born bull is by Kilbride Farm Haka and is out of Corskie Hannette whose breeding includes both Greencap Ace and Bel Dhu Capercaillie. With strong growth figures and a Maternal (Milk) figure of +12, this bull was sold to the Borders and G Wealleans & Son, Greenlaw, Duns, Berwickshire. Also from the Green team, Corskie Look Out 20 made 6500gns and sold to North Yorkshire and Andrew Blades, Home Farm, Appleton, Roebuck. A third Corskie bull, Corskie Lunn 20 made 5000gns on the day and went to Mountquhanie Farms, By Cupar, Fife.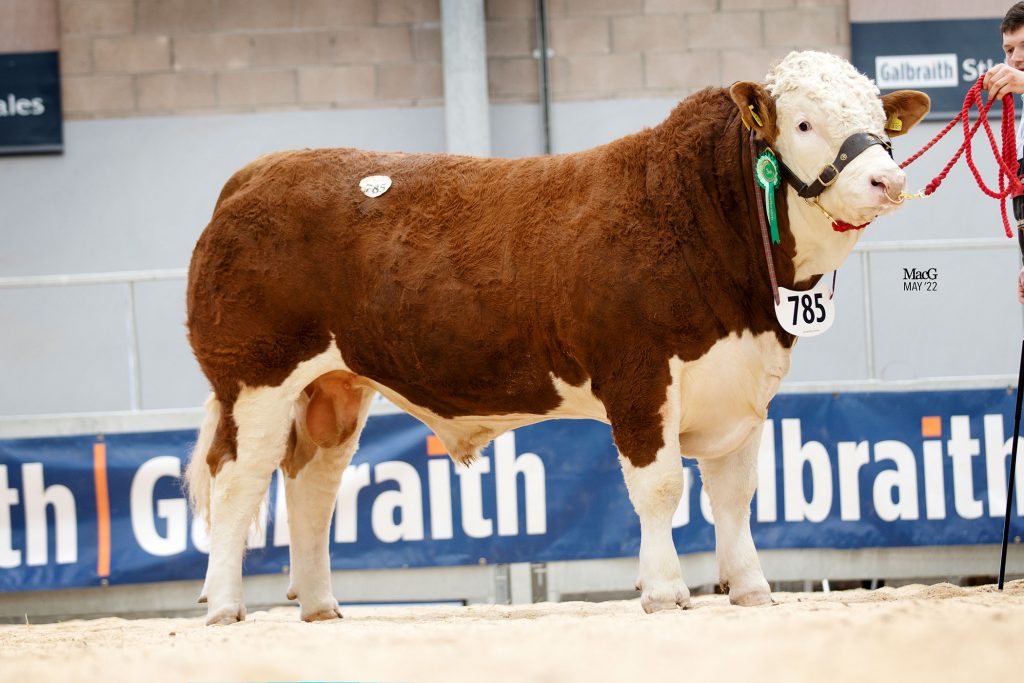 Selling pedigree Simmental bulls for the first time at Stirling was Ryan Smith, Towiemore, Keith and who made a first-class debut when realising 6500gns for Redhill Lachie 20. A dark red bull, the November 2020 Redhill Lachie was bought as a young calf at foot and one of several purchases from the Redhill herd of Danny Leslie. By Islavale Joker 18, and out of Redhill Jo-Jo, this calf was purchased by WW Dunlop & Son, Commonside, Hawick.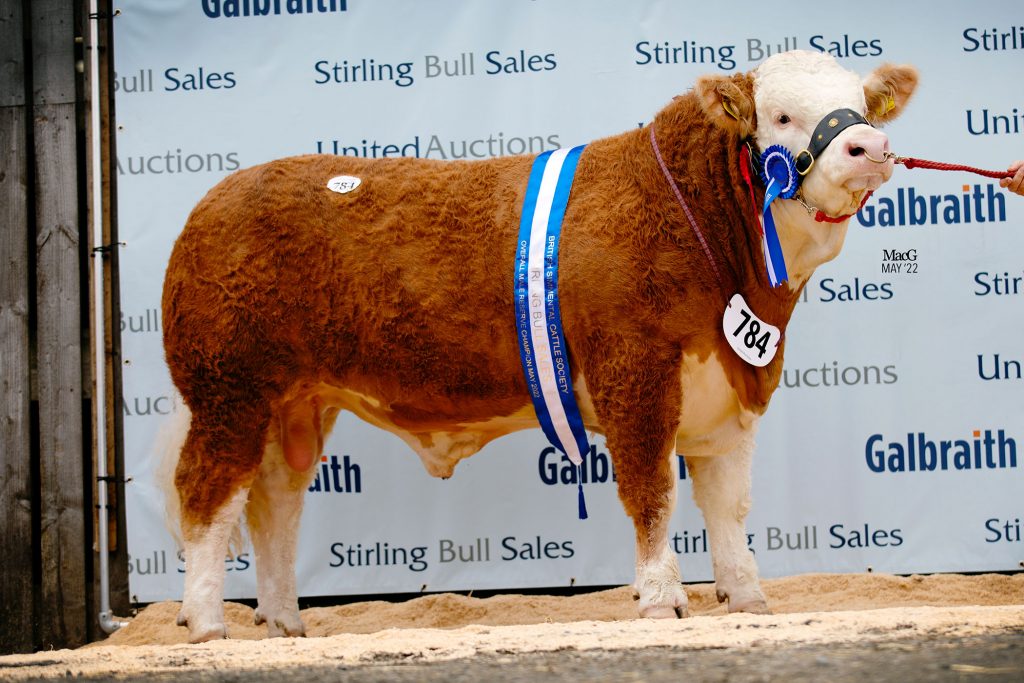 At 6000gns was the first prize winner and Reserve Overall Champion, Islavale Lambourgini 20 from the Stronach team. October 2020 born, Islavale Lambourgini is by the consistent breeding Corskie Highlander 16 EX 92, who has bred calves up to 15,000gns, and is out of Islavale Amanda 2 EX 93. Strong on classification in the breeding, and from a milky female line, Islavale Lambourgini was bought by John Meikle, Kirkton of Lundie, Dundee.