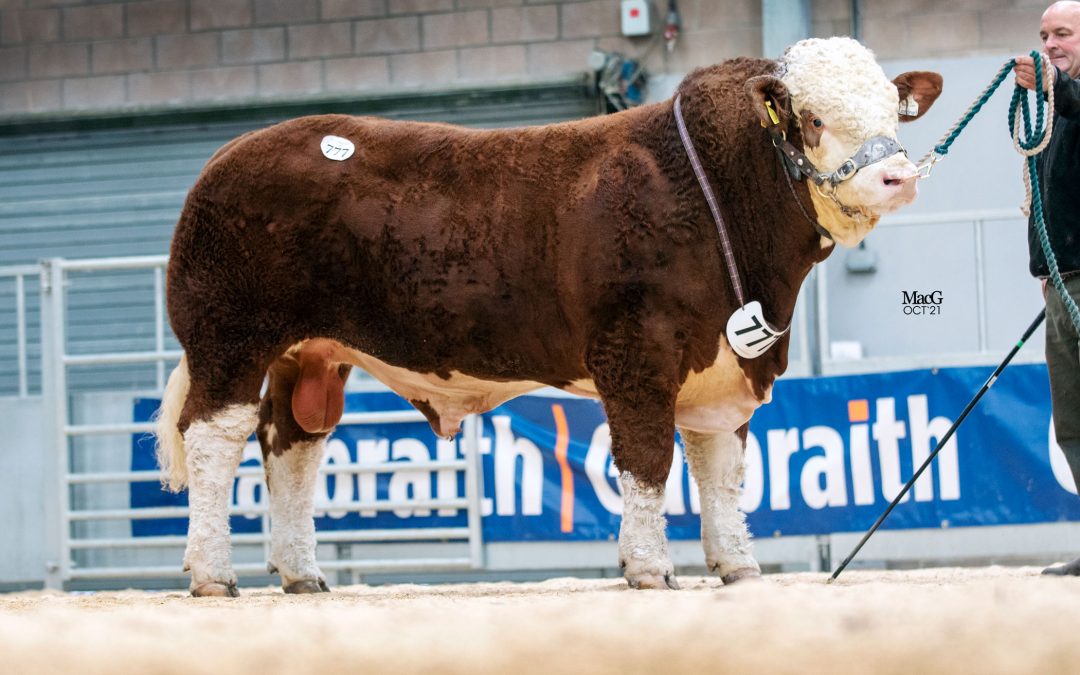 • 57 bulls sold, up 5 on the year
• Bulls average £5961, up £372 on the year
• 22 bulls sell at 6000gns or more, with three at five figures
• 7 Islavale bulls average £9185
• Corskie lead female trade at 6000gns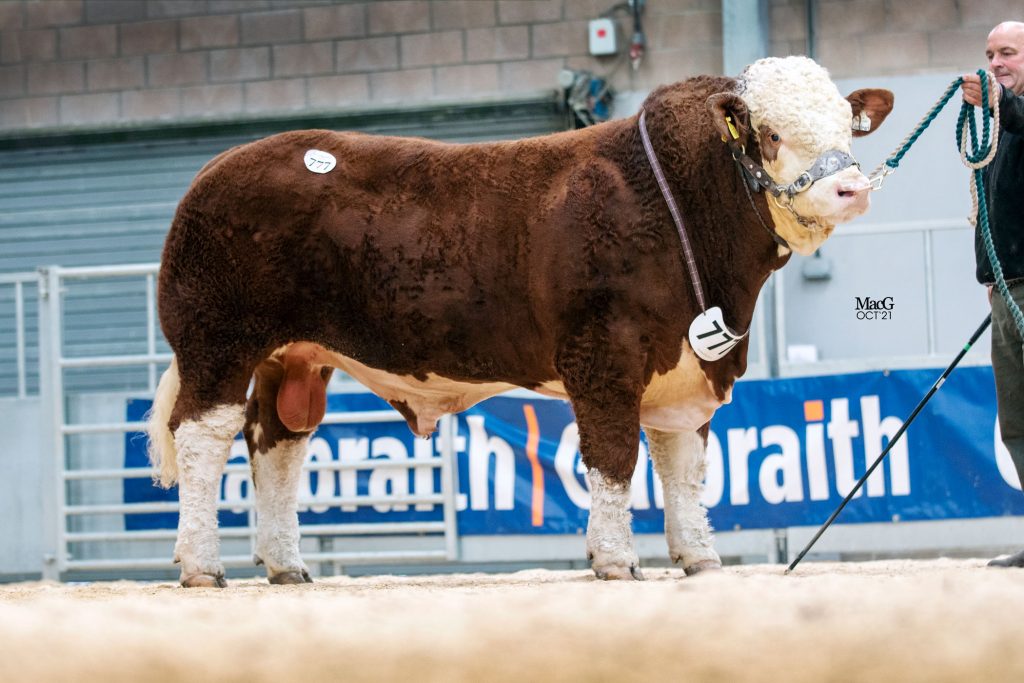 The junior bull Auchorachan Landmark 20 from D&R Durno & Sons, Auchorachan, Glenlivet, Ballindalloch, Banffshire sold for 18,000gns to lead the Simmental bull sale at United Auction's Stirling Agricultural Centre on Tuesday 19th October. From the youngest class of bulls on the day, Auchorachan Landmark 20 is a May 2020 born calf sired by the homebred stock bull Auchorachan Hercules, and is out of Auchorachan Holly, a cow described as having 'loads of milk'. Auchorachan Landmark himself carried a Maternal (Milk) figure of +10 placing him in the top 10% of the breed for this trait. The herd sire Auchorachan Hercules has been breeding well in the 60 cow Auchorachan pedigree herd with sons, prior to Stirling, averaging over 8000 at pedigree sales.
Purchasing the top price was Brian and Stuart Grant for their Dellfield pedigree herd at Druid Temple Farm, Old Edinburgh Road, Inverness-shire. Commenting, Brian Grant said: "He looked a really good bull to our eye and we know and like the breeding on his dam line. He's a well grown young bull with good shape about him, and colour was also important to get some of the darker colour into the herd. It's the most we've paid for a bull and an investment in the herds future." Auchorachan Landmark will be used on both pedigree and cross breds with the herd comprising of 170 cows in total and including 40-50 pure breds.
The Auchorachan herd's top sale price to date is the 20,000gns paid for Auchorachan Wizard. With a bit of connectivity, Auchorachan Landmark is from the same family with Auchorachan Holly being a grand-daughter of Wizard's mother. It was a solid day's trading at Stirling for the Durnos who had further bulls sold at 8500, 6500, and 4500gns respectively.
The Simmental sale as a whole saw 57 bulls sold, up five on the year, and to an average of £5961, which was also up by £372. In all, 22 bulls sold at 6000gns and over including three at over five figures. Commenting the Society's General Manager Iain Kerr said: "It was good to see more bulls sold on the year and also an increase of £372 on the averages. Simmental sales have been very strong in this last year or so with commercial buyers driving the trade and buying bulls to breed top quality breeding females. We'd have liked to have seen a stronger clearance, but there was again a ready demand for long, clean, easy fleshing Simmental bulls, with good milk and maternal figures."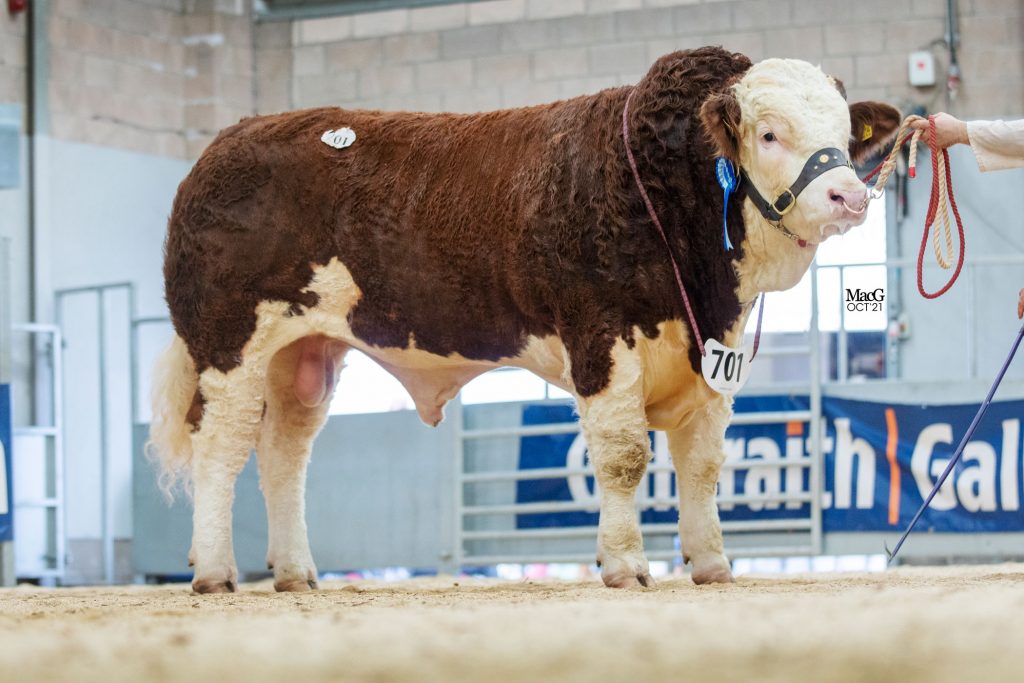 It was another tremendous Simmental sale for the prolific 160 pedigree cow Islavale herd of Mr WS Stronach, Berryleys Farm, Grange, Keith. A strong team of bulls saw seven in all sell to 12500, 10000, 9000, 8500, 7800, 7000, and 6500gns, to gross £64,365 and a mighty average of £9185. For good measure Islavale bulls also won the Overall Supreme (their eighth in all and first at the October Sale), Intermediate, and Junior Championships in the pre-sale show which was judged by Mr Simon Key of the Key Herd, Abbey Farm, Mundham, Loddon, Norwich.
Leading their consignment was the March 2020 born Islavale Lachlan 20. This bull, who stood second in his class to the Intermediate Champion, is by the ten-years-old Ranfurly Confederate, and is out of the Atlow Dixon daughter Islavale Innocent. Heading north, this bull who was Top 10% for both Calving Ease Direct, and Gestation Length, was purchased by Messrs Swanson, Quarryside, Caithness.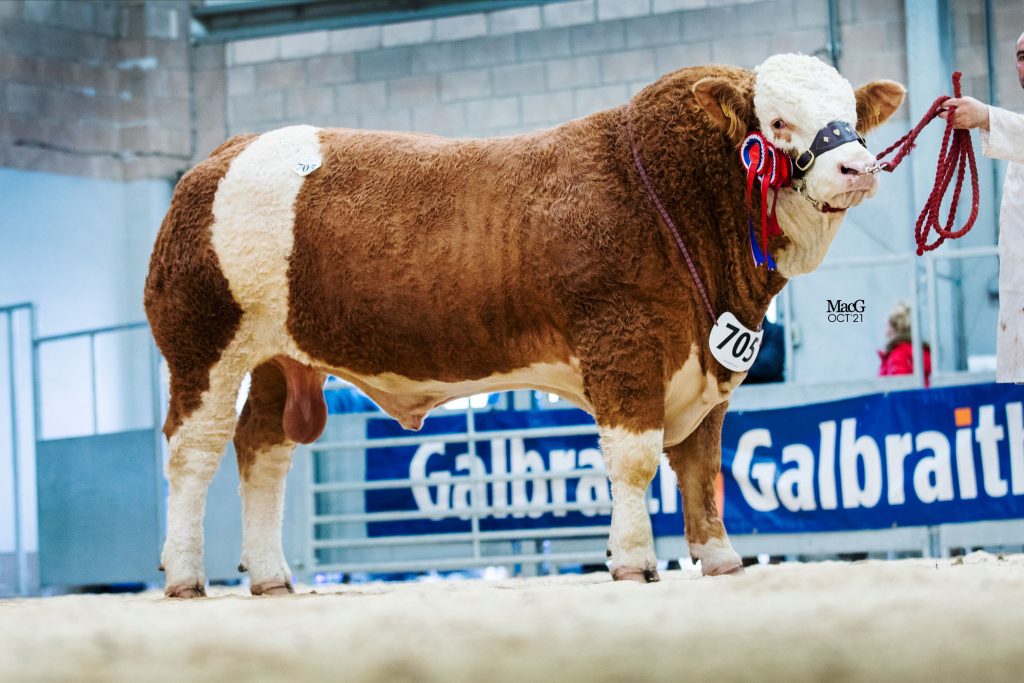 At 10,000gns was the Intermediate Champion himself, Islavale Lord 20. Another March 2020 born bull, Lord is by the herd's main stock sire at present, Corskie Highlander 16 EX 92, a Dirnanean Bradley son, and is out of the Ranfurly Confederate daughter Islavale Honeypot. Another to go commercially, this bull was bought by Inverdunning Ltd, Dunning, Perthshire.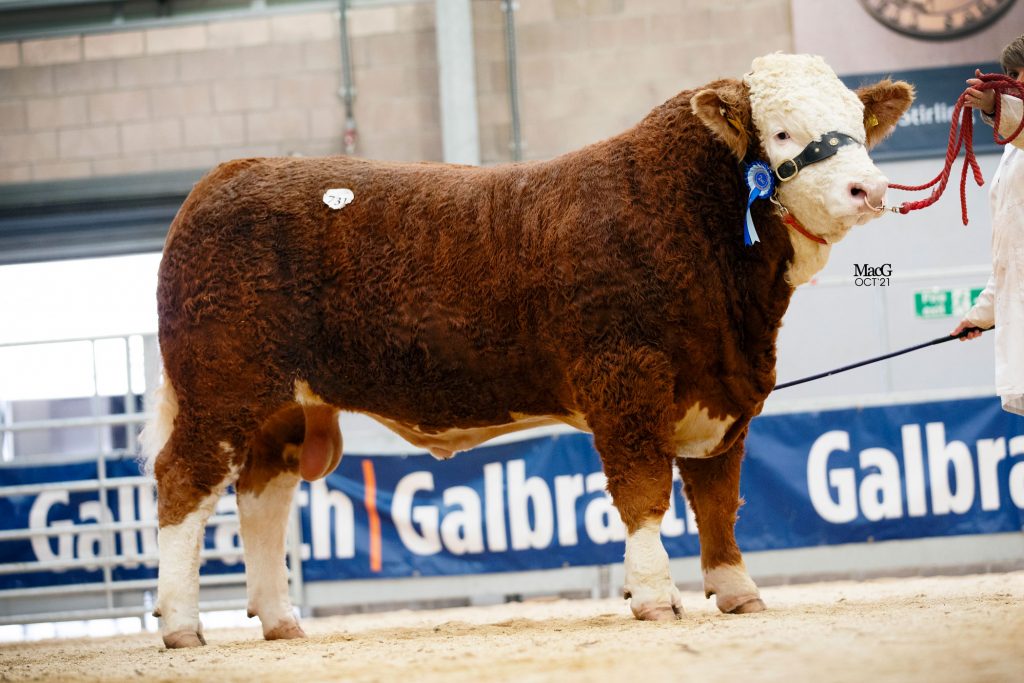 The run of Islavale prices continued with Islavale Loch Ness making 9000gns when selling to the Greencap pedigree herd of Craegorry, Dalachy Farm, Aberdour, Fife. A second prize winner, this March 2020 born bull is another by Corskie Highlander 16 EX 92, and is out of another Ranfurly Confederate daughter, Islavale Daisy. Commenting, Colin Inglis said: "I really liked the style and presence of this bull, and he's got a good set of figures behind him. The figures and breeding just fit and suit what I'm needing and he'll be used mainly on pedigrees but also on some commercials." The Greencap pedigree herd consists of 30 Simmental breeding females that are run alongside 120 commercial cows.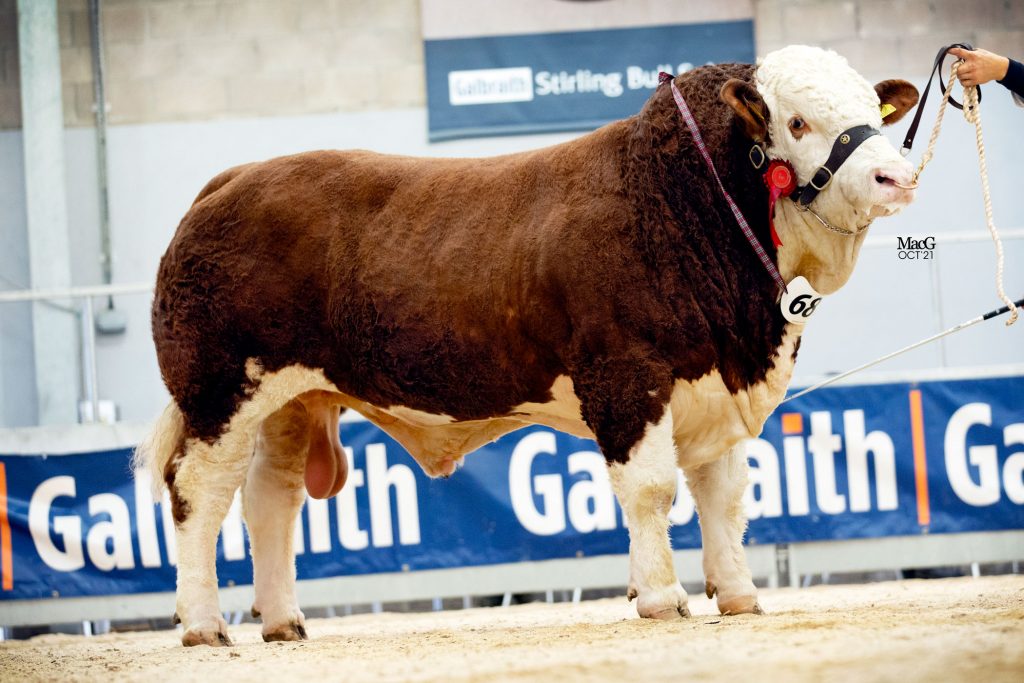 Also at the 9000gns mark was the Northern Irish bull Ballymoney Larry 20 from Mrs MH Kilpatrick, Banbridge, Co Down. A bull with size and power, Ballymoney Larry 20 had placed first in Class Four in the Senior section. March 2020 born, he is the first son of Saltire Impressive 17 who was purchased for 14,000gns at Stirling at the corresponding sale in 2018. Purchasing this bull, who carried good figures for growth and milk, was Delfur Farms who run the Delfur pedigree herd at Dundurcas, Rothes, Aberlour. Speaking to this purchase, the herd manager Stephen Allan said: "We liked this bull's breeding lines and he's suitable to use on all of our cows. He's got size and width and we think he will complement our cows and bring a consistency of breeding. We've got 150 cows, of which 30 are pure not pedigree, and the he'll be used predominantly for the pedigrees."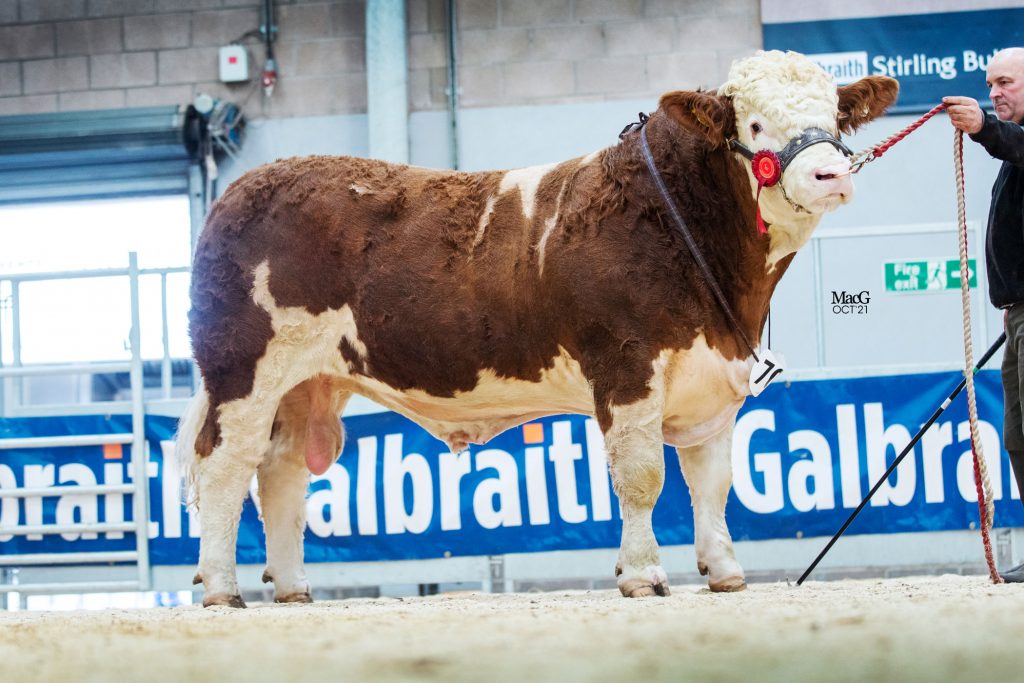 Another from the Durnos in the shape of Auchorachan Lancelot 20 (P) made 8500gns when selling to the Killumpha herd of Mr T Hamilton, Port Logan, Stranraer. A first prize winner in Class Six of the Intermediate Section, Auchorachan Lancelot 20 (P), is a heterozygous polled son of the imported Auroch Hudson (P), and is out of the noted Auchorachan Witch EX 90, a Glebefarm Tyson daughter. Of his purchase Mr Hamilton said: I really like the breeding of this bull and he's also different to what I've had before. I liked the red colour of the bull and he carries a lot of style. We'll use Auchorachan Lancelot on a mixture of the pedigree herd and commercials".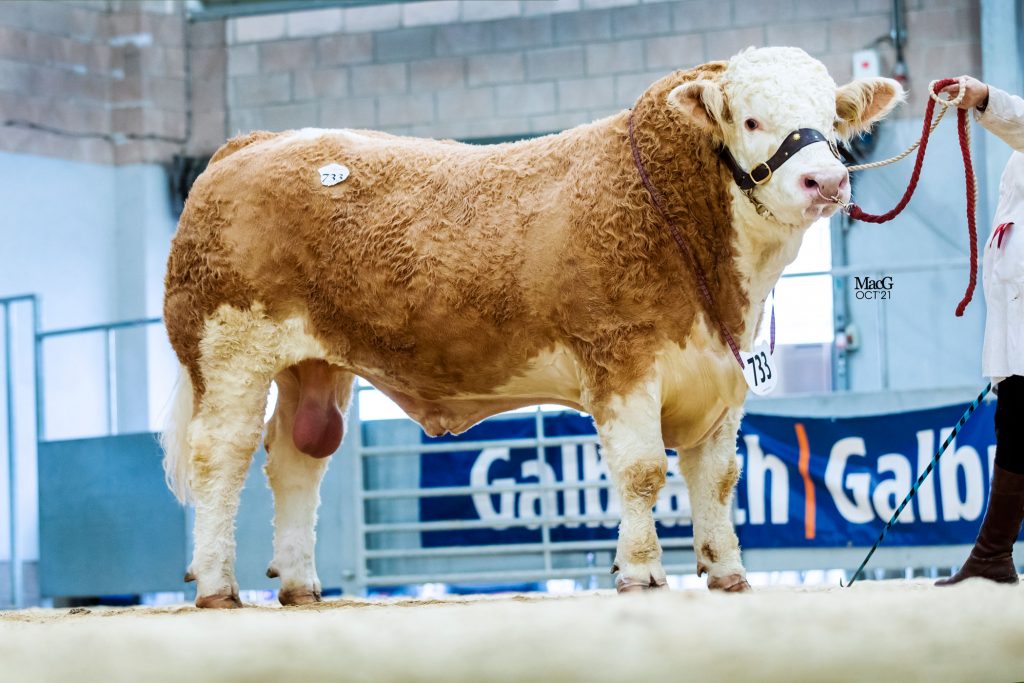 At this same 8500gns was another from the Islavale team, this time Islavale Lionheart 20. April 2020 born, Islavale Lionheart is a Curaheen Giant son and is out of the EX90 classified cow Islavale Holly 4, a Woodhall Walker daughter. A theme of the day was the demand for bulls with good Maternal (Milk) figures and this bull was another example with a +10 figure putting him in the breed's Top 5%. Another of the top prices to go commercially, this bull was purchased by W&J Brown, Hilton of Culsh, New Deer, Turriff who said: "This was a very correct bull with size, a good top, and with excellent milk figures. He'll be a very good fit with our commercial cows".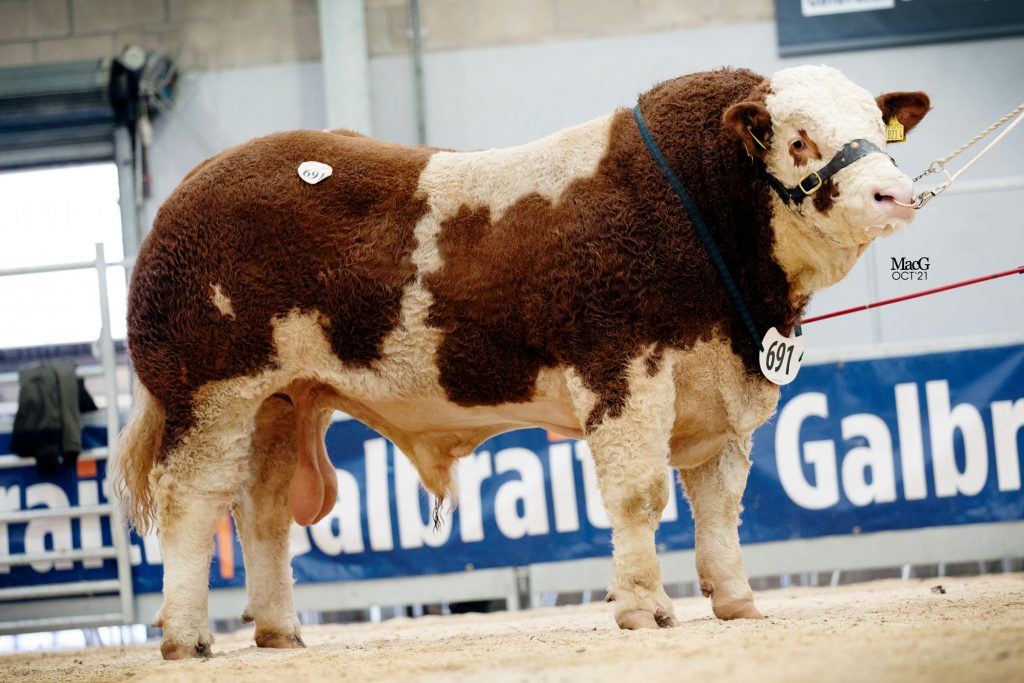 Two bulls made 8000gns. The first of these was another from Northern Ireland in the form of Hiltonstown Lorenzo 20 from Richard & Rhys Rodgers, Portglenone, Co Antrim. A bull with width and shape, the March 2020 born Lorenzo is by Dermotstown Delboy, and is out of Hiltonstown High Class, a Hiltonstown general daughter. Going to a pedigree home, Hiltonstown Lorenzo was bought by MA Barlow & Sons for their 60-cow Denizes herd at Four Oaks, Ulnes, Nr Leyland, Lancashire. Commenting, Michael Barlow said: "This bull is just full of natural thickness and shape. He's a bull that we think will complement the style of the Blackford Galaxy daughters in the herd".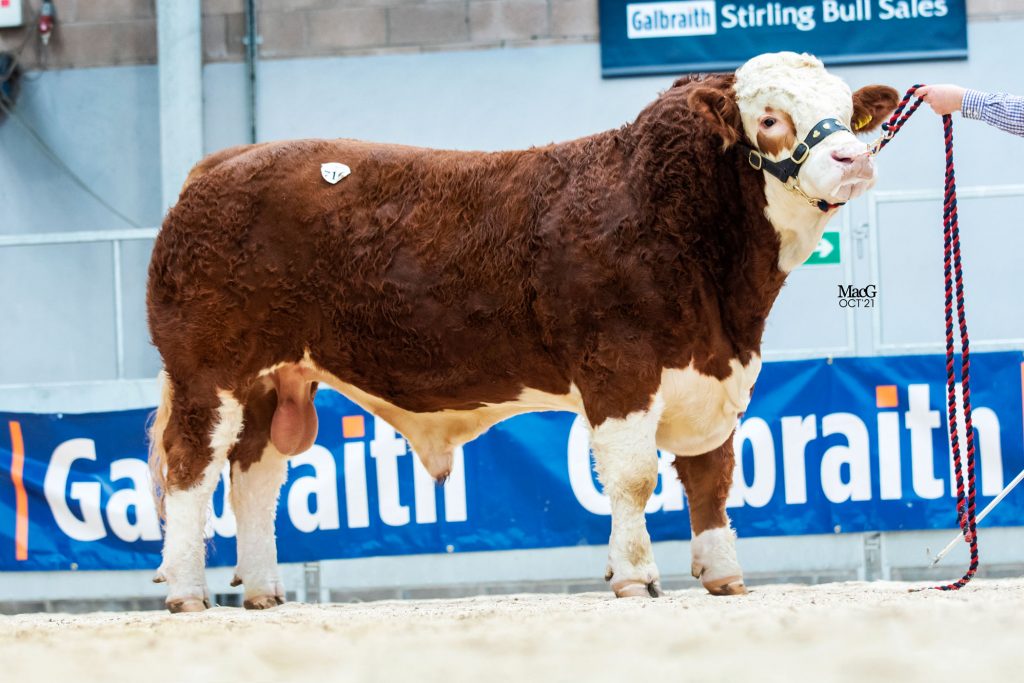 The second bull at the 8000gns mark was Roma Leader 20 from Mr RS & ME Weatherup, Romavale, Ashybank, Hawick, Roxs. It was a good sale to finish with for the Weatherups and following the successful Dispersal Sale of the herd in September and also at Stirling. Another with a Top 10% figure for Maternal (Milk), this March 2020 bulls is by the herd stock sire Islavale Frontier and is out of Roma Diamond, a Dirnanean Apostle daughter. This bull was knocked down to J Coventry & Sons, Newbarns Farm, Forfar, Angus.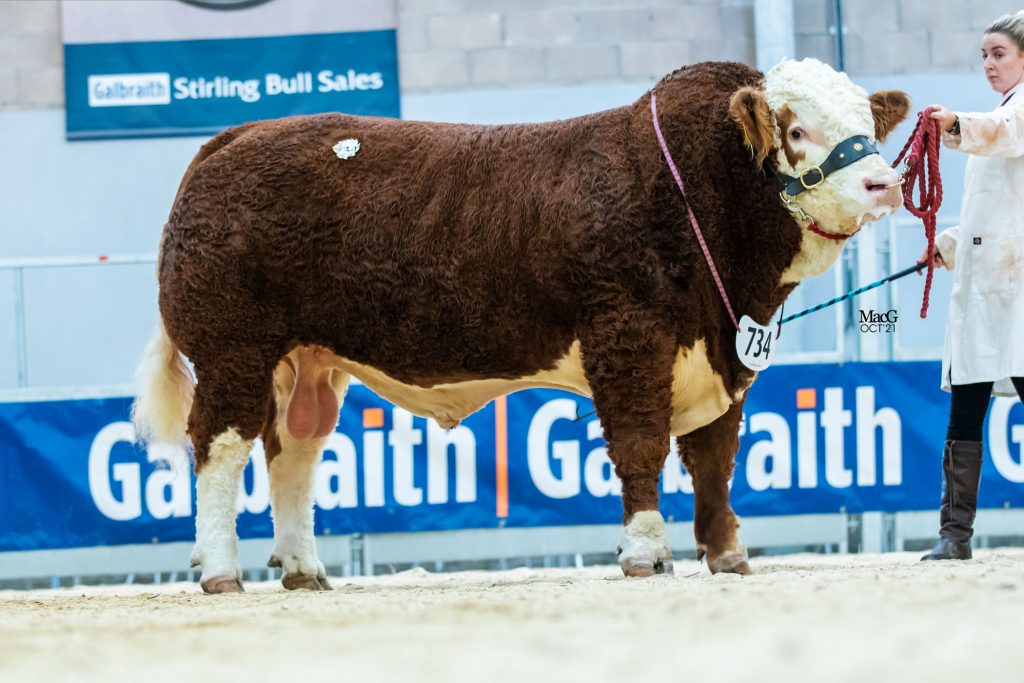 Continuing the run of Islavale bulls was Islavale Loyal 20 at 7800gns. Another dark red, fleshy bull, Loyal is by Curaheen Giant 2 and is out of the Curaheen Bandit daughter Islavale Glee VG86. This April 2020 born calf was bought by the J Milne & Sons, who run the Middlethird herd at Oldwhat Mains, Turriff. Commenting Mr Milne said: "We liked the bulls from the Islavale team at the sale. The bull we bought is a strong bull carrying some shape. He'll be used on the pedigree herd and also to breed replacements in the commercial herd".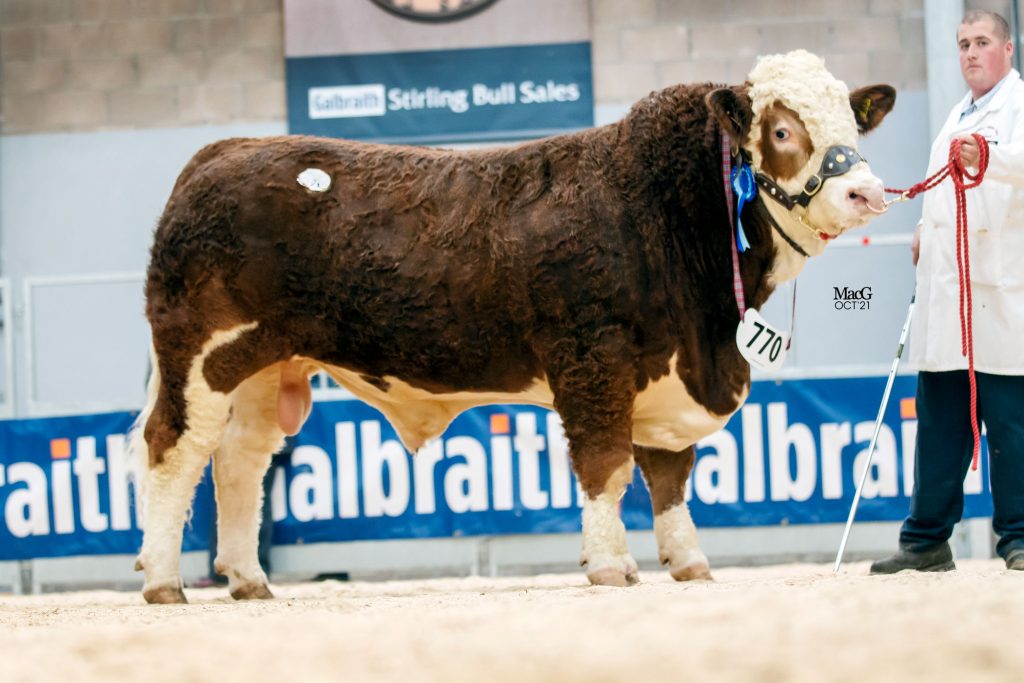 Selling at 7500gns was Overhillhouse Link 20 from Richard McCulloch, Over Hill House, Armadale, West Lothian. May 2020 born, this bull who stood second in the last but one class, is by Islavale Heston and is out of Overhill House Gnocchi. This young bull headed to Ayrshire when being purchased by DL&S Currie, Pinclanty, Pinmore, Girvan.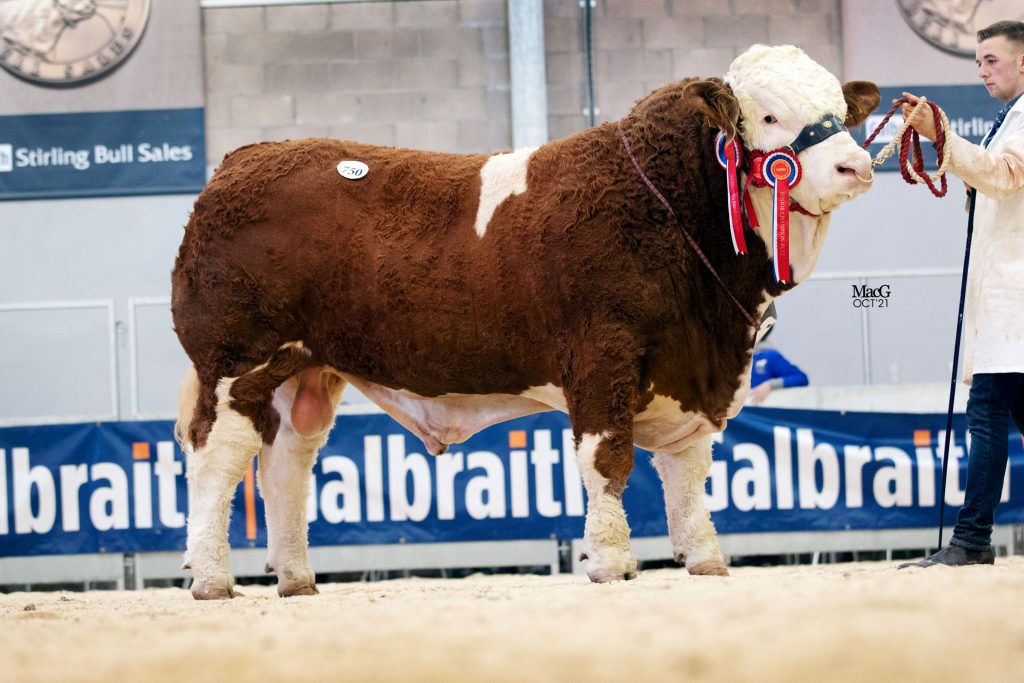 *The Overall Supreme Champion, and Junior Champion, was the April 2020 born Islavale Lennon 20 and again from the Stronach team. This bull is by Curaheen Giant, and is the third Giant son from Islavale to win a Stirling Supreme Championship. He is out of the second calver Islavale Harlequin VG87 who is a Ranfurly Confederate daughter. Of his Supreme Champion, the judge Simon Key said: "This bull just carried so much style and had a lovely and very typical Simmental head. He is exceptional on his plates, very clean through the middle, and a bull with easy fleshing qualities. I think he's a modern Simmental bull with good locomotion, and carrying style and top Simmental breed characteristics." The day's Champion sold for 7000gns and was purchased by Graham Allan for his noted Glenturk herd at Wigtown, Newton Stewart.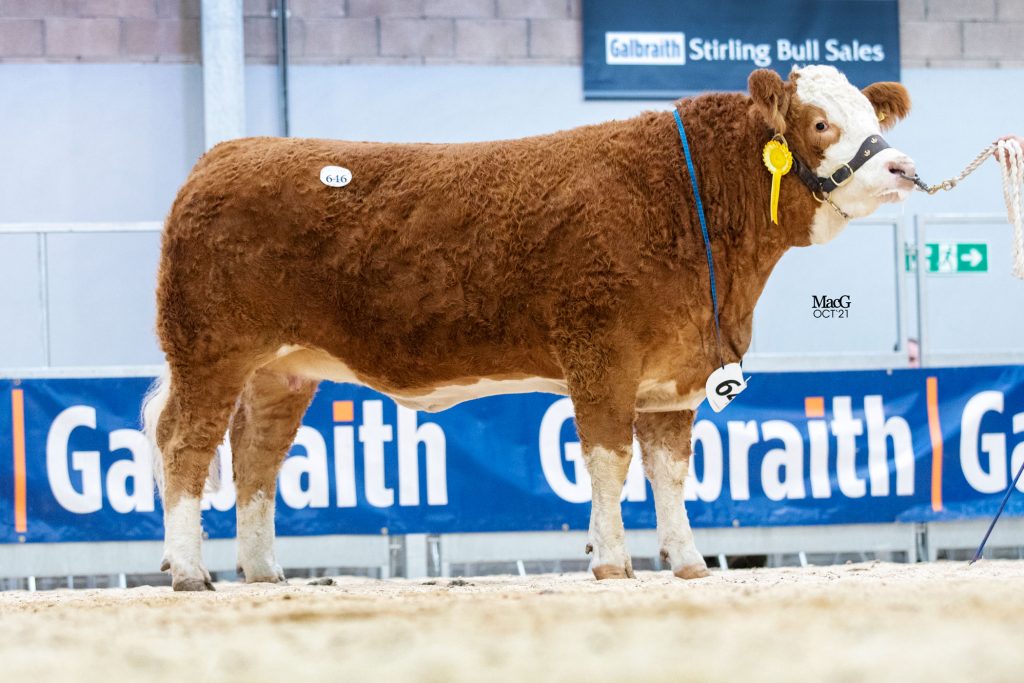 A small but good show of females was topped at 6000gns by the in-calf heifer Corskie Kaylee from Mr WJ &J Green, Corskie, Garmouth, Fochabers. April 2019 born, Corskie Kaylee is by Kilbride Farm Haka and is out of Corskie Haylee VG 86, a Dirnanean Bradley daughter. PD'd in-calf to Drumagarner Hughes, Corskie Kaylee was bought by the noted commercial producer Ryan Smith who also runs the Towiemore pedigree herd at Towiemore Farm, Keith, Banffshire.
AVERAGES:
57 Bulls (+5) £5961 (+£372)
9 Heifers £3033
5 Cows & calves £3423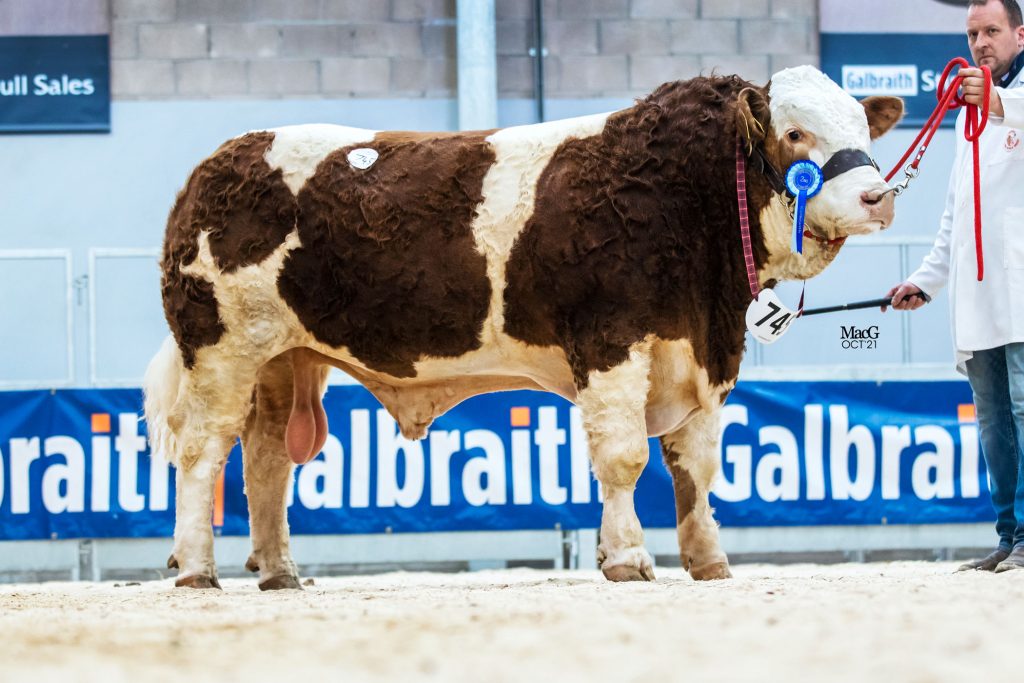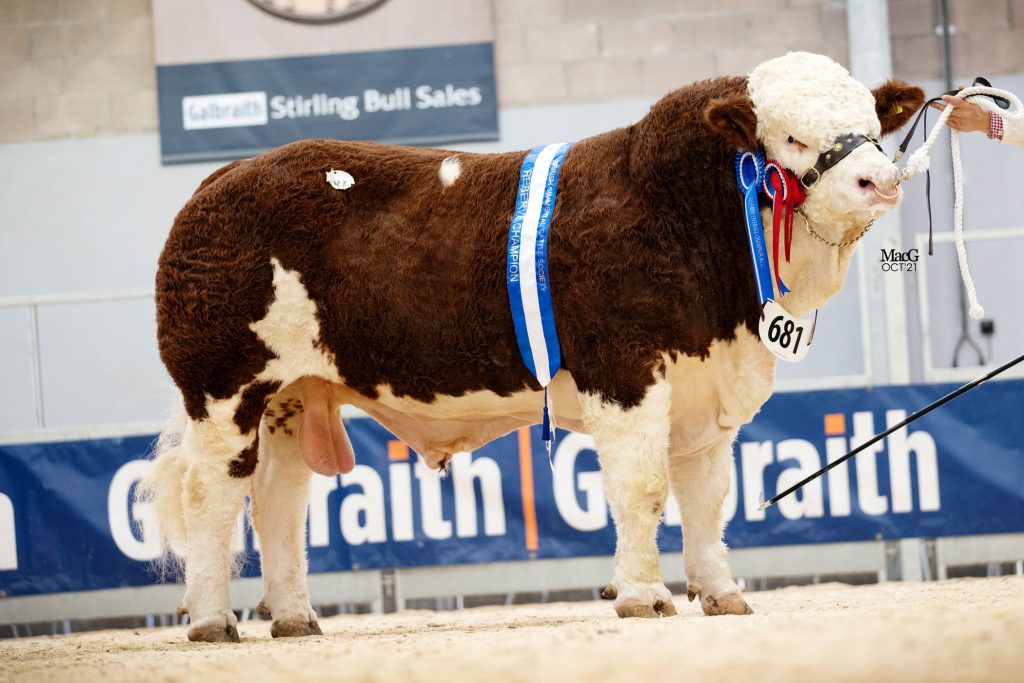 OTHER LEADING PRICES:
7200gns Lot 730 Strathisla Lynx sold to Genoch Mains Farm, C/o John J M McIntosh, Genoch Mains, Dunragit, Stranraer, Wigtownshire DG9 9ES
7000gns Lot 681 Popes Lockhart sold to A Nicolson, Relugas Mains Farm, Dunphail, By Forres, Moray IV36 2QL
7000gns Lot 745 Ranfurly Leader sold to Maesquoy Farms, Maesquoy Farm, Harray, Orkney KY17 2LE
7000gns Lot 750 Islavale Lennon sold to Glenturk Farming Co, Glenturk, Newton Stewart, Wigtownshire DG8 9TF
6500gns Lot 718 Islavale Leon sold to C A Smith, Wester Coull, Tarland, Aboyne, Aberdeenshire AB34 4YS
6500gns Lot 736 Drumsleed Landmark sold to Genoch Mains Farm, C/o John J M McIntosh, Genoch Mains, Dunragit, Stranraer, Wigtownshire DG9 9ES
6500gns Lot 746 Auchorachan Lockdown sold to W Young, Skerrington Mains, Hurlford, Kilmarnock, Ayrshire KA1 5JB
6500gns Lot 772 Springfield Legacy sold to J Duff & Son, Broomknowe, Brechin, Angus DD9 6SJ
6200gns Lot 672 Garmouth Loon sold to M J & A Mill, Shawsmill Farm, Cardenden, Lochgelly, Fife KY5 0AN
6000gns Lot 663 Denizes Kingsley sold to A Whiteford, Moulandale, Kemnay, Inverurie, Aberdeenshire AB51 9JU
6000gns Lot 755 Strathisla Lumberjack sold to Stewart Farms, Ballglass, Lennoxtown, Glasgow G65 7LG
6000gns Lot 787 Popes Laertes sold to Greasley Estate, Peter Muir, Lamb Close House, Eastwood, Nottinghamshire NG16 3QX
Auctioneers: United Auctions