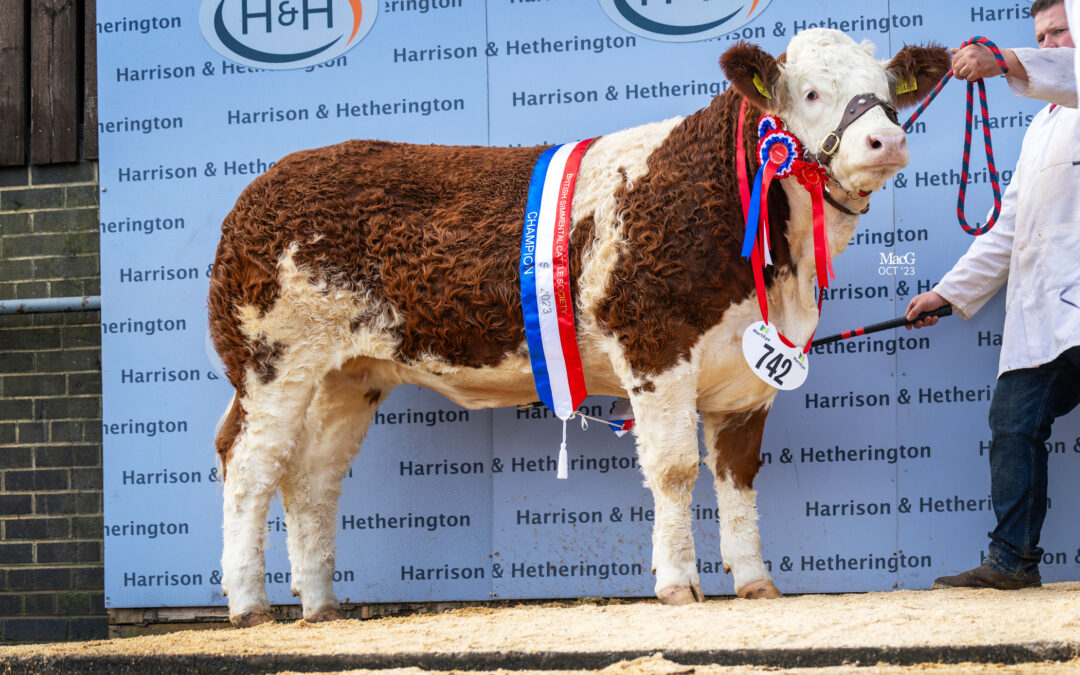 • Delfur double up in the Overall & Junior Championships
• Springfield take Senior Championship and Overall Reserve
• 60 Simmentals entered at Youngstock Show
Following hard on the heels of a record breaking sale day at Stirling, Simmental breeders turned their attention just four days later to the Simmental Youngstock Show hosted by the North West Simmental Club and British Simmental Cattle Society, and held within the Borderway Agri Expo event at Carlisle.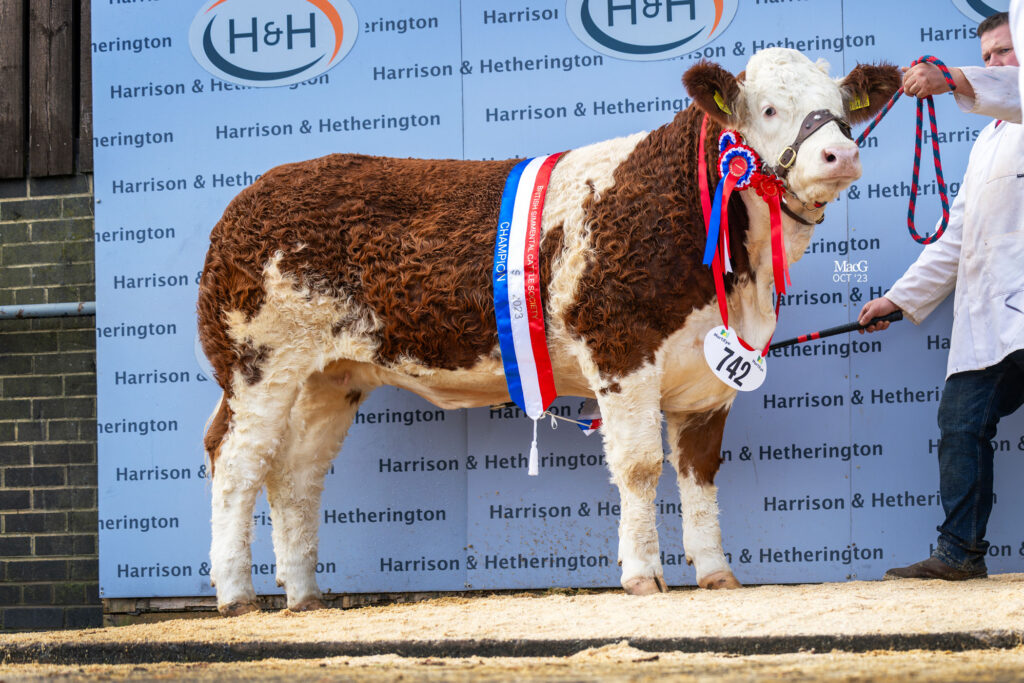 After some fantastic classes featuring a high quality entry, the judge for the day Heather Duff of the noted Pitmudie herd, Menmuir, By Brechin, Angus, tapped out the classy heifer Delfur Nifty from Delfur Farms, Rothes, Aberlour as the day's Overall Champion having earlier awarded her the Junior Championship. In a cracking day for the Delfur herd, first time exhibitors at the Simmental Youngstock Show, Delfur Weigela followed her stablemate through from the class to lift the Reserve Junior Championship. Quite a debut day for the Delfur herd and with the cattle being shown by well-known herd manager Garry Patterson.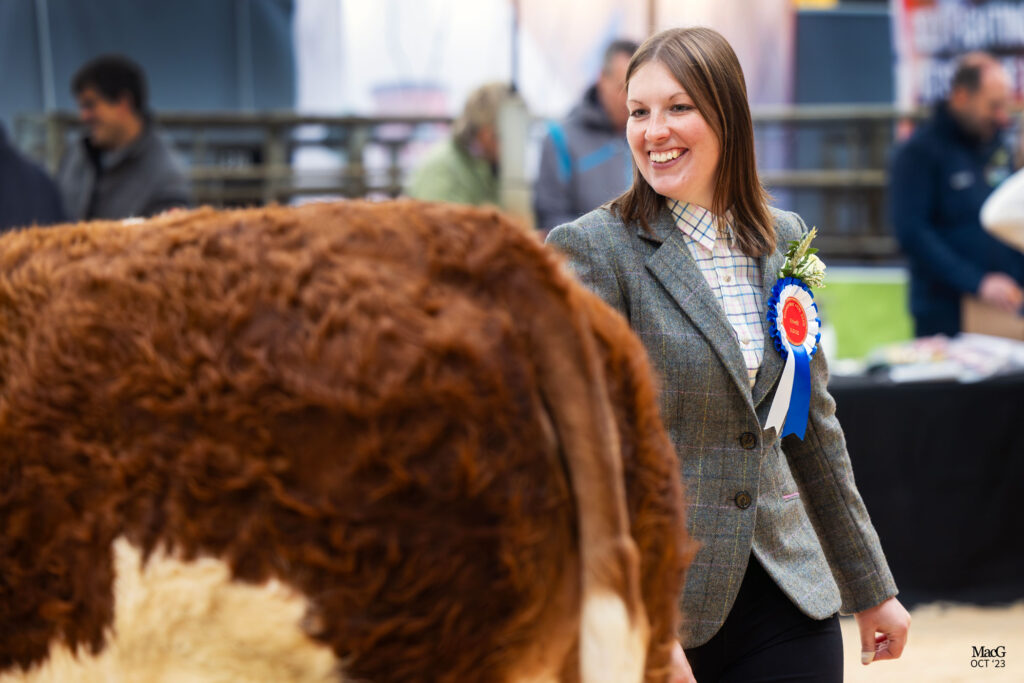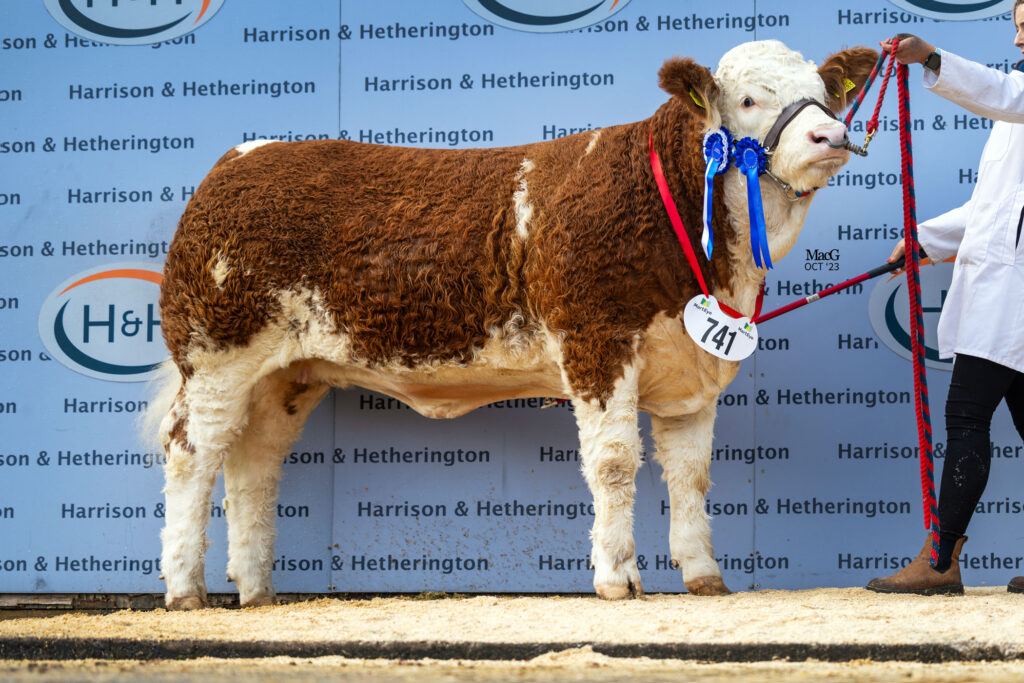 Commenting on her choice of Champion the judge Heather Duff said: "My Champion is just a super Simmental heifer. She's very stylish and eye catching with a lot of breed character, she has great lines to her and is I think a very modern Simmental female with a big future ahead of her."
November 2022 born, Delfur Nifty is by Ballymoney Larry, a Saltire Impressive son, and is out of Delfur Joyful, an Islavale Cassius daughter. The Reserve Junior Champion, Delfur Weigela N12 is also by Ballymoney Larry and is out of Delfur Weigela E12, an Auchorachan ACDC daughter. Just for good measure the two then teamed up at the end of the day to lift the Simmental Pairs Championship!
Speaking afterwards Garry Patterson, who took over as Delfur herd manager in May last year, said: "I'm absolutely delighted to win this event from within such a big entry and across a really high standard of Simmental cattle. The Borderway Agri Expo is a great industry event and presents a real opportunity to build the Delfur profile and showcase cattle in the herd. I think a lot of these two heifers but against the level of competition you can never expect to or anticipate winning the Overall Supreme and Juniro Champion & Reserve, so a cracking day." From here both heifers have been entered to the Stars of the Future and LiveScot events. Ballymoney Larry, one of the first Saltire Impressive sons at sales, was a bull purchased for 9000gns prior to Garry joining Delfur and has left some terrific calves before being sadly lost to injury. The present herd sire starting to leave progeny is the 28,000gns Islavale Magnum who was purchased in October last year. The Delfur herd presently comprises of 120 breeding females and Garry says a forward aim is simply working on the breeding females and keeping the quality high: "We're trying to capture the very best of female genetics and to build on that. Some embryo work and possibly flushing the mothers of these two heifers will really help with that."
The Simmental Youngstock Show saw a fantastic entry of sixty cattle, the events largest to date by some distance, and with entries from nineteen breeders ranging from the north of Scotland down through to the south of England, and from Wales! Of the general show, Heather Duff went on to say: "I'd like to congratulate all of the exhibitors for putting on such a great show. There was a depth in quality in the classes that really showcased young Simmental cattle with a lot of potential. It made my judging job a very enjoyable one and I would like to thank both the North West Club and the Society for inviting me to judge this prestigious event." Along with her parents Arthur and Jennifer, Heather aims to build the Pitmudie herd up to fifty calving cows to run alongside their 110-strong commercial herd. No strangers themselves to the showring the Pitmudie herd have enjoyed a terrific show summer themselves with a number of wins including at Fettercairn, and Kirriemuir Shows respectively.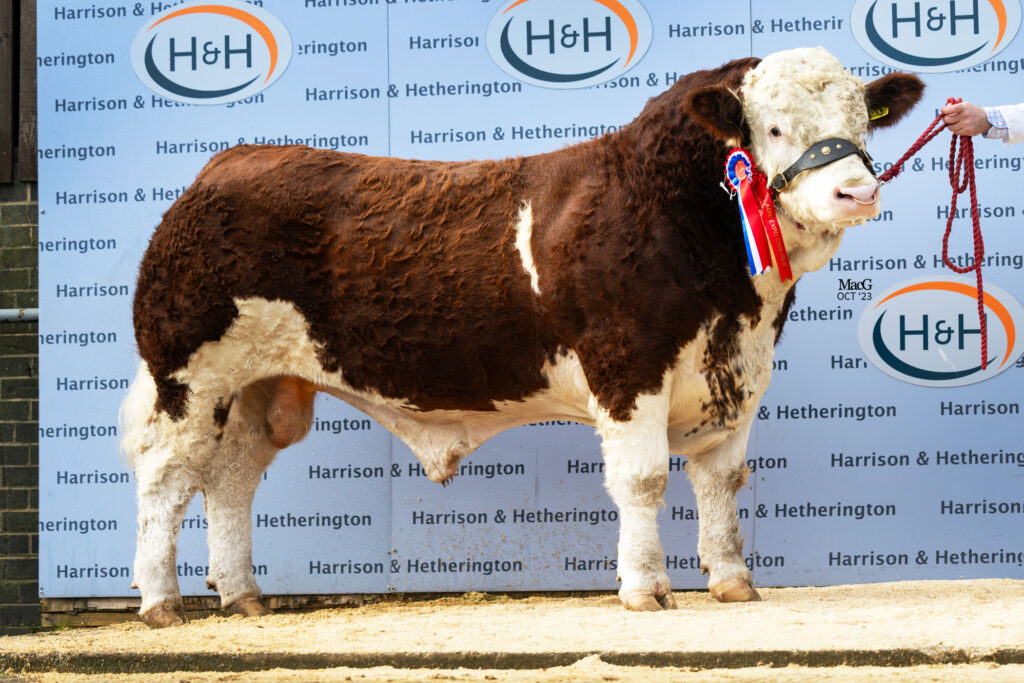 Having won the Overall Supreme, and the Reserve Supreme & Reserve Junior Championships in two previous visits, Gavin Brown, Springfield Farm, Penicuik was back at it again and this time winning the Overall Senior Championship and Overall Reserve with the April 2022 born Springfield Neptune. Neptune is by the herd's 6000gns stock bull Islavale Jabba, and is out of Springfield Ivory, a Shiloh Freedom daughter. From here Springfield Neptune will be aimed at the February 2024 Stirling Bull Sale. Islavale Jabba was purchased for 6000gns in 2020 and his first bulls at Stirling last year averaged 5000gns and with a good run of heifers levelling at 4500gns. Springfield Major, the champion at Borderway in 2021, and also a Jabba son, sold for 7500gns at Stirling in February this year. Another strong day's showing at Borderway on Friday saw the Springfield herd pick up two firsts, three seconds, and a third in addition to their Overall Reserve Championship win.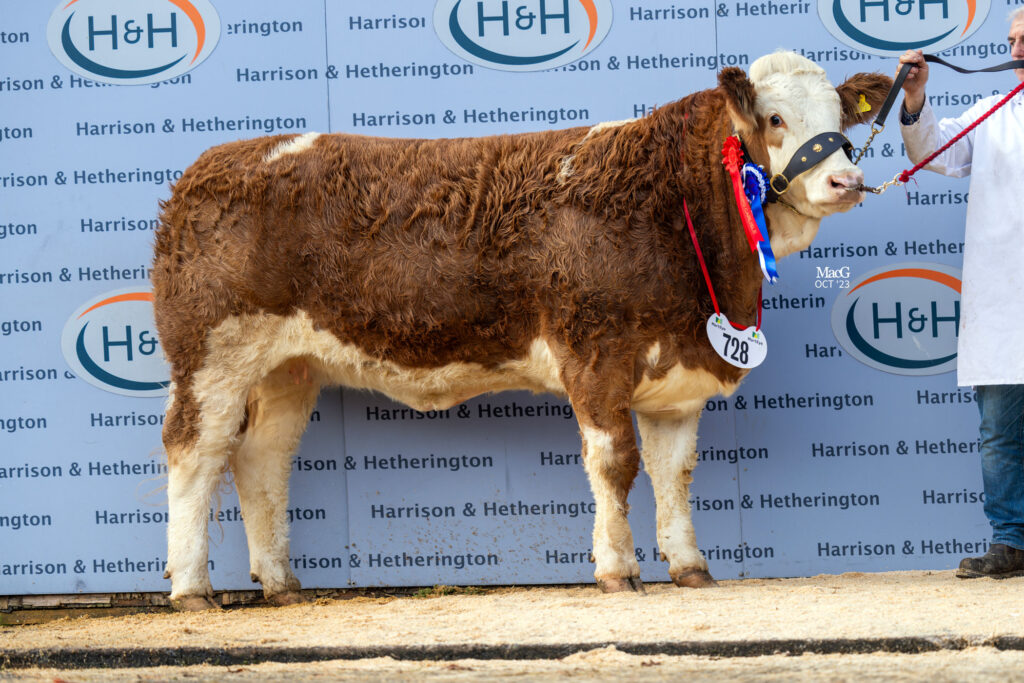 Taking the Reserve Senior Championship was the classy heifer Braegarrie Nadia from Lindsay and Robert Currie, Pinclanty, Pinmore, Girvan, Ayrshire. This April born heifer is by Woodhall Ferrari and is out of Braegarrie Julia, a Keeldrum Geronimo daughter. In August this year Nadia had been part of the winning Pair at the Scottish Simmental National Show held at Dumfries. At Carlisle the Braegarrie herd again featured in the Pairs when winning the Reserve with the bull Braegarrie Nightrider, an Overhill House Link son, and Braegarrie Nigella a heifer by the same sire. In another strong day's showing the Braegarrie herd took three firsts, and a second along with their Reserve titles.
Other class winners on the day came from the Pistyll herd of GA & HM Francis; the Denizes herd of MA Barlow & Sons; Cameron Jackson's Future herd; and the Fishpool herd of Tom & Jenny Hassall.
A massive thank you is extended to all breeders who supported the 2023 Simmental Youngstock Show and put on another fantastic promotion and showcase of Simmental cattle with forward potential.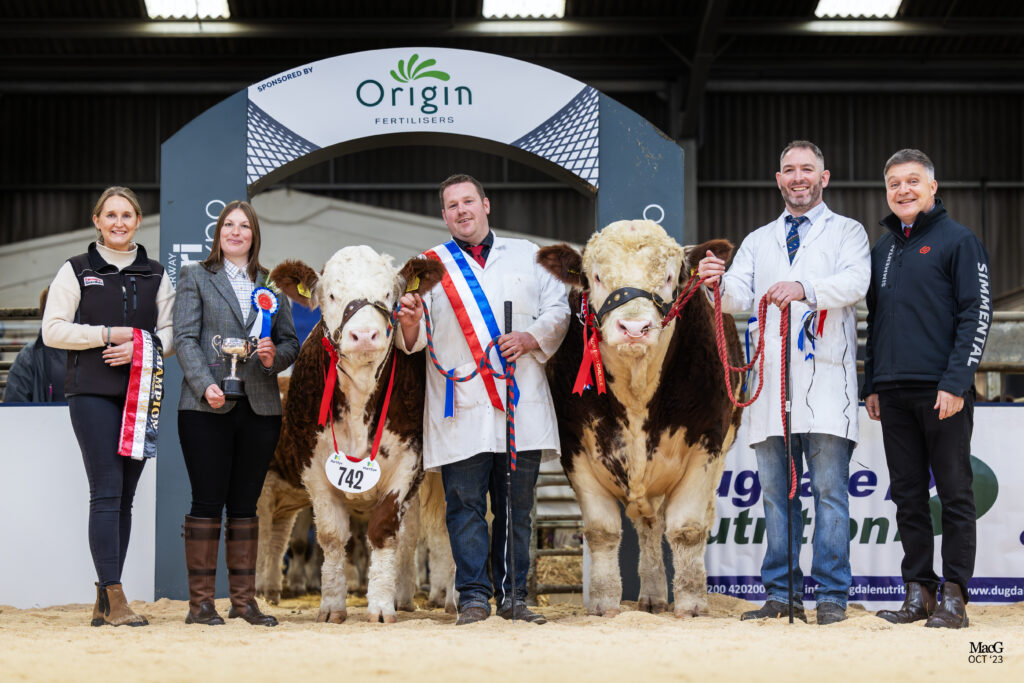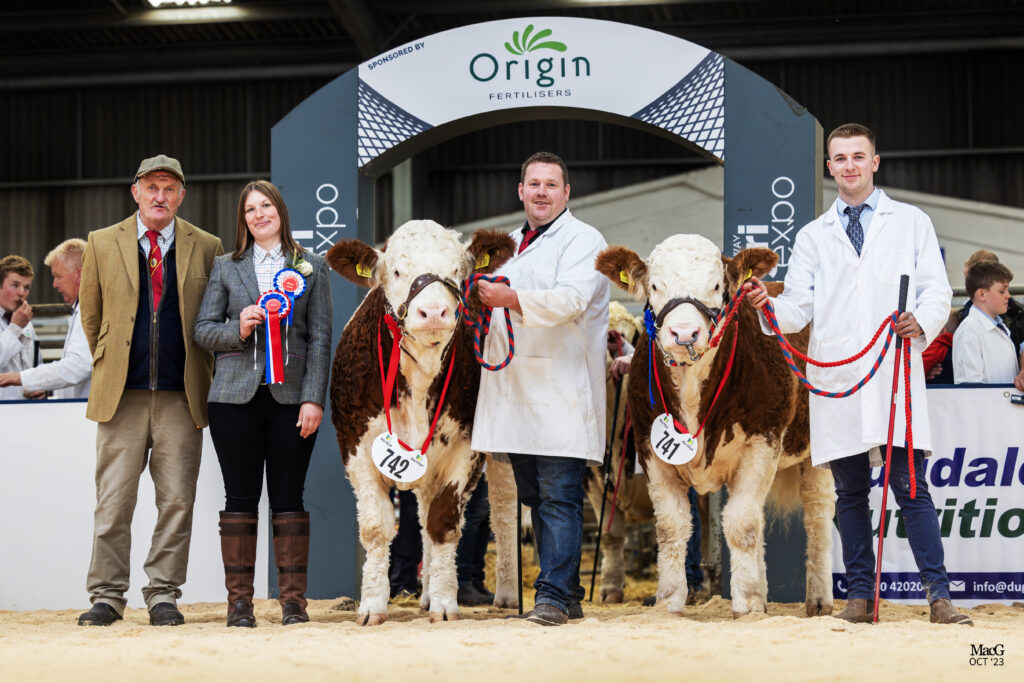 See the full results below:
Results
Class 1 – Bull born on or between 01.01.2021 & 31.03.2022
No entries
Class 2 – Bull born on or between 01.04.2022 & 30.07.2022
1 – Lot 701: Gavin Brown SPRINGFIELD NEPTUNE s. Islvala Jabba
2 – Lot 702: Gavin Brown SPRINGFIELD NIAGARA s. Islavale Jabba
3 – Lot 704: Barlow Brothers DENIZES NUGGET s. Denizes Hamish
4 – Lot 704A: Barlow Brothers DENIZES NEFF s. Denizes Hamish

Class 3 – Bull Born on or between 01.08.2022 and 15.09.2022
1 – Lot 707: Barlow Brothers DENIZES NEWTON s. Denizes Hamish

Class 4 – Bull born on or between 16.09.2022 & 31.12.2022
1 – Lot 708: DL & S Currie BRAEGARRIE NAVIGATOR s. Overhill House Link
2 – Lot 712: DL & Currie BRAEGARRIE NIGHTRIDER s. Overhill House Link
3 – Lot 713: R & L Storersmith STORERSMITH NAVARONE s. Clonagh Latin Lover
4 – Lot 710: R & L Storersmith STORERSMITH NEWTON s. Ballinalare Farm Galaxy
Class 5 – Bull born on or between 01.01.2023 & 15.03.2023
1 – Lot 719: GA & HM Francis PISTYLL PABLO s. Pitmudie Lancelot
2 – Lot 718: Andrew Ryder RYDEN PADDY POWER s. Sacombe Juggernaut
3 – Lot 720: Jim & Patricia Goldie NEWBIEMAINS PACQUAIO s. Auchorachan Kennedy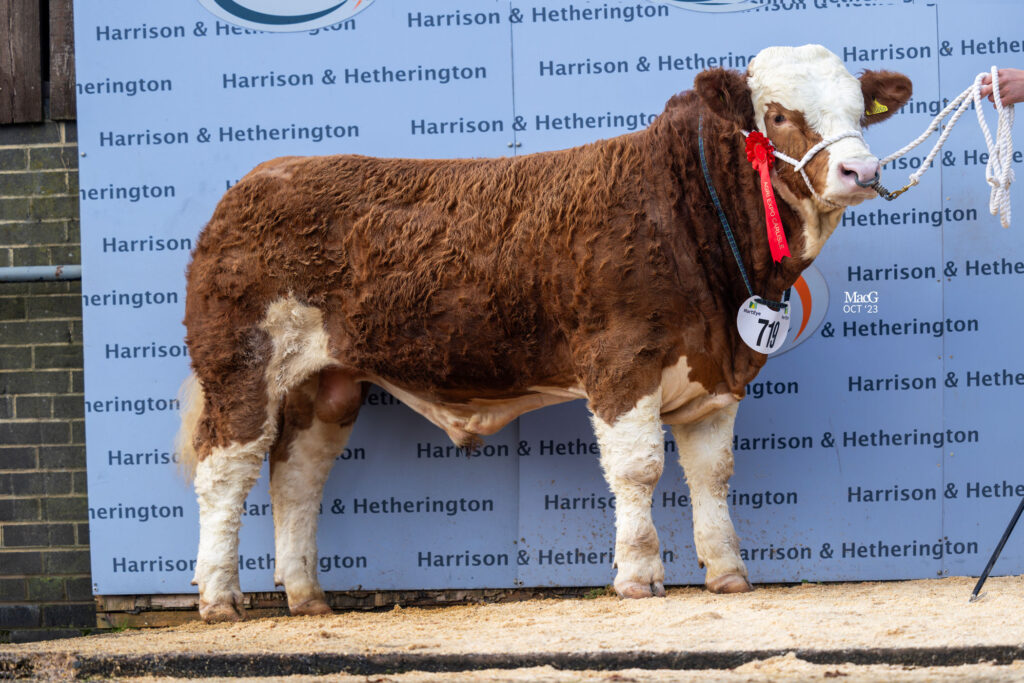 Class 6 – Bull Born on or after 16.03.2023
1 – Lot 722: Gavin Brown SPRINGFIELD PERRY s. Islavale Jabba
Class 7: Heifer on or between 01.01.2022 & 31.03.2022
1 – Lot 726: Future Livestock FUTURE NEW GIRL s. Banwy Bonzo
2 – Lot 724: Barlow Brothers DENIZES MELODY 48 s. Blackford Galaxy
3 – Lot 723: Nick Edmondson CRAKESIDE NINA KUTZ s. Edenbank Iceman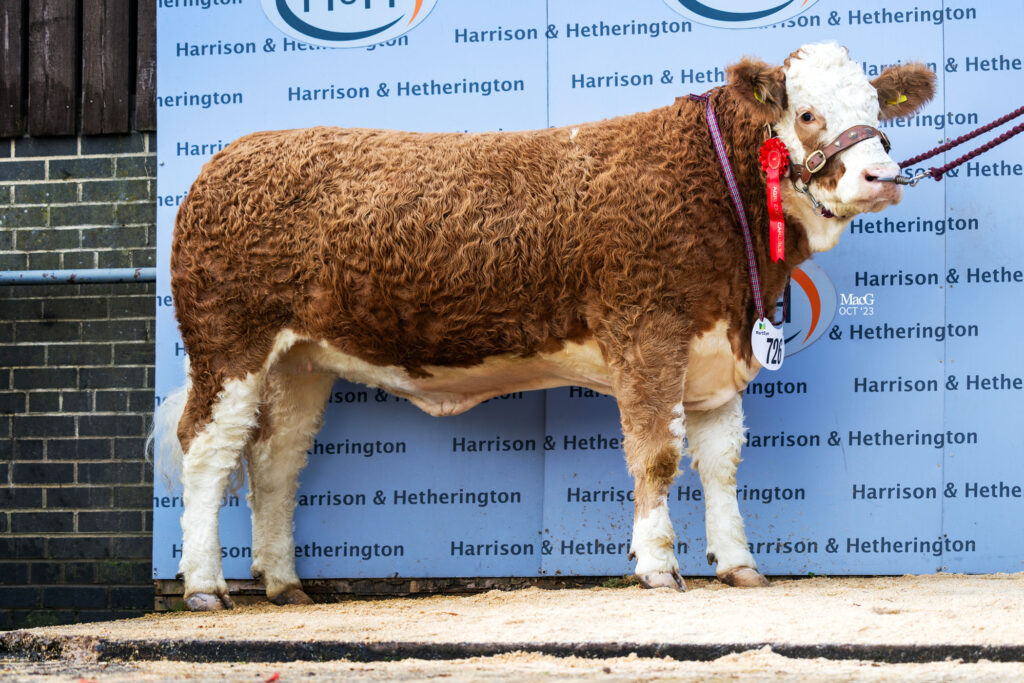 Class 8 – Heifer born on or between 01.04.2022 & 30.07.2022
1 – Lot 728: DL & S Currie BRAEGARRIE NADIA s. Woodhall Ferrari
2 – Lot 731: Gavin Brown SPRINGFIELD NEXT GENERATION s. Islavale Jabba
3 – Lot 729: Gavin Brown SPRINGFIELD NITA s. Islavale Jabba
4 – Lot 730: Barlow Brothers DENIZES CADETTE 44TH s. Denizes Hamish

Class 9 – Heifer born on or between 01.08.2022 & 15.09.2022
1 – Lot 736: DL & S Currie BRAEGARRIE NIGELLA s. Overhill House Link
2 – Lot 737: Barlow Brothers DENIZES MELODY 53 s. Hiltonstown Lorenzo
3 – Lot 735: PA & DM Cade CADE FIFI'S NALA s. Sacombe Jameson
4 – Lot 776: Frank Gwynne CASTLEWIGG RINGLEADER GIRLIE 3 s. Blackford Ringleader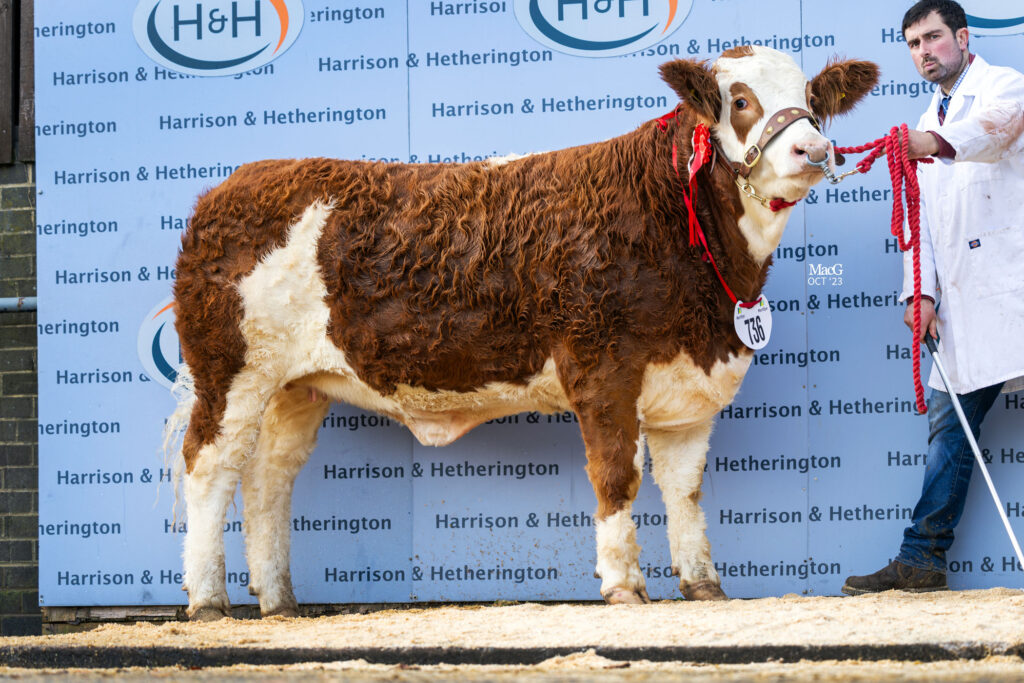 Class 10 – Heifer born on or between 16.09.2022 & 31.12.2022
1 – Lot 742: Delfur Farms DELFUR NIFTY s. Ballymoney Larry
2 – Lot 741: Delfur Farms DELFUR WEIGELA N12 s. Ballymoney Larry
3 – Lot 743: Jim & Patricia Goldie NEWBIEMAINS NAP s. Newbiemains Daz
4 – Lot 744: GA & HM Francis PISTYLL NERYS s. Anatrim Bodybuilder

Class 11 – Heifer born on or between 01.01.2023 & 15.03.2023
1 – Lot 749: T & J Hassall FISHPOOL POPPY s. Newbiemains Kalypso
2 – Lot 751: JF & C Saunders MAIDENLANDS POLARINE 4P (P) s. Derrycallaghan Kingkong
3 – Lot 754: Jim & Patricia Goldie NEWBIEMAINS PRETTY WOMAN s. Auchorachan Kennedy
4 – Lot 750: PA & SM Cade CADE KATHLEEN'S PRADA s. Sacombe Jameson

Class 12 – Heifer born on or after 16.03.2023
1 – Lot 758: Mr D C Houldey MANOR PARK PATRICA s. Omorga Murphy
2 – Lot 759: Gavin Brown SPRINGFIELD PEARL s. Islavale Jabba

Reserve Supreme & Senior Champion
Gavin Brown SPRINGFIELD NEPTUNE
Reserve Senior Champion
DL & Currie BRAEGARRIE NADIA
Supreme & Junior Champion
Delfur Farms DELFUR NIFTY
Reserve Junior Champion
Delfur Farms DELFUR WEIGELA N12

Class 13 – Pairs
1- Delfur Nifty, and Delfur Weigela N12
2- Braegarrie Nigella, and Braegarrie Nightrider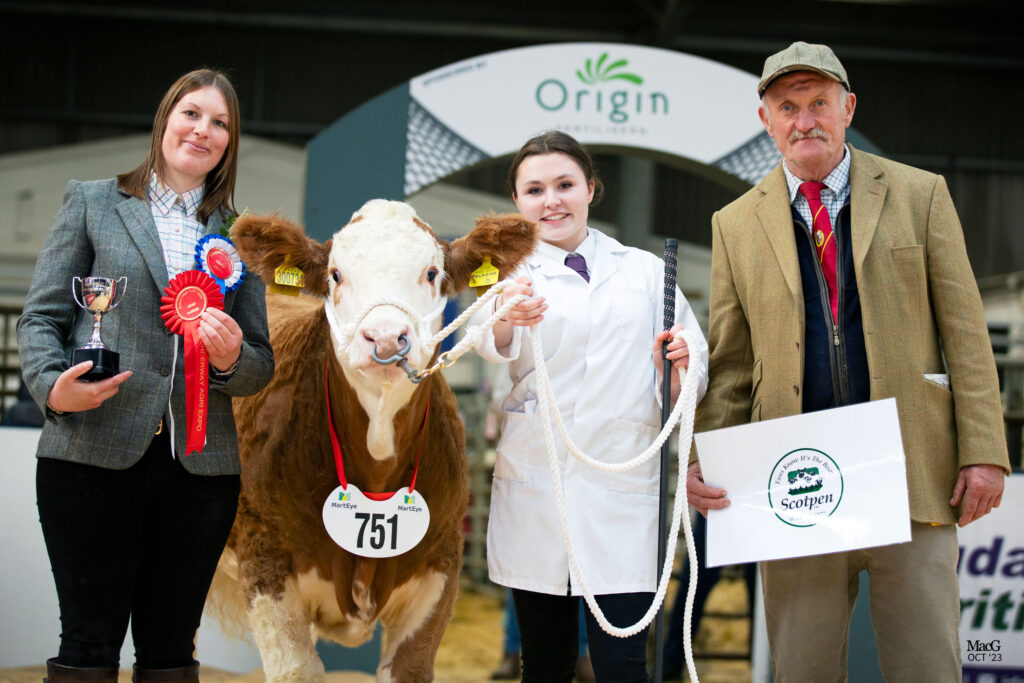 Class 14 – Young Handlers between 10 & 15 years
1- Macey Berrisford
2- Jim Goldie Jnr
3- Erin Cade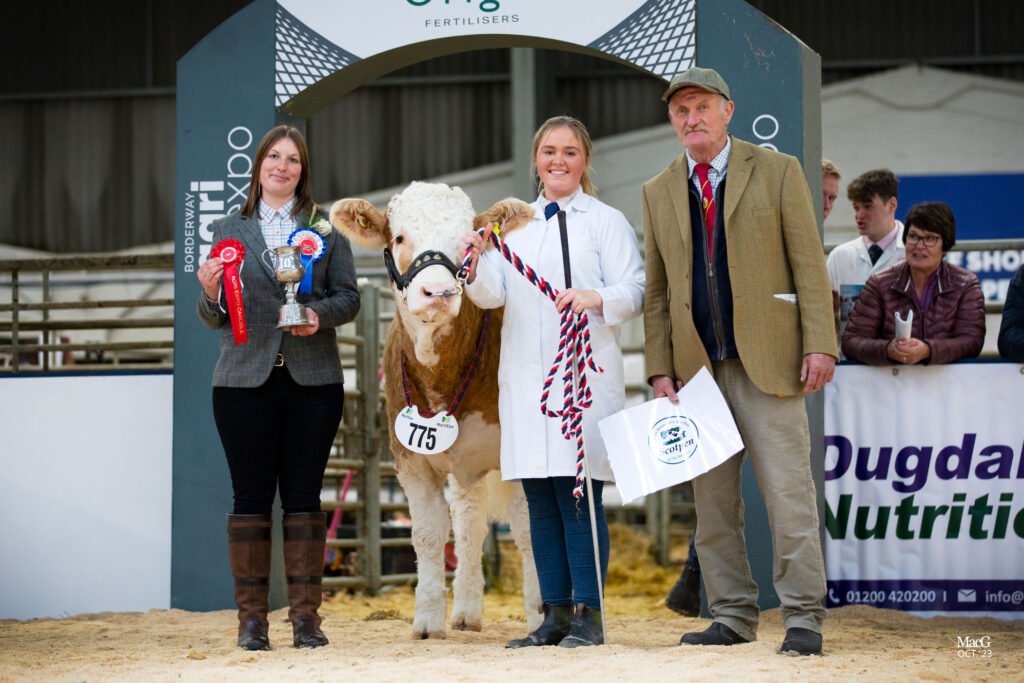 Class 15 – Young Handlers between 16 & 28 years
1- Bella Markham
2- Justin Fennemore
3- Beth Long