Hollybrook Maximum Takes the Reserve Interbreed
The April 2021 born Hollybrook Maximum from Chris & Zara Curson, Hollybrook Farm, Welbourne, Dereham, Norfolk sold for 3900gns to top the small section of Simmentals at the fledgling Melton Mowbray Multi Breed Sale on Saturday, 25th March.
Earlier in the day this bull had been placed as the Simmental Overall Champion by the judge, John Barlow of the noted Denizes herd, before going on to lift the Overall Reserve Interbreed in front of all seven of the breed judges. Commenting, John Barlow said: "This is just a natural Simmental bull with plenty of length and a good second thigh. He's a good commercial Simmental bull ready to work." Hollybrook Maximum, got by AI, is sired by Clonagh Diehard Gallant, and is out of Williams Vikki's Blossom. Purchasing the Champion online, and one of two bought on the day, was the significant Simmental based commercial enterprise in the shape of Fristling Hall Farm, Swan Lane, Ingatestone, Essex. Melton Mowbray represented only the second Society sale for the Cursons who run a 20-cow pedigree herd alongside a 60 cow Simmental based suckler herd.
Selling at 3200gns was the homozygous polled bull Blue Cedar Mungo from Nigel Darling, Intwood Farm, Intwood, Norwich. This January 2021 born bull is by the Danish bred AI sire Sneumgaard Imperator, and is out of Blue Cedar Edwina, with both parents being homozygous polled. With both calving ease, and gestation length figures in the top 1% of the breed, Blue Cedar Mungo was purchased by H Catlin, Leylandii Farm, Boston, Lincolnshire.
Selling two bulls at 3000gns was CH Evans & Son, Kington Grange Farm, Claverdon, Warwickshire. The first of these was the red ticket winner Wroxall Marmite. Heterozygous Polled, this January 2021 born bull is by Forsdale Gallipoli, and is out of Wroxall Esprit-Zilla. Arriving with a show track record that had seen him win breed championships at the Three Counties and Staffordshire Shows respectively in 2022, Wroxall Marmite was another bull to be snapped up by Fristling Hall Farm, Essex. Following directly on was the March 2021 born Wroxall Meatball. This March 2021 born calf, who stood second in his class to the Champion, is by Coose Gambler (P), and is out of Wroxall Favour-Patiance (P). With Calving Ease figures of +3.6 placing him in the top 15% of the breed, Wroxall Marmite was purchased by GT Hall & Son, Dudley Wood Farm, Atherstone, Warwickshire.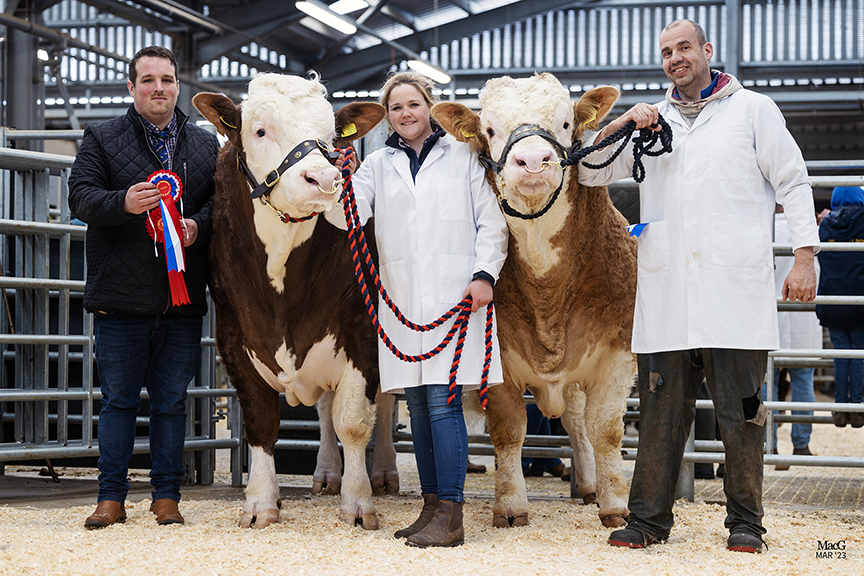 Averages:
4 Bulls £3438.75