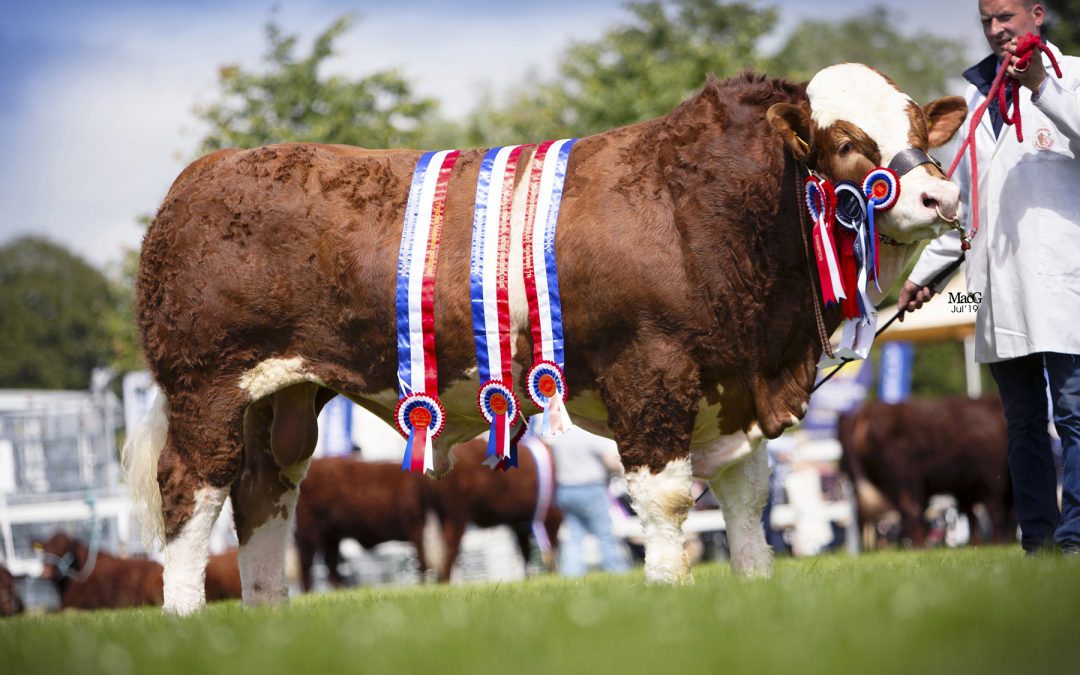 Judges Report, Michael Barlow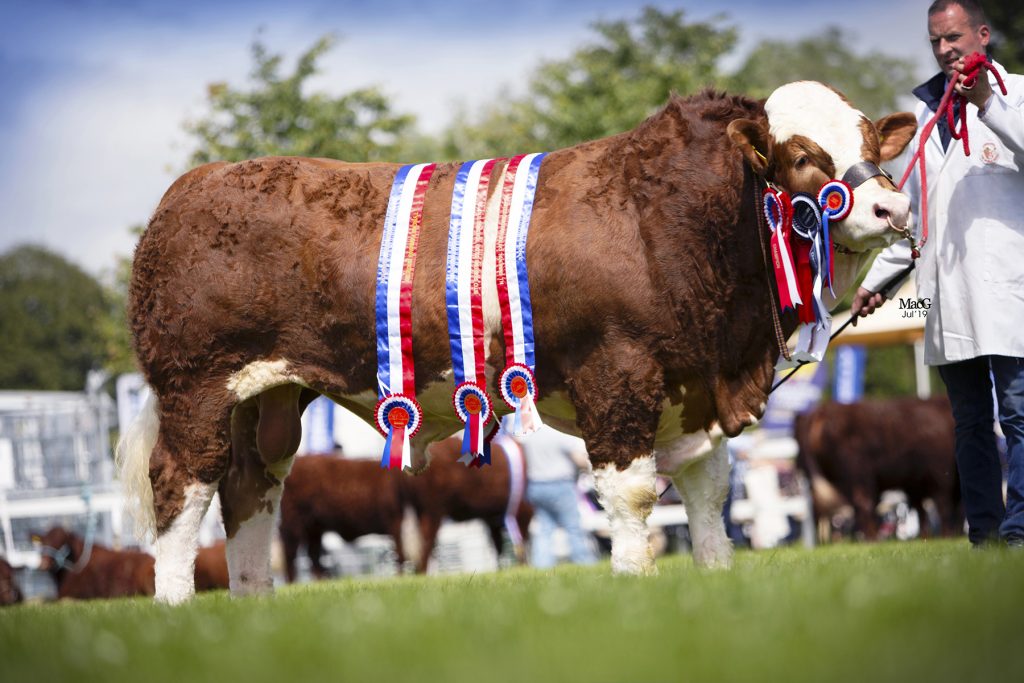 A big thank you to the Northern Ireland Simmental Club for inviting me to judge their National Show, the weather came with me! To start with we had a cow doing what they do best with a superb calf at foot. A young cow with plenty of character that moved well, and not overdone, Ranfurly Weikel 18th H2 later became Female Champion and Reserve Overall.
Moving onto the Senior Heifer class, maybe not the strongest of classes but two super heifers both turned out very professionally with Newbiemains Intrepid exhibited by Jonathan Henderson taking the first prize.
The Intermediate Heifer class presented four outstanding heifers, with first place going to Ranfurly Weikel 23rd. I couldn't help but feel while I was judging that she was very similar in type to the cow with the calf at foot in the first class. She actually turned out to be her full sister and later became Reserve Female Champion.
The Junior Heifer class had six completely different type of heifers. I had to go with Cleenagh Jessica on the day as she really was at 12 O'Clock for a junior heifer. I did also like the second placed heifer Slievenagh Jewel who must have been giving quite a bit of age away and without a doubt her day will come. The next Junior Heifer class was well represented with Coolcran Lady Jasmine being the clear winner.
Overall I thought the females were of the highest quality and would not look out of place in any show in the UK.
The first Junior Bull class was won by Ranfurly Jameson. He had presence, style, locomotion and was exceptionally well turned. He later became Breed Champion and went on to Champion of Champions at the show. It was a strong class with exceptionally well turned out young bulls.
The next Junior Bull class was a lot easier to judge with only three bulls forward, and three completely different types altogether. I went with Derrycallaghan Jackpot, he was a bull with natural style and width.
The last Junior Bull was the big growth bull Coolcran Jameson, Again a strong class, Coolcran Jameson was a big bull for his age who moved well with plenty of width and style.
The best bull calf went to Breaghey Kingdom. This was a super calf and later went on to achieve Reserve Male Champion. The only way I could justify this was lining up the first prize Junior bulls. To judge a calf against young bulls I always feel you need to value the animal as if you were buying them.
The Northern Ireland Club can be immensely proud of the standard and quality of cattle forward and I thoroughly enjoyed my day. Good luck to all members and exhibitors with your future shows.