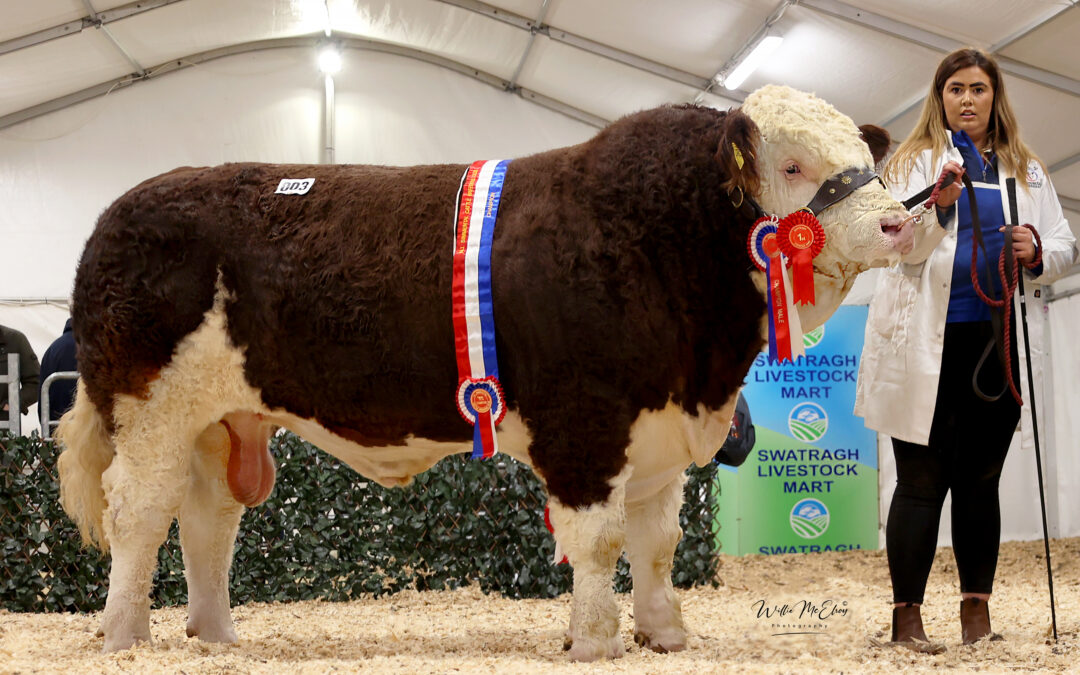 • Robgill Neptune leads the bulls at 4500gns.
• Strong demand and trade for females
• Commercial heifers top at £2100
There was strong trade at the recent Northern Ireland Simmental Club show and sale for both pedigree bulls and females as well as commercial females. The event was held at Swatragh Livestock Market on Friday 27th October and saw large crowds gathering on the night.
Simmental has been the breed of choice for many NI farmers for both positive maternal and terminal characteristics and is continuing to remain profitable with the overall sale average, bulls and females, reaching £2,581.
There was an exceptional turnout of young bulls on show with two being sold to pedigree herds in Northern Ireland and Scotland and the average reaching £3,461.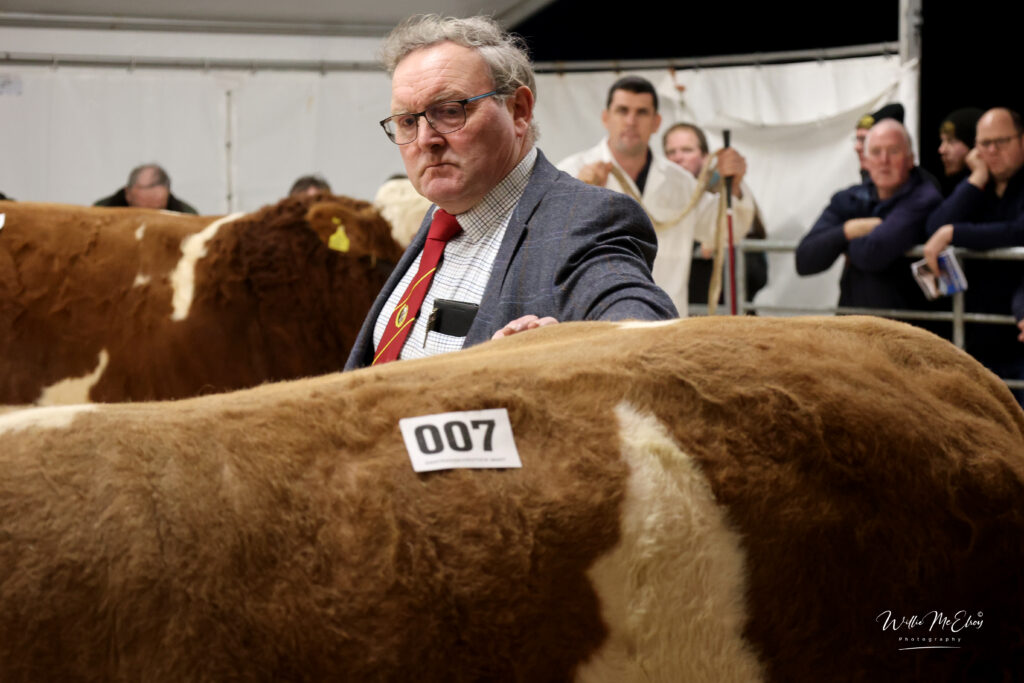 Judge John Warnock from Carrowdore, Newtownards, was impressed by "the very good show of quality stock" which was as good he had "seen in a long time". He noted he was particularly pleased by the Male and Female Champions.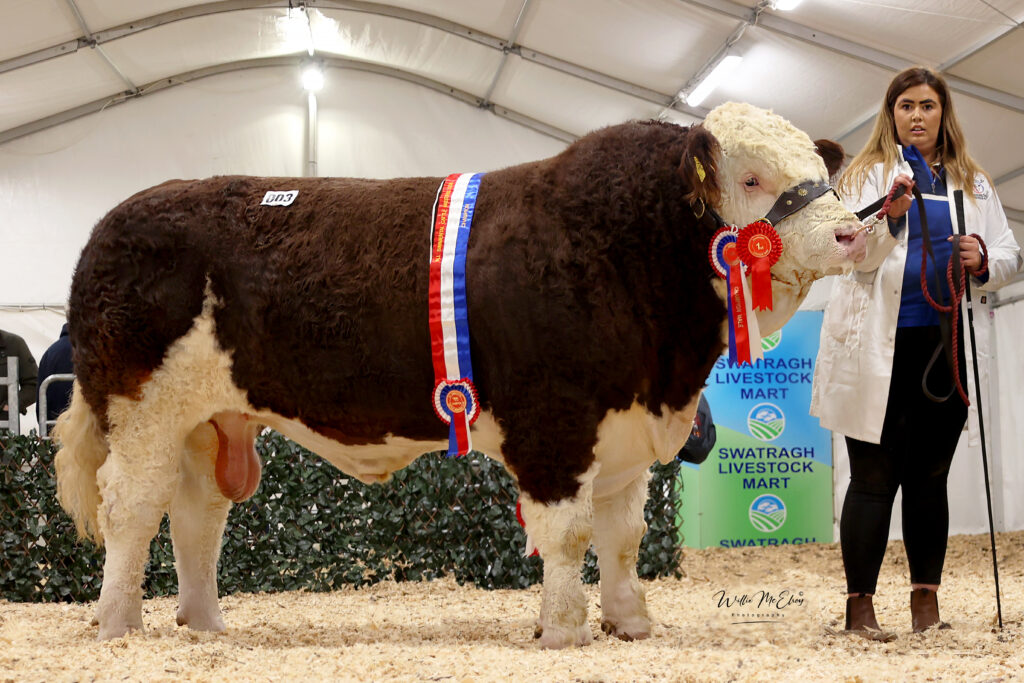 It was Robgill Neptune who was crowned Overall Champion on the night, bred by the Farrell Family, Dromore, County Tyrone. This outstanding May 2022 born young bull is a son of Newbiemains Interceptor and a homebred Dermotstown Delboy cow, Robgill Olivia.
His power, length and flashy colour caught the eye of buyer, Barry Chambers, Shanehill Simmentals, Portadown, who purchased him for 4,500gns. As well as exhibiting an attractive appearance, Robgill Neptune displays superb figures which Barry noted will hopefully be an asset to his herd.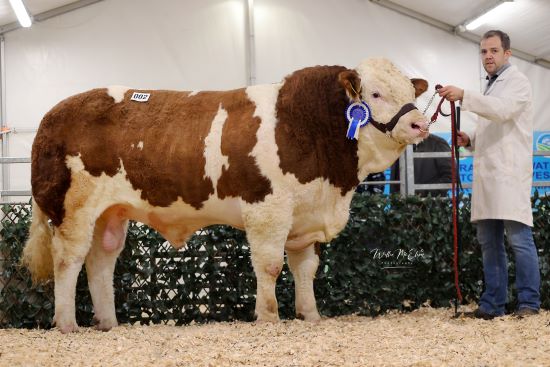 Dunrock New Boy, bred by the Quinn family, Cookstown, caught the eye of the judge with his length and muscle cover to secure Reserve Champion but remains with his breeder.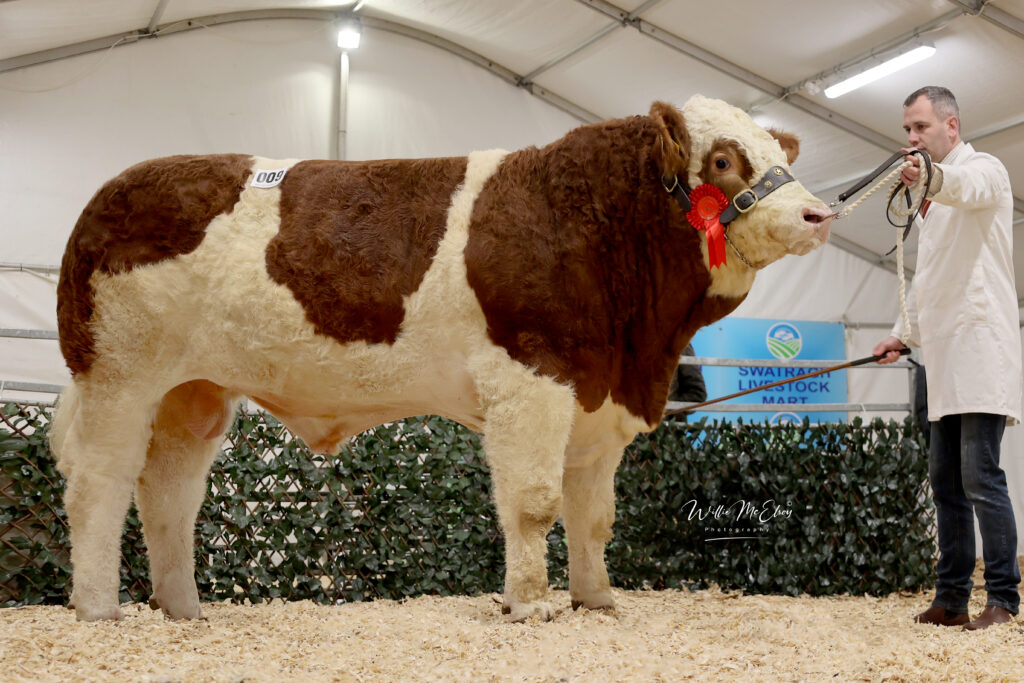 Coolcran Nailer, bred by the McDonald family, Tempo, was sold to the Glenlossie herd of Brian Sutherland, Moray, Scotland for 3,300gns He is in the top 15% of the breed for terminal traits including 600-day weight which is advantageous from both a pedigree and commercial perspective.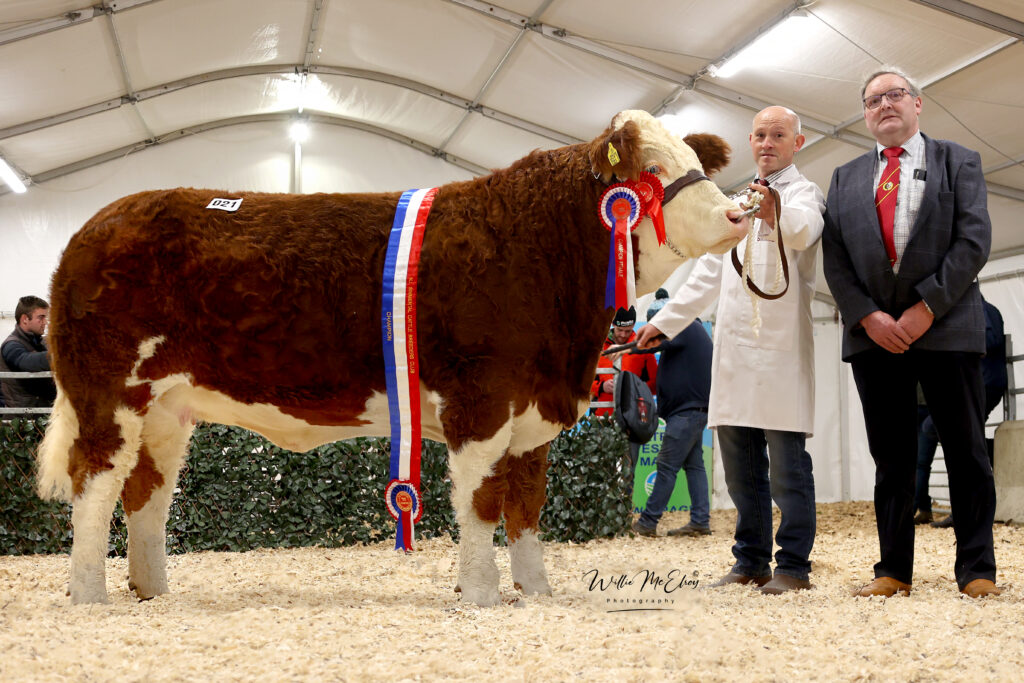 Ashland Lucy Nora, bred by Pat Kelly, Tempo was the Overall Female Champion and made the top price of 5,000gns. This April 2022 heifer has several top bloodlines in her pedigree including her sire, Ashland Legacy, Woodhall Ferrari, Atlow Dixon and Bel Dhu Capercaillie. This was reflected in her eye-catching presence in the ring with super mobility and strong potential as a pedigree breeding female. She was purchased by Peter Murtagh, Newry, Co Down.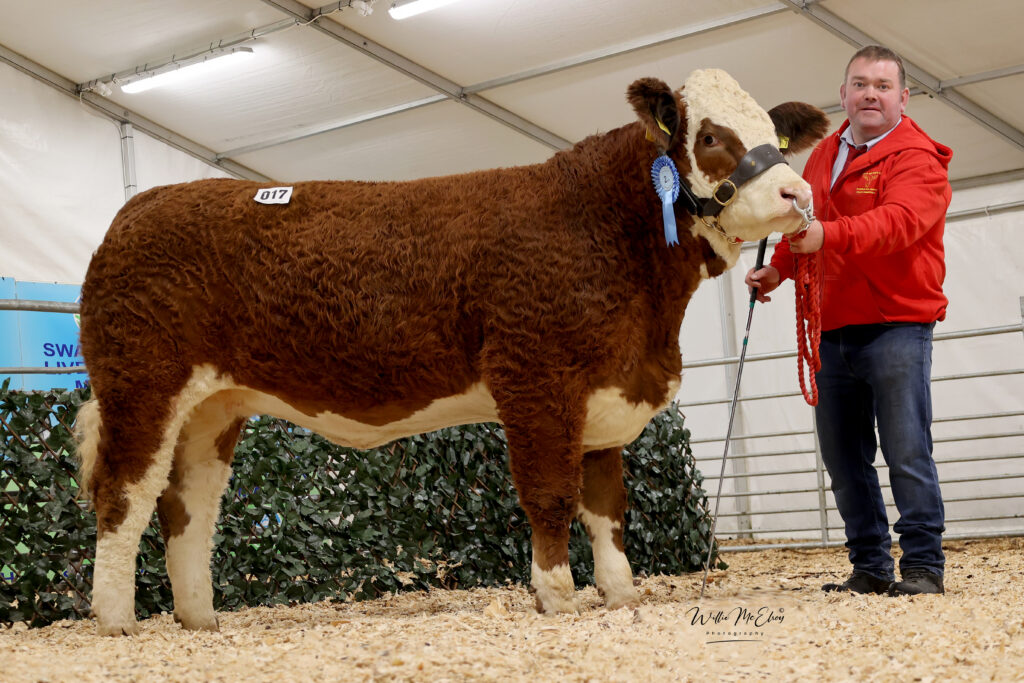 A further two heifers were secured by Peter on the night, bred by William Dodd, Craigy Keira M6 for 3,200gns and Craigy Keira N1 for 3,000gns. The Dodd family also had a successful evening of trade selling their three heifers, with the third, Craigy Keira N5 selling for 1,900gns to Alan Minnis.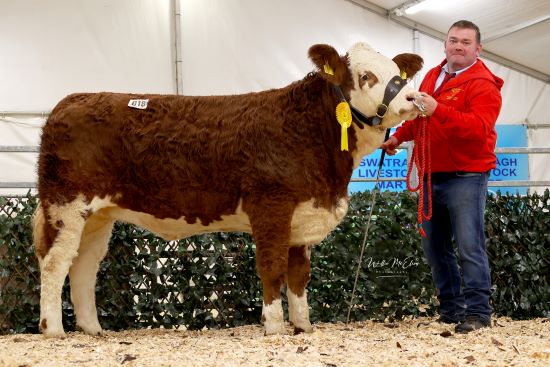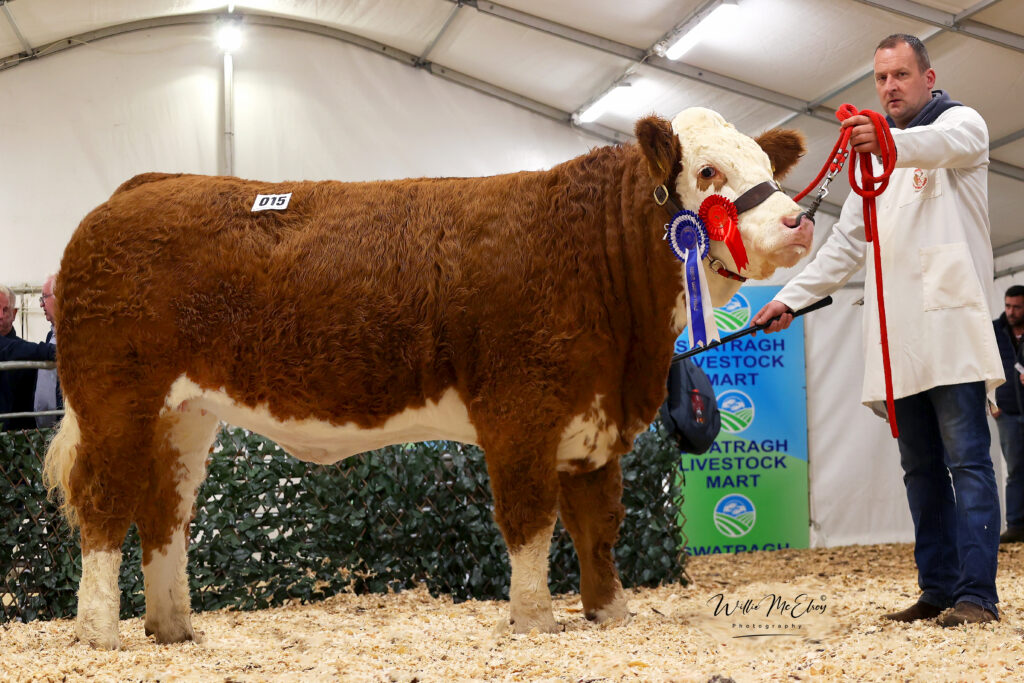 Ranfurly Weikel 46th was the Reserve Female Champion, bred by the Hazelton family, Dungannon who sold for 3,100gns to Raymond Pedlow. This December 2021 heifer is homebred out of Ranfurly Kinker and Ranfurly Weikel 25th. A terrific example of a promising breeding female.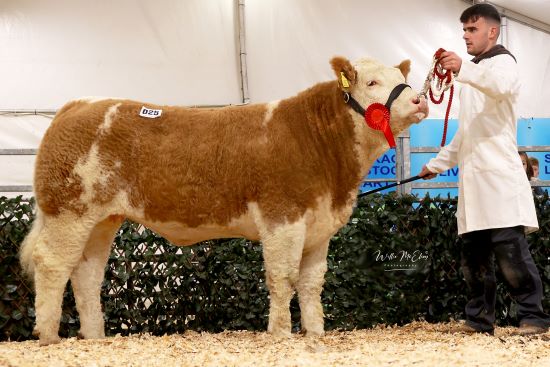 Eamon McCloskey sold Drumagarner Nan for 3,500gns to Bryan Paul, the Dermotstown Delboy daughter displayed power and eye-catching presence in the ring.
The sale also attracted consignments from a number of leading herds including Kilbride Farm, Robson family; Nevin Smith, Edenbann; Lummin, Thompson family; Lurgill, Ann and Alan Kennedy; and Pointfarms, Matthew Cunning.
The quality of these entries was reflected by reaching some of the top prices of the evening. Heifers from the Edenbann herd of Nevin Smith, Garvagh, reached 2,900gns with Edenbann Marigold selling to Paul O'Kane. Also, Edenbann Melody made 2,500gns and Edenbann Miriam selling for 2,200gns both returning with Raymond Pedlow. All heifers are scanned in calf, with Edenbann Marigold and Edenbann Melody to Popes Jasper and Edenbann Miriam to a homebred Edenbann Lyle.
Similarly, Kilbride Farm Laura 48N, sold for 2,800gns to David Pedlow and Kilbride Farm Laura 49N sold for 2,700gns. Both heifers are bred from homebred sires, Kilbride Farm Jetstream and Kilbride Farm Gruffalo (P) respectively, and have particularly favourable figures for calving ease and gestation length.
Commercial females also sold well and were highly sought after with lots reaching top prices of £2,100 from Eamon McCloskey. Nevin Smith was also successful, making £1,950 and another entry from Eamon McCloskey making £1,900. Other strong commercial entries from David McElmurray, Gareth Bryson and Philip Woods made on average £2.65/kg, £2.71/kg and £2.77/kg respectively.