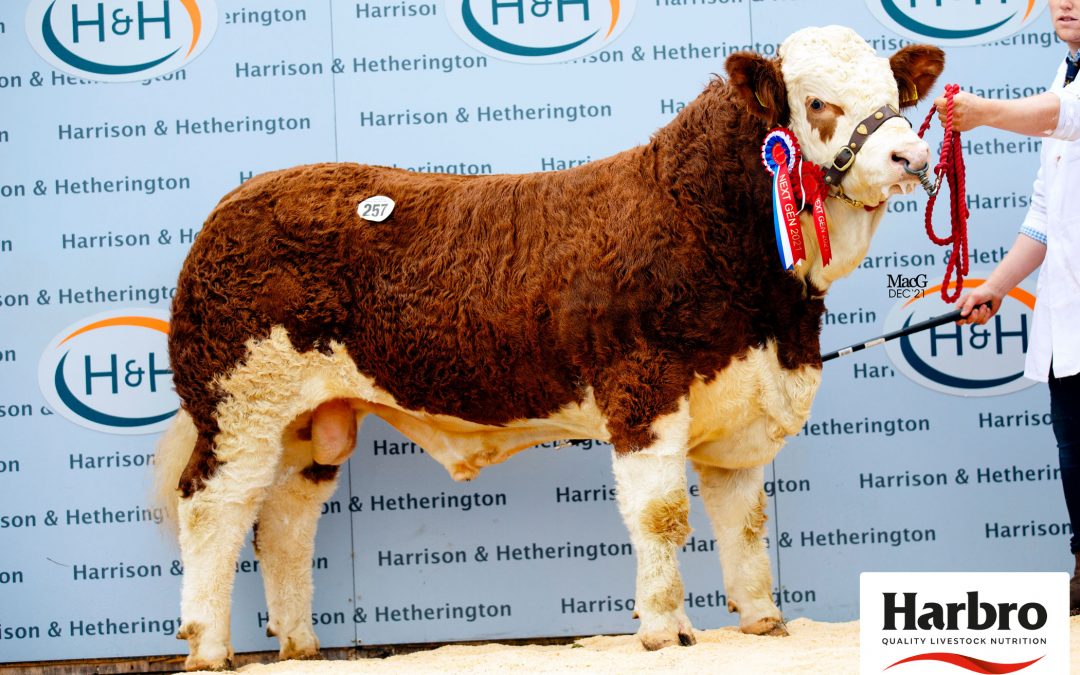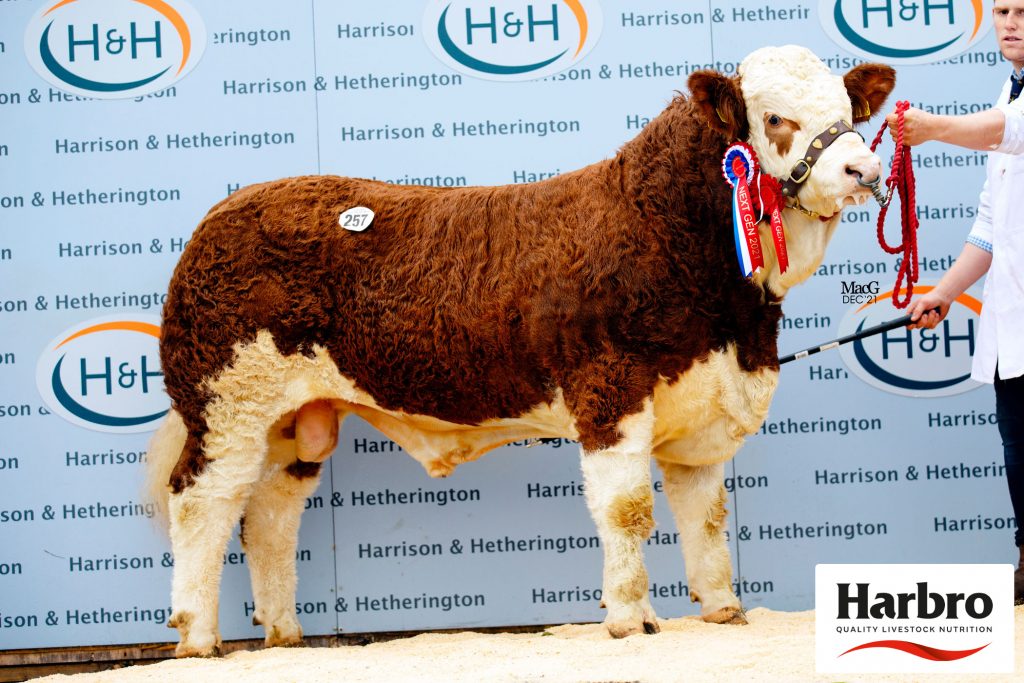 • Islavale heifers at 9000gns, 8000gns (x2), and 7000gns
• Newbiemains heifer at 9000gns
• 21 lots sell at 4000gns and over
• Served & maiden heifers averaged £4396
• Bull calves average £6174
The 'standout' January 2021 born bull calf Omorga Murphy from HJW & JC Moore, Coolesker, Omagh, Co Tyrone, made 16,000gns to lead a strong Simmental trade at the inaugural Next Generation Sale of Females & Weaned Calves held at Harrison & Hetherington's Borderway Mart, Carlisle on Friday 3rd December.
Winning the Hugo Arnold Trophy for Overall Champion Weaned Calf in the pre-sale show judged by Colin Inglis, Dalachy Farm, Aberdour, Fife, Omorga Murphy was purchased by Clive Houldey for his 170 cow Manor Park pedigree herd at Kirtleton House, Waterbeck, Lockerbie.
Omorga Murphy is sired by Omorga Isaac who is 'breeding very well' for AI Services in Northern Ireland and his dam, Omorga Juliet, is one of the top Mullyknock Gallant heifers in the Omorga herd and going back to Kilbride Farm Eunice 49T. Commenting on his Champion Weaned Calf, and the day's top sale price, the pre-sale show judge Colin Inglis said: "Omorga Murphy was just a stand-out bull calf on the day. Well-grown he carried tremendous length, had a great backend, good legs, and walked very well for the shape he was carrying.  He had tremendous breed character and very much fits the bill of a 'modern' Simmental."  With the added challenges presently faced by Northern Irish breeders bringing and trading cattle in England and Scotland, the decision to enter three bull calves paid off with the Omorga trio selling to a gross of £24,885. For the Omorga herd of 40 breeding females the 16,000gns represented their second top price at sale and behind the 22,000gns bull Omorga Samson.
Very much endorsing the judge's comments, Clive Houldey said: "We've been looking for a stock bull for a little while and we think this calf has all the attributes to fit that bill for the Manor Park herd. He's got length, style and character, shape, and depth down his back legs. We'll look to use him a little bit in July next year and then ease him into the herd thereafter."
Featuring a catalogue of predominantly maiden and in-calf heifers, along with weaned bull and heifer calves, the sale saw heifers from the Islavale herd of WS Stronach, Berryleys Farm, Grange, Keith make 9000gns, 8000gns twice, and 7000gns. This was the first time the prolific Islavale herd had entered heifers into a show and sale and with their entries featuring top bloodlines breeding from some of the herd's best cow families. A heifer from the Newbiemains herd of Jim & Patricia Goldie, Newbie Mains Farm, Annan, Dumfriesshire also made the day's joint second top price of 9000gns. In all, over 20 lots made 4000gns and more through the respective sections with buyers featuring from all four home countries and from Orkney to Southampton. The 16,000gns top price is a record for the breed at Carlisle and is also a record for a British Simmental weaned calf.
Commenting on the sale, the British Simmental Cattle Society's General Manager Iain Kerr said: "The Next Generation Sale is a new fixture for the breed at Carlisle and it's received tremendous support from the breeders with a very good standard of cattle forward. It is very much an aim that this sale can grow the reach and visibility of the Simmental breed across the country and to this end today has been a very solid first step. There was a strong demand for young stock, male and female, both in the heifers and the calves."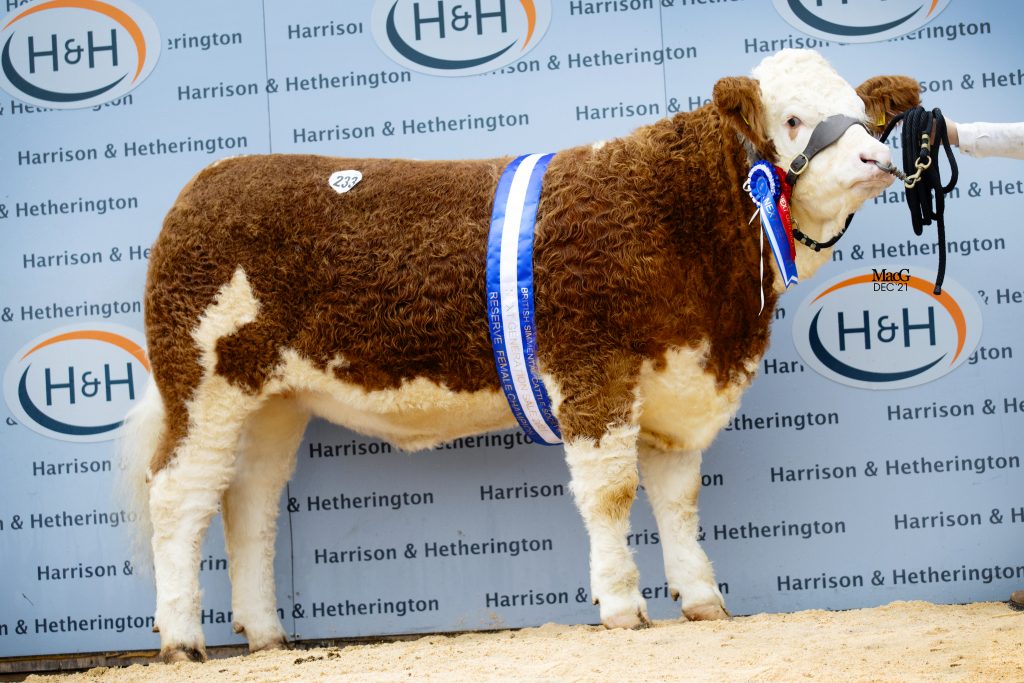 The first of the females to sell at 9000gns was the first prize winner and Overall reserve Female Champion, Newbiemains Lady Wag from Jim & Patricia Goldie. August 2020 born Lady Wag is one of the first heifers to be offered at sale by the herd's stock bull Skerrington Iceman EX94, and she is out of Newbiemains Hash Tag Wag, a Lisglass Churchill daughter. Returning to Carlisle, Newbiemains Lady Wag had been shown at the recent Borderway Agri Expo where she also placed first in her class. With a depth of pedigree, the Lady Wag dam line goes back to Newbiemains Designer Wag EX92 who was Reserve Female Champion at the 2014 Royal Highland Show. Newbiemains Lady Wag was one of three purchases on the day by Richard McCulloch for his Overhill House pedigree herd at Armadale, West Lothian that comprises of 40 pedigrees and 160 pure Simmentals in all. Speaking after the sale, Richard McCulloch said: "It was a tremendous show and sale of Simmentals with a depth of quality right through the catalogue. Prior to the sale, Newbiemains Lady Wag had caught my eye in both pictures and videos and I was very impressed with her in the flesh. I was looking for different bloodlines and heifers that are real cow makers. As such I'm really delighted with the three animals bought on the day from the Newbiemains, Corskie, and Mavsey herds."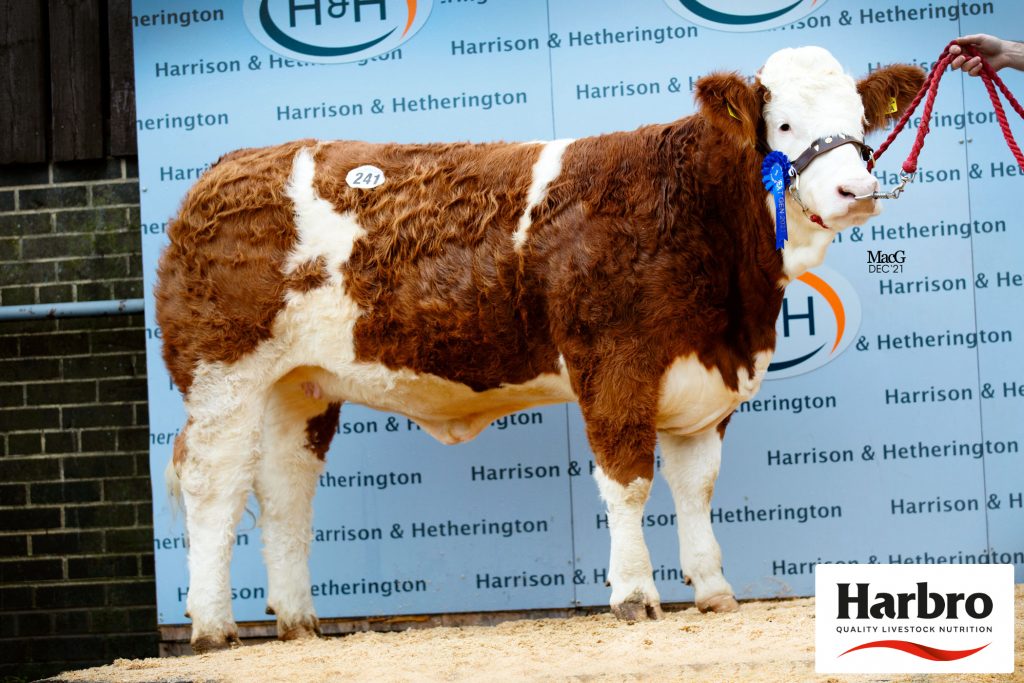 Also at 9000gns, and leading the line-up from the Stronach family, was the September 2020 born Islavale Viva 8. Described as 'one of the best heifers bred out of the Viva family,' Viva 8 goes back to the noted Raceview Viva Kim, and her dam Viva 2, has twice classified EX94. Another animal with a recent show record behind her Islavale Viva 8 had placed Overall Senior Champion at the recent Stars of the Future Calf Show held in Stirling. Buying Islavale Viva 8 was Reece & Andrew Simmers for their 50-cow Backmuir pedigree herd at Backmuir Farm, Keith, Banffshire.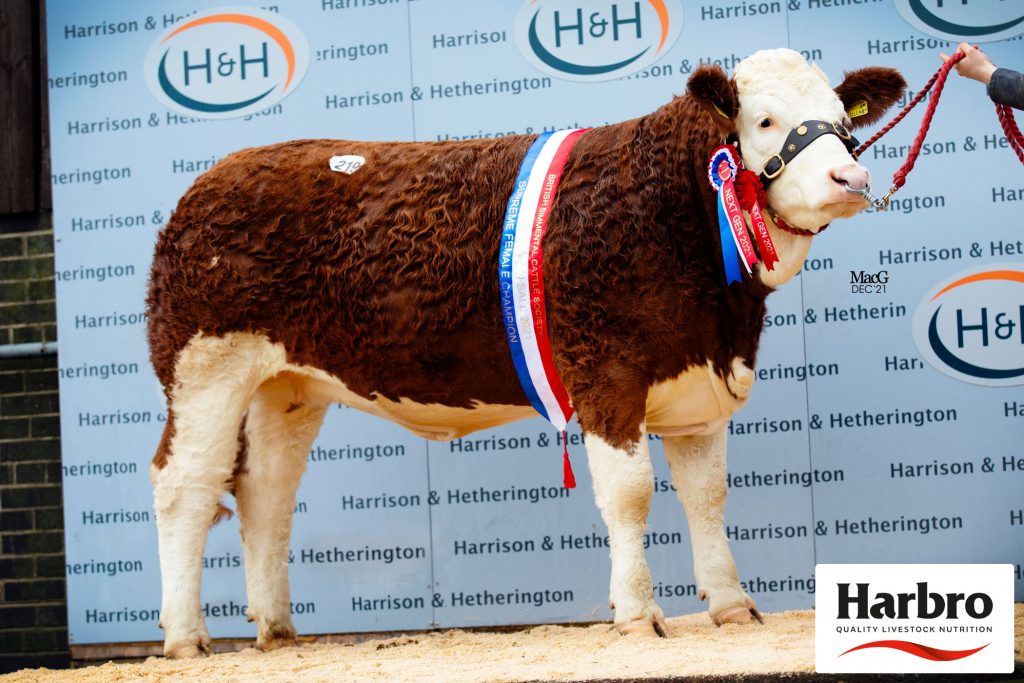 The Simmers bought four animals at the sale and including the day's Overall Female Champion Islavale Lullaby, another from the Stronachs, at 8000gns. April 2020 born, Lullaby is sired by Shacon Hannibal who is classified EX94 and is the first calf out of Islavale Inspire a daughter of the noted Atlow Dixon. Having been crowned the first Overall Female Champion at this new Next Generation Show & Sale, the judge Colin Inglis was full of praise for his choice of Champion and said: "Coming into the ring this heifer carried a lot of style and presence and just caught my eye straight away. She was very feminine, carried lots of breed character, walked very well, and was square from front to back with good shape. Lullaby is a lovely Simmental heifer and a worthy Champion from what was a tremendous show of females."
Commenting generally on their purchases, Reece Simmers said: "We were looking to add new bloodlines to the existing herd and think the heifers bought are just full of quality. They have good heads and breed character, carry length and plenty of power whilst being very feminine, and are good on their plates.  It was a good show of heifers across the board and with plenty of choice for buyers."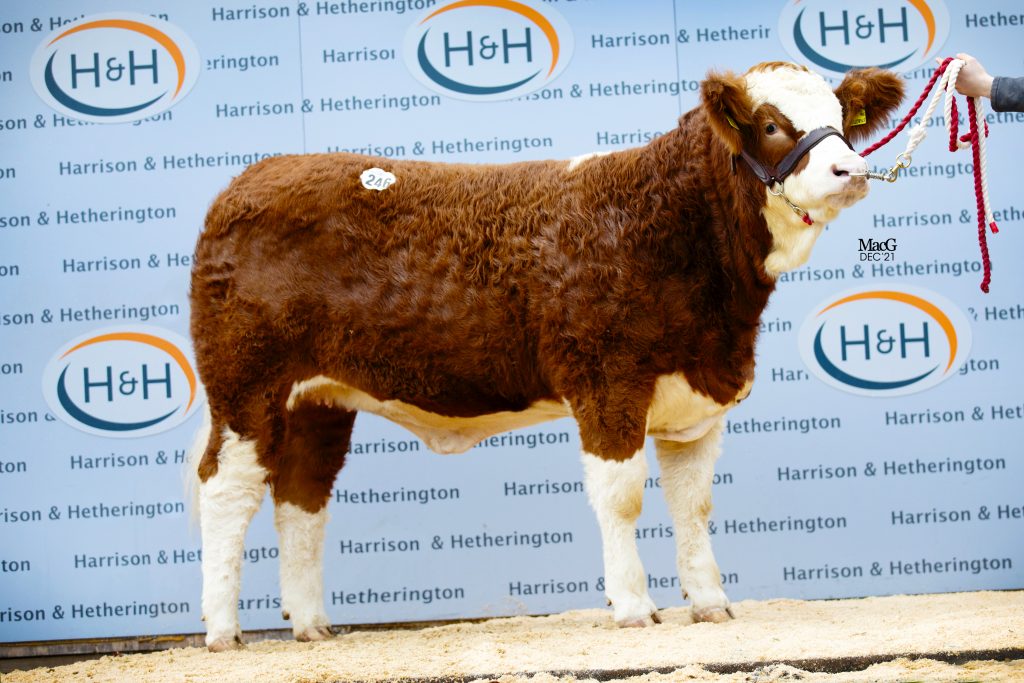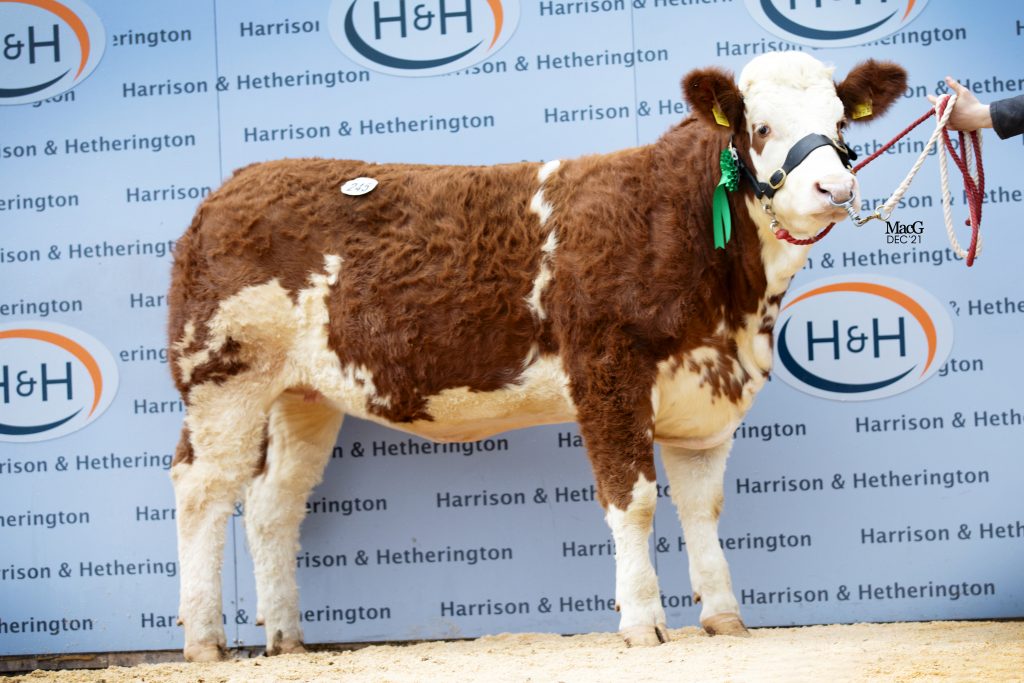 The run of strong Islavale prices continued when the October 2020 born Islavale Liquorice also made 8000gns when selling to join purchasers Gavin Brown, who runs the Springfield herd at Penicuik, Midlothian, and along with Cameron Jackson, for his Future herd at Woodyett Farm, Lanark. Another heifer full of breed character, Islavale Liquorice is by the noted Ranfurly Confederate C24 11 EX94, and is out of the Woodhall Walker daughter Islavale Ebo. The previous lot, Islavale Lyra made 7000gns and was another to be snapped up by the Simmers for their Backmuir herd. A heifer's calf with width and length, the October 2020 born Lyra is entirely homebred being by Islavale Echo 2 13 EX92, and out of Islavale Jinx (P), a Curaheen Giant daughter.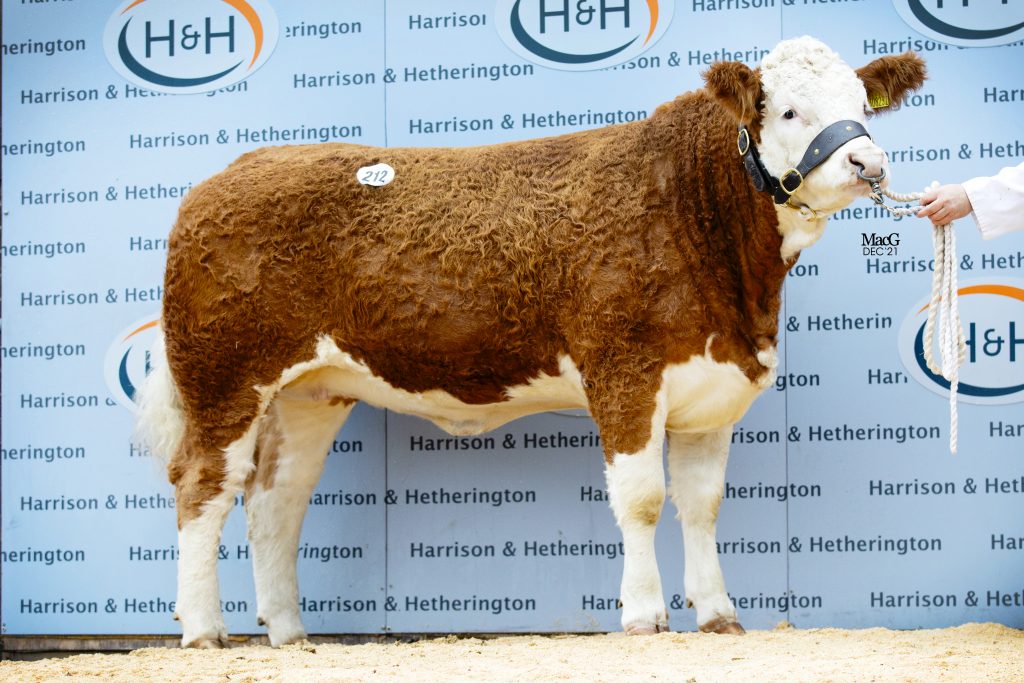 Selling at 6000gns was the January 2020 born Corskie Limit from the noted Corskie herd of WJ&J Green, Garmouth, Fochabers. This heifer is by Drumagarner Hughes, whose sons have already sold to 8000gns, and is out of Corskie Fuschia EX91, a Greencap Ace daughter. Corskie Lavender was a further purchase by Richard McCulloch for his Overhill House herd at Armadale.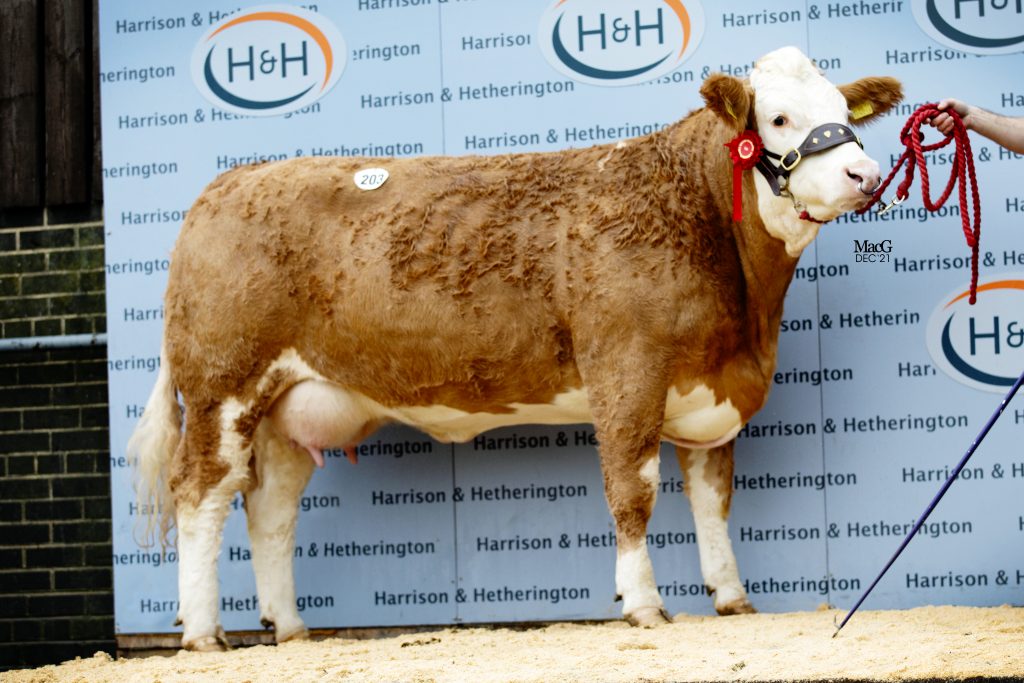 Early in the catalogue the first prized calved heifer Islavale Teresa 15, from the Stronachs, was sold with her heifer calf at foot Islavale Teresa 24 for 5550gns. Islavale Teresa 15 is by Corskie Highlander 16 EX92 and is out of the Curaheen bandit daughter Islavale Teresa 6 EX93. Her calf at foot, Islavale Teresa 24, is by Islavale Echo 2 13 EX92. This outfit was one of three lots on the day bought by E&M Fairhurst & Son, Bank End, Lawkland, Austwick, Lancaster.
Auchorachan Liqueur Madie from D&R Durno & Sons, Auchorachan, Glenlivet, Ballandalloch, Banffshire made 5000gns when selling to Orkney and the Swannay herd of Ryan Morgan, Swannay Farm, By Evie. September 2020 born Auchorachan Liqueur Madie, is sired by Auchorachan Hercules 16 and is out of Auchorachan Favourite. A pedigree packed with breeding, Auchorachan Hercules first five sons sold have averaged over £10,500. Auchorachan Favourite is from the Madie family which has bred the noted Auchorachan bulls Wizard, Winger, and AC/DC. Auchorachan Liqueur Madie had been placed as Simmental Champion at the new pedigree section introduced at the recent LiveScot event held at Lanark.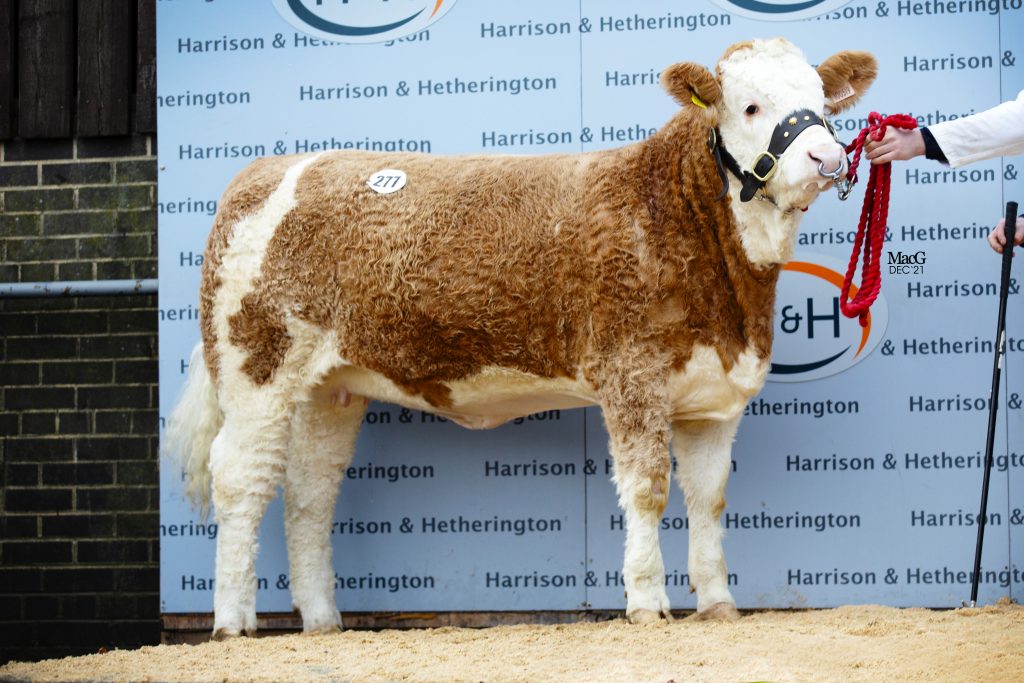 Also at the 5000gns mark, and from the heifer section of the Weaned Calves was Annick Jasmin's Marigold from Mr LD Quarm, Holehouse Farm, By Irvine, Ayrshire. This calf, January 2021 born, is sired by Islavale Jackpot 18 and is out of Annick Fleur's Jasmin VG88, a Wolfstar Golddigger 15 daughter, and whose breeding goes back to Whitemire Hannah, a top breeding female in the Annick herd. Going locally, this calf was purchased by GR Morton, who runs the Church Farm herd at Church Farm, Penrith.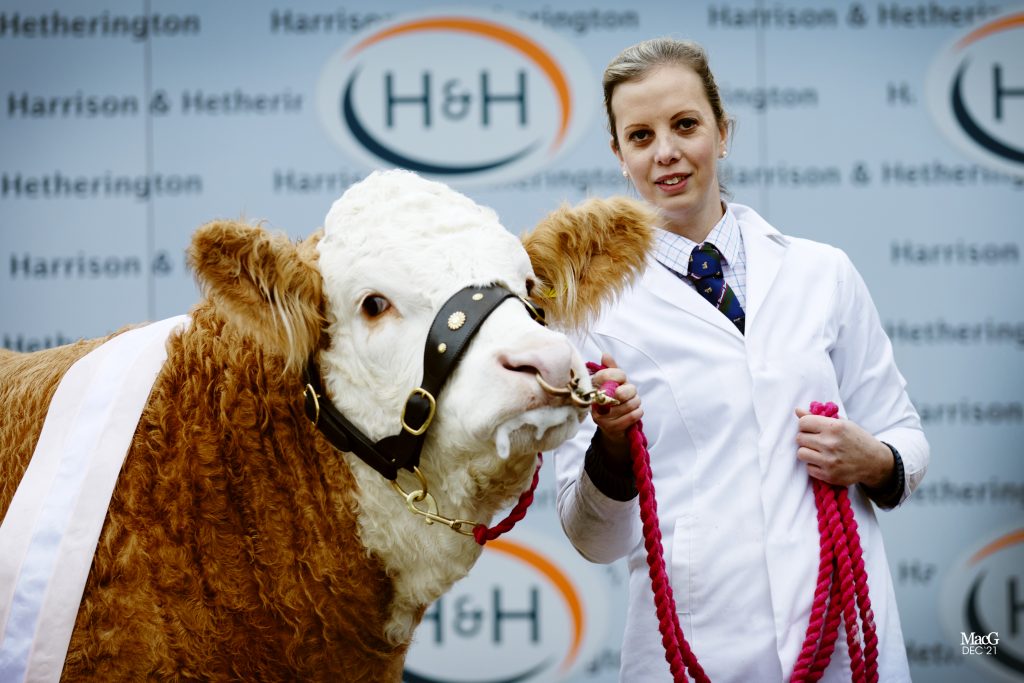 Special mention goes to James & Rachael Griffin, Hemingford Abbots, Huntingdon, who sold the March 2020 born Hemingford Lancome for 3000gns and also to GR Morton, Penrith. In an incredibly generous gesture the entire proceeds of this heifer are to be donated to the Breast Cancer Now Charity. Over and above the sale price, the Just Giving page also set up for this cause, has pushed past the £2000 mark. For good measure, the Griffins also sold the weaned heifer calf Hemingford L'Oreal for 4800gns to Philiphaugh Estate, Old Mill Farm, Selkirk. With plenty of breeding behind her, Hemingford L'Oreal is by Woodhall Ferrari 14, and is out of Hemingford Ginny.
Over and above the sale price, the Just Giving page also set up for this cause, has pushed past the £2000 mark.  For good measure, the Griffins also sold the weaned heifer calf Hemingford L'Oreal for 4800gns to Philiphaugh Estate, Old Mill Farm, Selkirk.  With plenty of breeding behind her, Hemingford L'Oreal is by Woodhall Ferrari 14, and is out of Hemingford Ginny.
AVERAGES:
30 Heifers Served & Maiden £4396
3 Heifers with Calves at foot £4865
5 Weaned Bull Calves £6174
10 Weaned Heifer Calves £3444
Auctioneers: Harrison & Hetherington