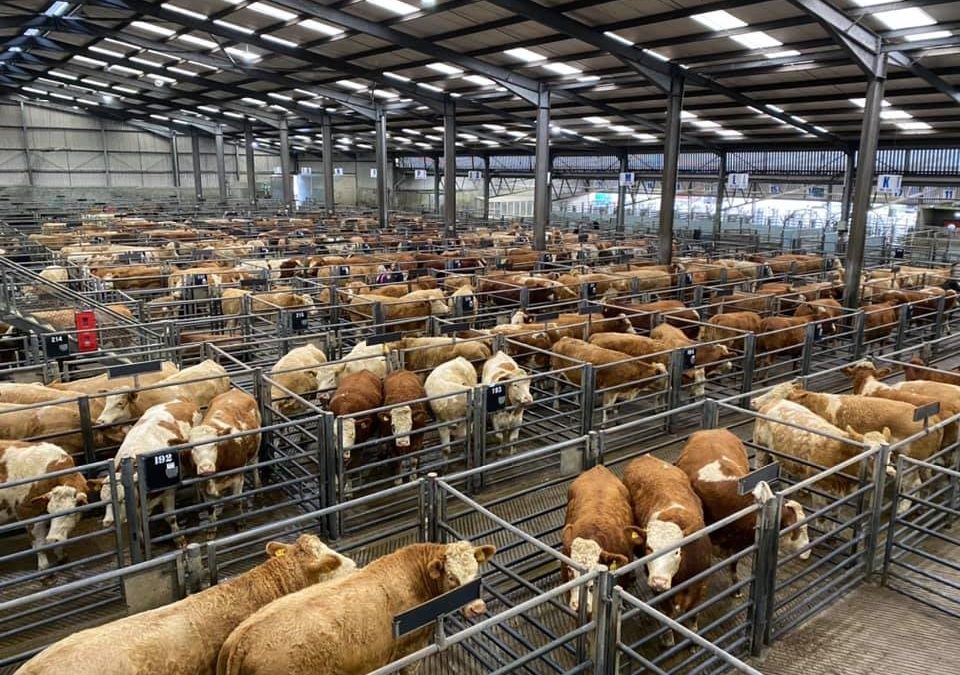 SIMMENTAL CATTLE TOPPING COMMERCIAL SALES AT HOLMFIRTH; SHREWSBURY; STIRLING; SEDGEMOOR; ABERDEEN; EXETER; FROME; HALLWORTHY; DUMFRIES; OSWESTRY; THIRSK; QUOYBRAE; DINGWALL; MALTON; PORTREE; SELBY; FORT WILLIAM; TRURO; MELTON MOWBRAY; & RUGBY
At Holmfirth Market on 2nd November, the trade for cows with calves at foot was led by a ten-year-old Simmental cow with 7-month Limousin calf at foot to £1570 from JR Richardson sold to JB Eastwood & Sons.
Shrewsbury Auction Centre on 2nd November saw a 'riproaring trade for breeding cattle'. A pure Simmental Cow with bull calf from George Powell topped at £1800 for the collective entry.
United Auctions (Saturday 30 October 2021) sold 752 beef breeding cattle at Stirling. In calf cows were led with SimX £1900×4, £1800 & £1650×7 from Home Farm. Bulling heifers to SimX £1650, £1420×2, £1300 & £1250×2 from Home Farm. SimX £1320×4 & £1280×2 from Ormsary, SimX £150×3 from Sunnycroft. Stock bulls topped by a Sim at £2600 from Home Farm. Simmental heifers with bull calves at foot sold to £2750 & £2050 from Harehead. Sim Heifers with heifer calves at foot sold to £2600 from Pitcairn. SimX cows with bull calves at foot sold to £1900 from Airthrey Kerse & Mains of Burnbank. SimX in calf heifers sold to £2000 & £1800 from Grange of Aberbothrie.
On 30th October at a large store cattle sale at Sedgemoor 'Saturday Stock Market', steers sold to £1515 for grand suckler bred Simmentals (5x 22/28m & FA) from PK & RJ Heard, Cheriton Fitzpaine, who sold more at £1290 (18m & FA) and £1195 (2x only 10m & FA). Further Simmentals £1185 (21m & FA) M Naish, Kenn and £1180 (2x 17m & FA) Mrs DM Dyer, Yarcombe.
At Thainstone, Aberdeen and Northern Marts (Friday 29th October 2021) sold 935 Store Cattle, Young Bulls and Young and Weaned Calves. Bulls sold to 383.3p per kg for a pen of six 240kg Simmental crosses from Cairntack Farm, Belhelvie.
In a sale of 424 store cattle at Exeter on Friday 29th October, steers topped at a massive £1595 given for a couple of Simmental steers (28m) being the best of a terrific run of bullocks from Cyril Emmett of Aylesbeare followed by further pairs of Simmental's all born around the same time from Cyril which drew £1515 and £1490 apiece.
At Frome Livestock Market on 29th October, super well conformed young continentals were topped by Simmental suckled heifers presented by J & M Rawlings, 7months old, and sold easily to £702.
At Thainstone, Aberdeen and Northern Marts (28th October 2021) sale of prime cattle saw heifers sell to £1,433.25 gross for a 735kg Simmental from Brewthin, Cullerlie.
Hallworthy market's sale of store cattle on 28th October saw some really fleshy heifers around with power. Top spot going to G Williams and Son of St Kew with their best a single Simmental x to £1295 and a second pair with tremendous fleshing to £1200.
C&D Auction Marts sale on Thursday 28th October 2021 at Dumfries saw a larger show of cast cows forward to an increased ring of buyers with more quality on offer and all classes in demand. The sale topped at £1,220 for Simmentals from J Higgs Farm, Arkleton, Langholm.
At Oswestry Market on 27th October, the top prices included the £985 (259p/kg) paid for two Simmental steers aged 11-13 months, sold by Partneriaeth Llymystyn, Foel.
Thirsk Market had 219 cattle forward on 26th October with all classes selling well. Steers topped at £1225 for Simmental X from Colton House Farm, Lower Dunsforth.
Lawrie and Symington Ltd sold 528 Store Cattle at their fortnightly sale at Lanark on 26th October. Heifers peaked at £1275 for a 610kg Simmental from Parklea,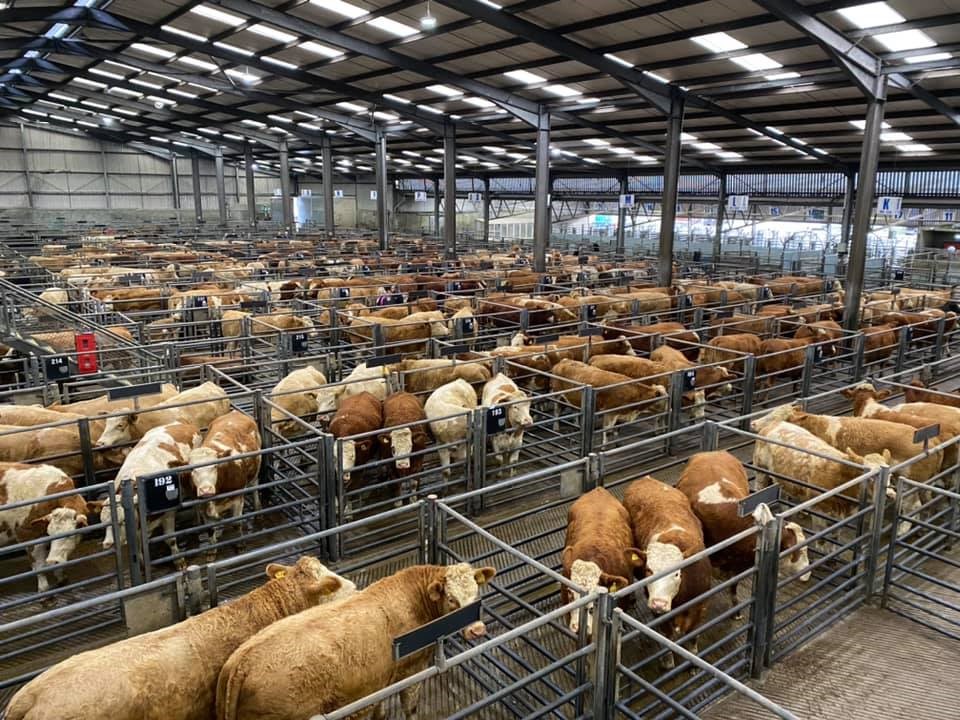 At Quoybrae on 25th October, Aberdeen & Northern Marts sale of Weaned calves, and Store cattle, saw weaned calf heifers averaged 232.1p and to £950 gross for a 417kg Simmental cross from Roadside, Reiss, Wick.
Aberdeen and Northern Marts Friday 22nd October 2021.sold 1,800 Store Cattle, Young Bulls and Young and Weaned Calves at Thainstone. Heifers (360) averaged 230.5p and sold to 281.6p per kg for a pair of 412kg Simmental crosses from Cairntack Farm, Belhelvie.
At Frome store cattle sale on 22nd October the young continentals were full of top quality suckled calves. Sid Brown, supporting the sale from the Isle of Wight, led the section when presenting some of his top Simmental Steers which saw 7-8mo at £850, & 6mo at £765.
United Auctions on Thursday 21 October, sold 360 store and OTM cattle at Huntly. OTMs sold to 146.5p per kg or £1160 for SimX from Newtonbrae, Newmill.
Aberdeen and Northern Marts on 21st October sold 268 Cows and Bulls at Thainstone averaged £1,067.50 (+£90.59)and sold to £1,290 for a 1,215kg Simmental from South Auquhorthies, Oldmeldrum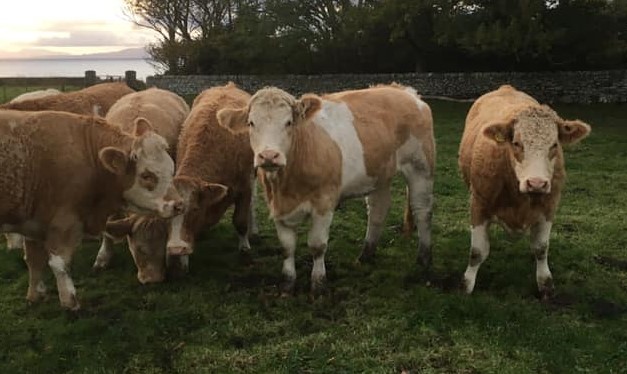 Dingwall and Highland Mart Ltd., on October 20th, sold 534 weaned and store calves and 1 breeding bull. Bullocks (296) averaged 235.7p (up 5.2p on the year) and sold to £1,400 gross for a 660kg Simmental cross from Ballone, Abriachan Heifers (223) averaged 225.1p (up 3.8p on the year) sold to 355.7p per kg for a 253 Simmental cross from Morvich Farm, Rogart.
At Malton Livestock Market on 19th October, OTM bulls were led by a 945kg Sim X from L Holtby, Ruswarp at 122.50ppk (£1157.63).
Dingwall & Highland Marts Ltd., held a sale of prime cattle on October 19th. Prime bullocks averaged 231.3p and sold to 236.0p per kg for a 595kg Simmental cross from Bridgend Farm, Dingwall
In a sale of UTM & OTM Prime cattle at Sedgemoor on 18th October, heifers sold to £1,693.44 for a grand 756kg black and white OTM Simmental from EJ Collins & Son, Chard.
At Portree on 18th October, Dingwall & Highland Marts Ltd., bullocks sold to 261.9p per kg for a pair of 210kg Simmental crosses from 17/18 Borve, Skeabost,
On Saturday 16th October, Selby Market held a store cattle sale. Heifers were topped by a Sim at £1450 from M Brears & Sons.
Back to Thainstone on 15th October and Aberdeen & Northern Marts had a total of 181 Store Cattle forward from Orkney Consignors. Bullocks Sold to a top of 273.2p per kg for 280kg Simmentals from Millburn Farms.
At the sale of store cattle at Exeter on 15th October, store heifers saw a pen of four cracking Simmentals (19m) from Dave Pollard head that section at £1235 a head.
At Fort William on October 14th, Dingwall and Highland Marts Ltd., sold 258 store cattle, 14 adult head of breeding cattle and 32 OTM cattle. Heifers (101) averaged 222.1p per kg and sold to 305.9p for a 255 Simmental cross from Sandamhor farming, Isle of Eigg. Breeding Cattle sold to £900 gross for a Simmental cross heifer in calf from Mucomir Farm.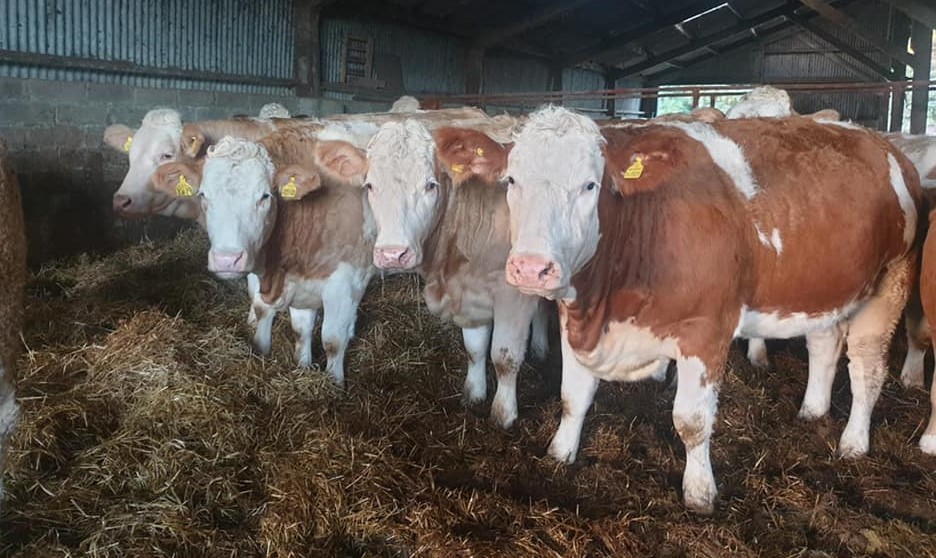 At Thainstone on 14th October, Aberdeen and Northern Marts sale of Prime Cattle saw heifers average 218.2p and sold to £1,543.95 gross for a 705kg Simmental from Nether Tillygarmond, Finzean.
At Lodge & Thomas's sale of store cattle on 13th October at Truro, the dearest through the ring at £1425, in from Porkellis, Helston was Mrs B Baxter's tremendous single Simmental x steer, bought by Mr R H Eddy of Tehidy, Camborne.
In a sale of prime cattle at Melton Mowbray on 12th October, OTM heifers were topped at 216.5ppk for Simmentals from R&S Anderson, with others at 209.5ppk, and 205.5ppk.
On 11th October at Rugby Farmers Market the trade for cows was led by a 822kg Simmental at 221ppk from Lee & Son.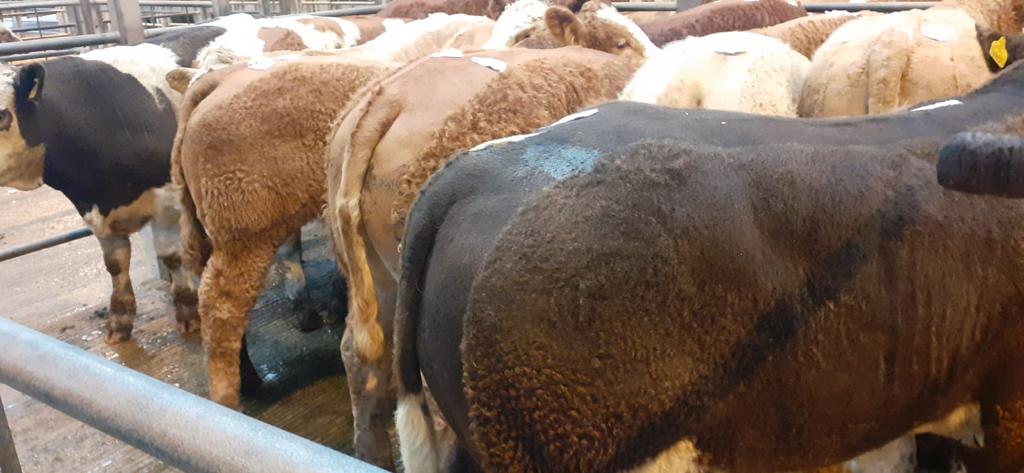 Aberdeen and Northern Marts, on 11th October at Quoybrae, sold 492 weaned calves, 93 store and 56 breeding cattle. Breeding cattle sold to £2,300 for an Simmental Cross Cow with Charolais Cross Bull Calf at foot from Keiss Mains, Keiss.
United Auctions on Monday 11 October 2021 sold 1770 suckled calves at Stirling. Heifers averaged 247.0p and to £1220 for a 516kg SimX from Shanry.
Aberdeen and Northern Marts, on Friday 8th October at Thainstone, sold 1,418 Store Cattle, Young Bulls and Young and Weaned Calves. Heifers (285) averaged 232.3p and sold to 289.9p per kg for a 376kg Simmental cross from Bunchrew Home Farm, Inverness Bulls sold to 210.5p per kg for a 380kg Simmental cross from Grassmiston Farm, Crail and £1,200 gross for a 616kg Simmental cross from Auchencrieve Farm, Methlick.i