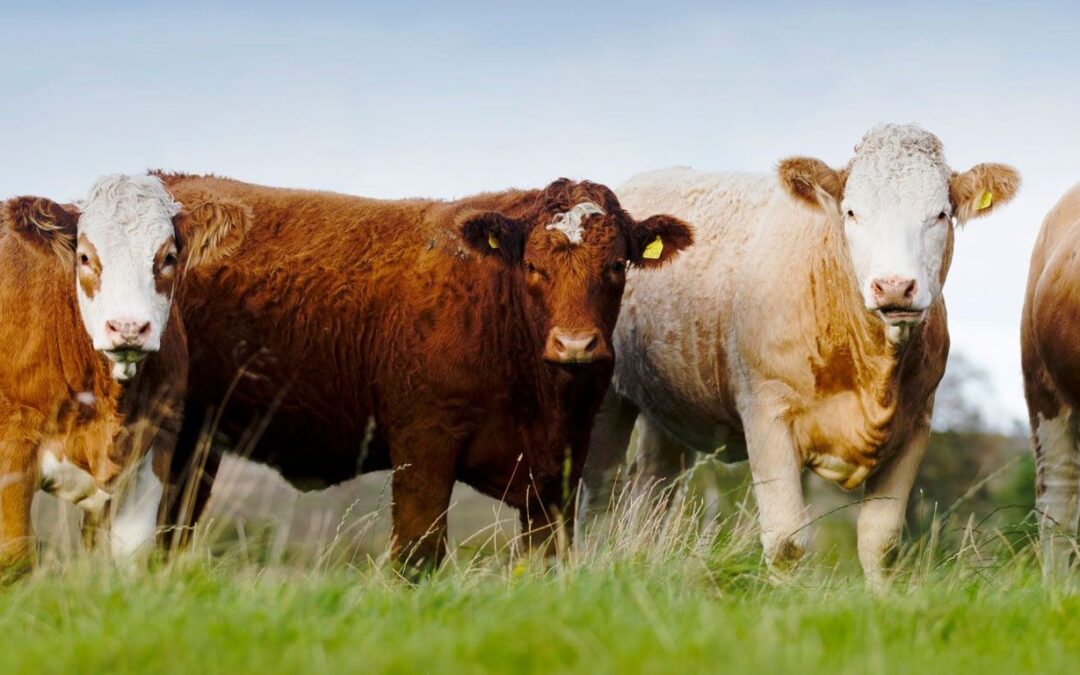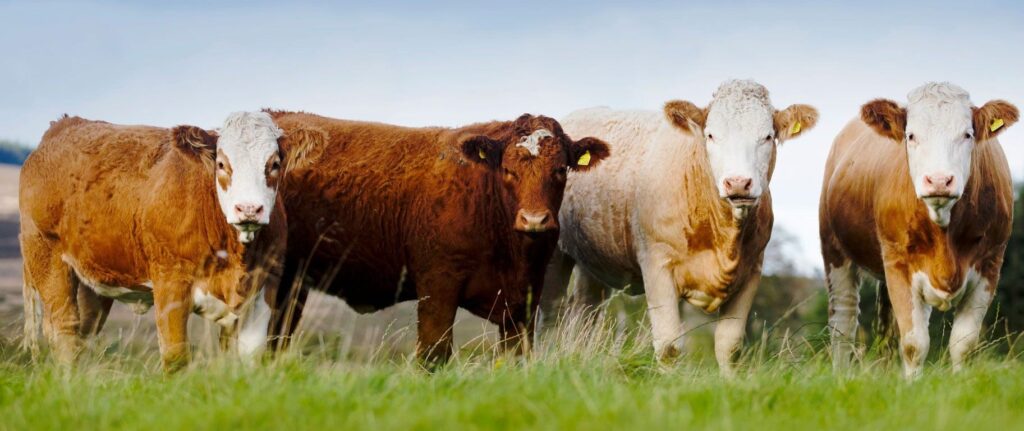 This is the last Simmental Market Briefs post rounding off 2021 commercial sales and again showing the breeds milk and maternal, along with top carcase traits, delivering profit for commercial producers around the UK.

Simmental cattle featured in the top end of prices at the store cattle sale held at Hexham on 17th December. Simmental x steers from Greencarts sold to £1280 in the 23-30 month section. In the 17-22 months section, Simmental x steers sold to £1410 from Satley Farm, and to £1240 from Hartley West. In the same age section, Simmental x heifers sold to £1210 & £1100 (x2), £1090 & £1065 from Newton Greens. In the cattle under ten months section, Andy Thompson, East Unthank produced a handy packet of shapely calves and saw Simmental cross steers sell to £990.

In a sale of 182 calves at Exeter on 17th December, the top of the day was £400 for a cracking month old Simmental bull from Ross Govier of Longdown.

At a sale of 216 Cows and Bulls at Aberdeen & Northern Marts Thainstone Centre on 16th December, bulls averaged £1168.42 and sold to £1,590 for a 1,300kg Simmental from Backhill of Thornton, Inverurie.

The best of the heifer trade at Hallworthy's store cattle sale on 16th December was a single stretchy Simmental x Heifer away at £990 for P Mitchell of Bude.

At Stirling, United Auctions on 15th December sold 244 store cattle, young bulls and 183 out of spec cattle, cast cows and bulls. The Out of Spec Cattle averaged 161.62p and to £1470 for a SimX from Teasses Est.

A sale of cull cows at Frome on 15th December saw a tremendous entry of Simmentals from P & S Foot topped to 148.50p/kg and the lead gross price of £1250.

In a sale of weanlings held at Dungannon Farmers Mart on 15th December, the trade for weanling heifers was topped at £800 for a 325kg Simm presented by M McNally.

At Sedgemoor's sale of store cattle for vendors under TB restriction, heifers rose to £925 (4x 20/21m) for Simmentals from PJ & J Webber, Wheddon Cross.

At Melton Mowbray's store cattle sale on 14th December, trade was just as fierce as it has been with demand from start to finish. Cows and calves kicked off the sale with J Minshall of Tean top with his suckler dispersal topping at £1660 for a Simmental x cow and calf outfits split with other outfits grossing £1390.

C & D Auction Marts held their Final Store Cattle Sale of the year on Monday 13th December 2021 at Dumfries. All classes again met plenty of competition with buyers proactively seeking numbers. Bullocks averaged 214.1p/kg and sold to a top per head of £1255 for a Simm from Rockhallhead.

At Thirsk's show and sale of breeding cattle on 11th December, Simmental in-calf heifers were at the top end of the quoted prices when making £2375, £2250 x2, £2225, £2200, £2150, £2125, £2100, £2050, £2000 x2, and £1800.

On Friday 10th December at Thainstone, Aberdeen and Northern Marts sold 452 Store Cattle, Young Bulls and Young and Weaned Calves. Bulls sold to 208.3p per kg for a pen of four 492kg Simmental's from Wallfield, Lochhills.

At a sale of store cattle at St. Boswells on 9th December, Simmental cattle featured strongly in both the bullocks and heifers. Bullocks from Lanton made £1000, whilst heifers from the same home made 207.9p, and 206.7p, and to £1050 per head.