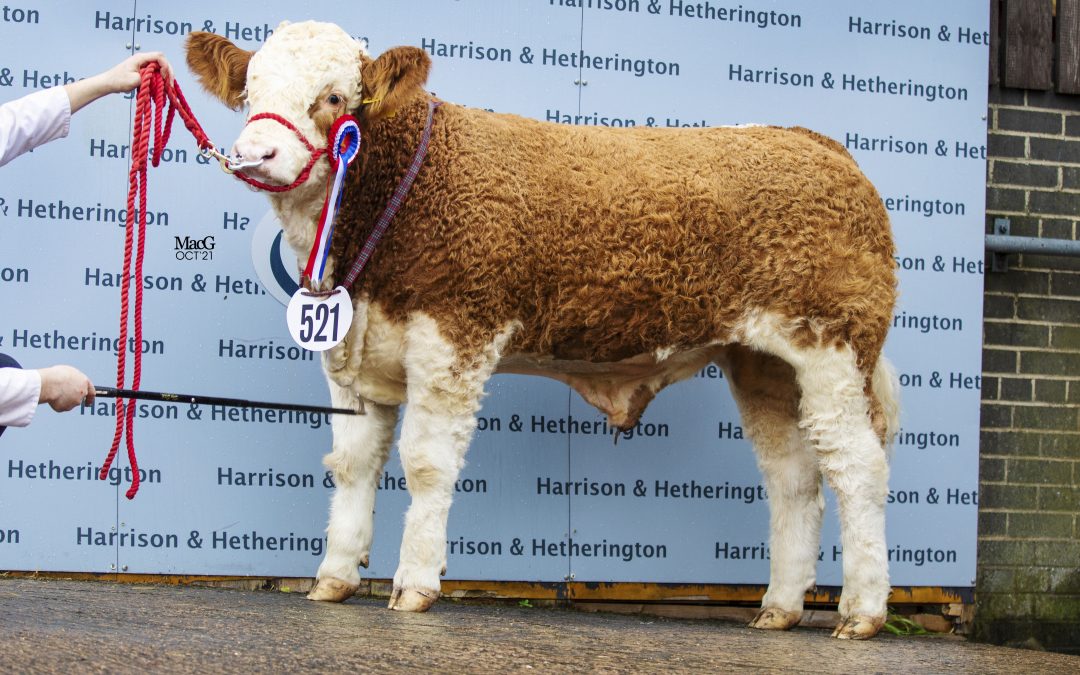 Denizes Monty takes the Reserve Overall
Beanhill Leon wins Senior Championship
Newbiemains Leonidas takes Reserve Senior Championship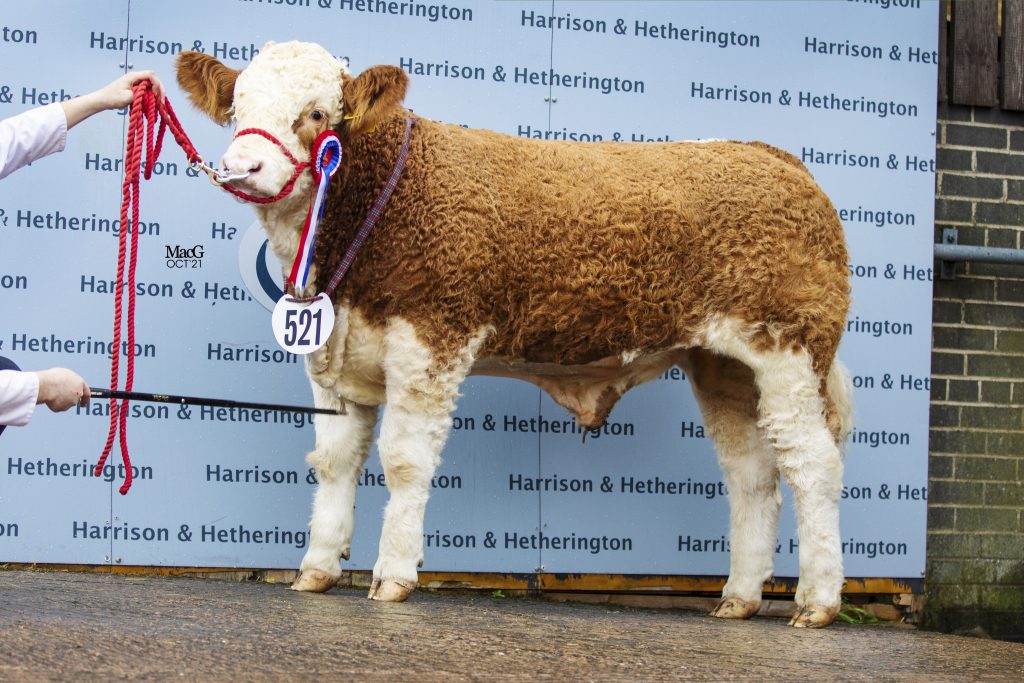 The bull calf Springfield Major 21 from Gavin Brown, Springfield Farm, Penicuik, Midlothian took the top honours when winning the Overall Championship and at the 2021 Simmental Calf Show at the Borderway Agri Expo held on Friday 29th October at Harrison & Hetherington's Borderway Mart, Carlisle.
The event, held jointly by the North West Simmental Club and the British Simmental Cattle Society, saw an original entry of 62 calves catalogued and with exhibitors from Wales, Scotland, Berkshire, Wiltshire, Lancashire, and Yorkshire.
In front of a good crowd at ringside the Simmental Calf Show was judged by Cameron Jackson who runs the establishing Future Simmental herd at Woodyett Farm, Lanark. April 2021 born, Springfield Major is by the herd's stock bull Islavale Jabba, and is out of Hazelden Jingle 40th. After winning Class 4, bull calves born after 1st March 2021, this young bull won the Junior Championship before being given the judge's tap as the day's Overall Champion. For the Springfield herd, which consists of 25 breeding females, it was their first time entering the Borderway Agri Expo event and their Championship win followed hard on the heels of the recent Stirling Bull Sale where they sold bulls at 6500, and 5000gns. The 6500gns Springfield Legacy is a half-brother to the Agri Expo Champion Springfield Major, with both being out of Hazelden Jingle 40th, and who was bought at the Hazelden Herd Dispersal Sale as a calf at foot. Speaking afterwards, a delighted Gavin Brown said: "It's my first time here and I was just really keen to support the breed and the calf show. The Springfield herd is continuing to establish and it's fantastic to win an event such as this and amongst your peers. It keeps the herd momentum going and makes all the hard work very much worth it!" From here the plan is to aim Springfield Major at the October 2022 Stirling Bull Sales. Rounding off a good day, the Springfield herd also placed second in three further classes.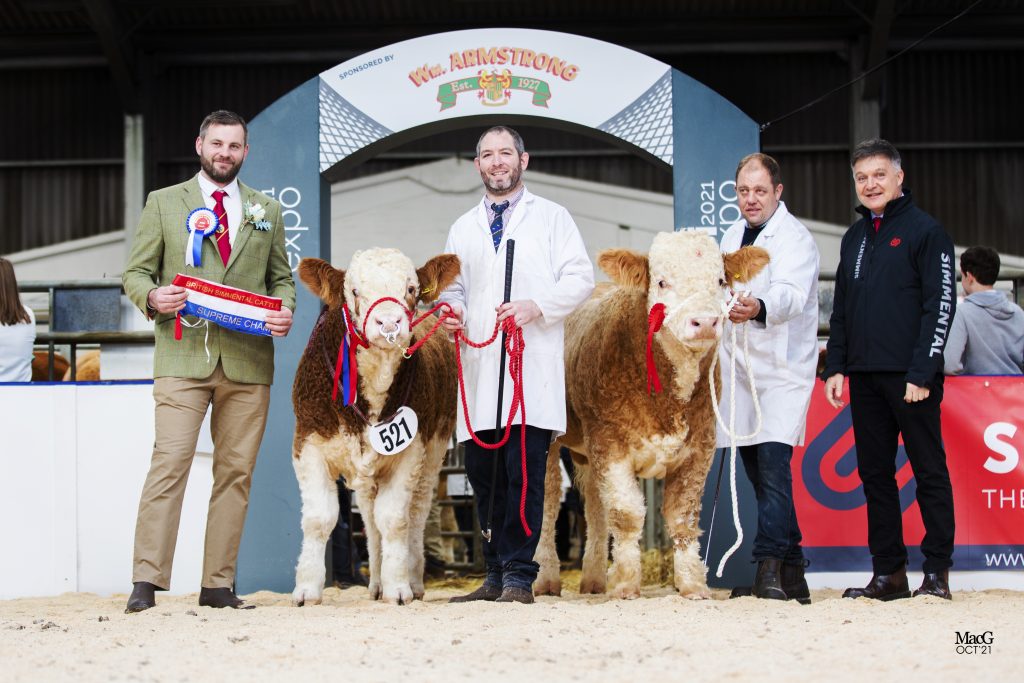 Commenting on his Overall Champion, the judge Cameron Jackson said: "This calf just oozed style and character and he was very correct. He's just a perfect calf for his age and very much a breeder's bull in the making." Of the Simmental show generally, he went on to say: "I think it's as strong a show of Simmental calves as we've seen in a few years. The modern Simmental for me is going in the right direction being as dual purpose as possible, and breeding tremendous females, and bulls with shape."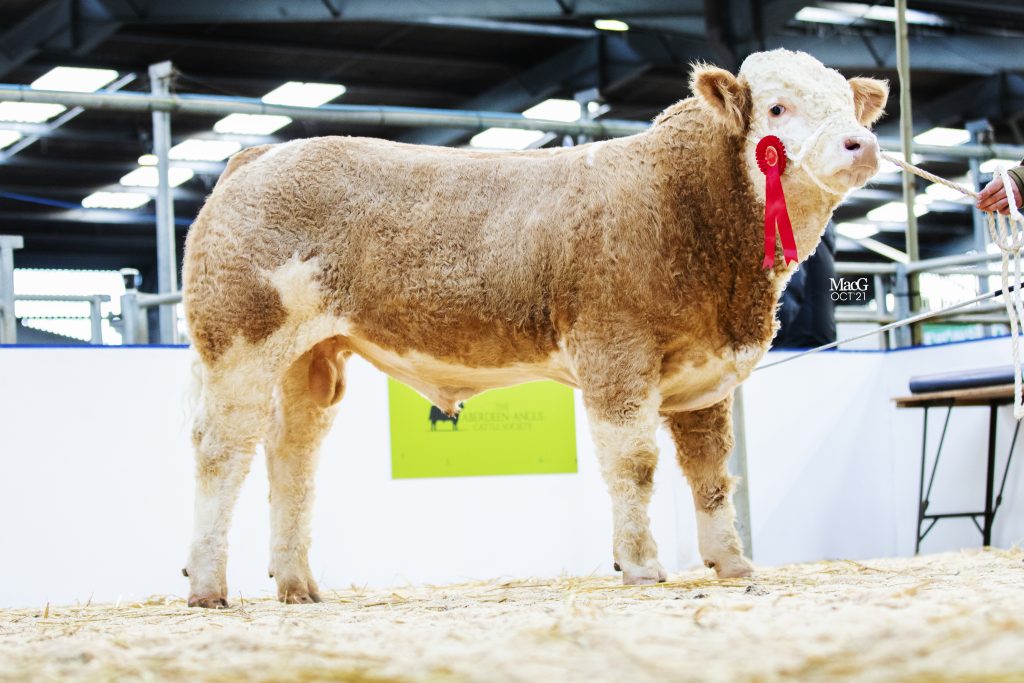 Following the Champion through when taking the Reserve Junior Championship, and the Reserve Overall Champion, was the winner from Class 3, Bull Calf born on or between 1st January 2021 & 28th February 2020, in the shape of Denizes Monty 21 from MA Barlow & Sons, Ulnes, Nr Leyland, Lancashire. This January 2021 born calf brough a combination of both breeding and performance. Both parents of this calf, the sire Denizes Hamish 16 and the dam Denizes Trixi-Belle 6th, have themselves been previous winners of the Borderway Agri Expo Simmental Calf Show. Denizes Trixi-Belle 6th has bred calves, Denizes Impressive, up to 10,000gns. Next up for Denizes Monty 21, who has top figures for both calving ease, and maternal (milk), is a trip to Stars of the Future at Stirling in November. In the last class of the day, heifer calf born on or after 16th March 2021, the Denizes picked up another first prize ticket with their polled calf Denizes Matilda 8th by Slievenagh International (PP) and out of Denizes Matilda 2.
All the way from Wiltshire, Mr & Mrs RJ & BE Kimber, Beanhill Farm, Chippenham, Wiltshire won Class 2, Bull calf born between 16th September 2020 and 15th September 2020, before going on to lift the Senior Championship with Beanhill Leon 20. A heifer's calf, Beanhill Leon was 42kgs at birth and is described as a having 'a lovely temperament'. His sire Ballinalare Galaxy carries both length and thickness and has bred well in the herd with big-framed cows. Leon's dam Beanhill Inca goes back to one of the herd's foundation cows, Deerhurst Frolic. Beanhill chalked up another first prize win when Beanhill Lettie, a Ballinalare Farm Galaxy daughter out of Beanhill Hettie VG 86, won Class Six, Heifer Calf Born on or Between 16th September 2020 and 31st December 2020.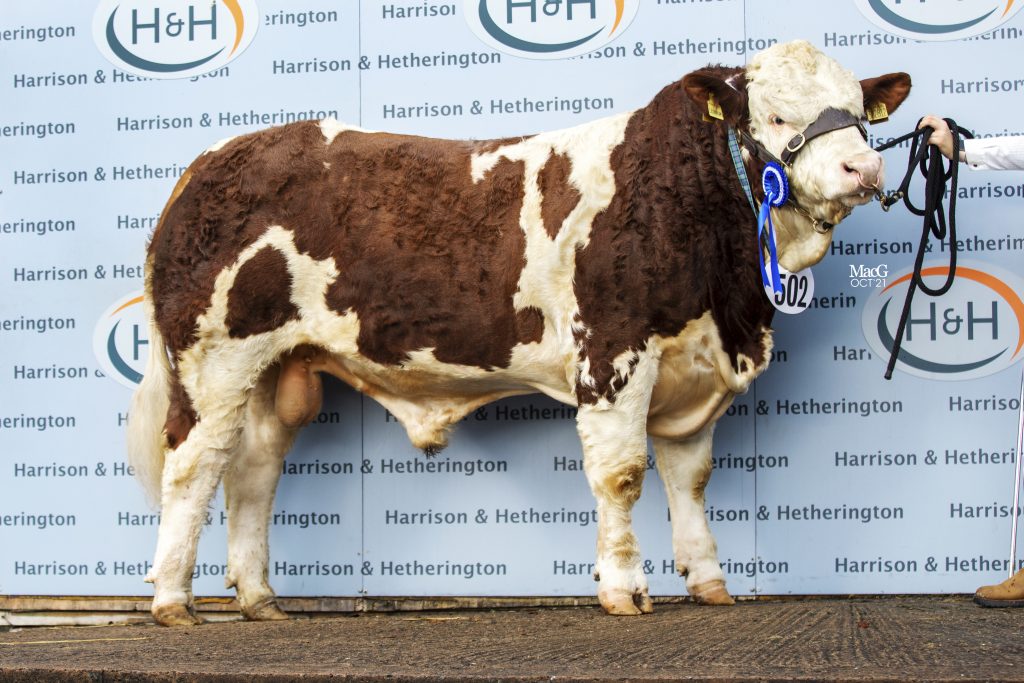 Taking the Reserve Senior Championship , and winning the first class, Bull Calf Born on or between 1st August 2020 and 15th September 2020, was Newbiemains Leonidas 20 from Jim and Patricia Goldie, Newbie Mains Farm, Annan. August 2020 born, Newbiemains Leonidas is by the imported bull Moorglen Hillbilly who is breeding well in the herd, both bulls and heifers, and whose progeny sold mainly off farm is averaging £6000. Leonidas is out of Woodhall Ginger (TF) VG 86 who is a Raceview All-Star KK daughter. Newbiemains Leonidas is another now headed for Stars of the Future and with one eye on a future Stirling Bull Sale. The Newbiemains herd also picked up a first prize win with Newbiemains Lady Wag, by Skerrington Iceman 17 EX 94 out of Newbiemains Hash Tag Wag VG 86, in Class 5 for Heifer Calves born on or between 1st August 2020 and 15th September 2020. Newbiemains Lady Wag then teamed up with Newbiemains Legend, an October 2020 born bull calf and also by Iceman, to win the Pairs Competition.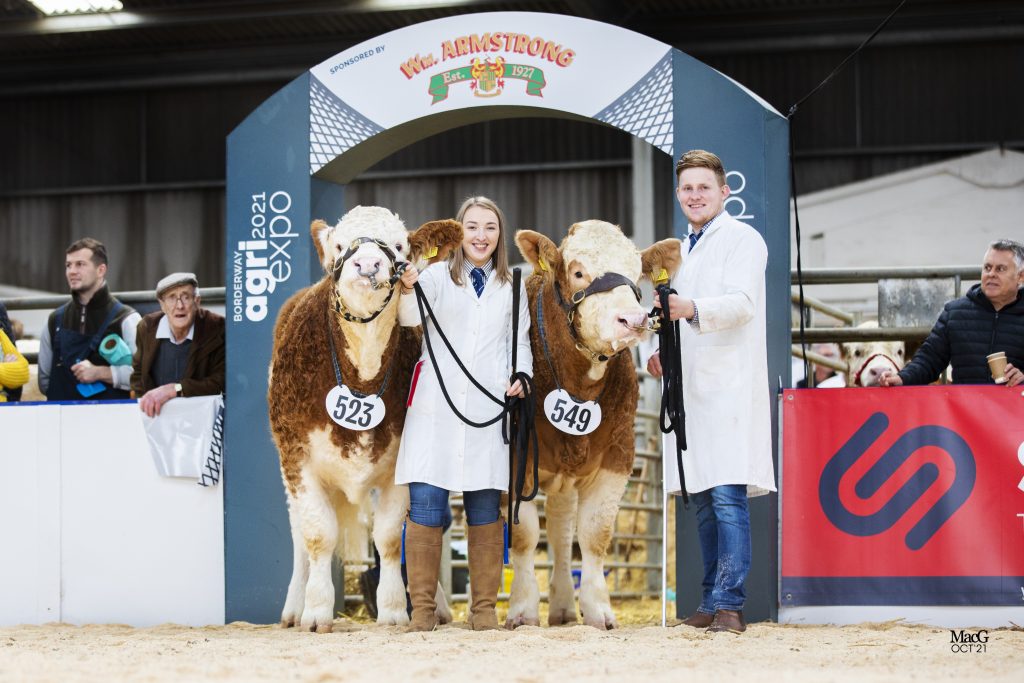 Travelling from Berkshire was AE & C Bishop, Church Farm, Finchampstead, Wokingham. Their journey was rewarded when they picked up first prize in Class 7, Heifer Calf Born on or Between 1st January 2021 and 15th March 2021, with Lynfield Precious. Born 9th January 2021, Lynfield Precious is by Ranfurly Confederate C24 11 EX 95, and is out of Lynfield Precious 5 (P), a Dirnanean Apostle daughter.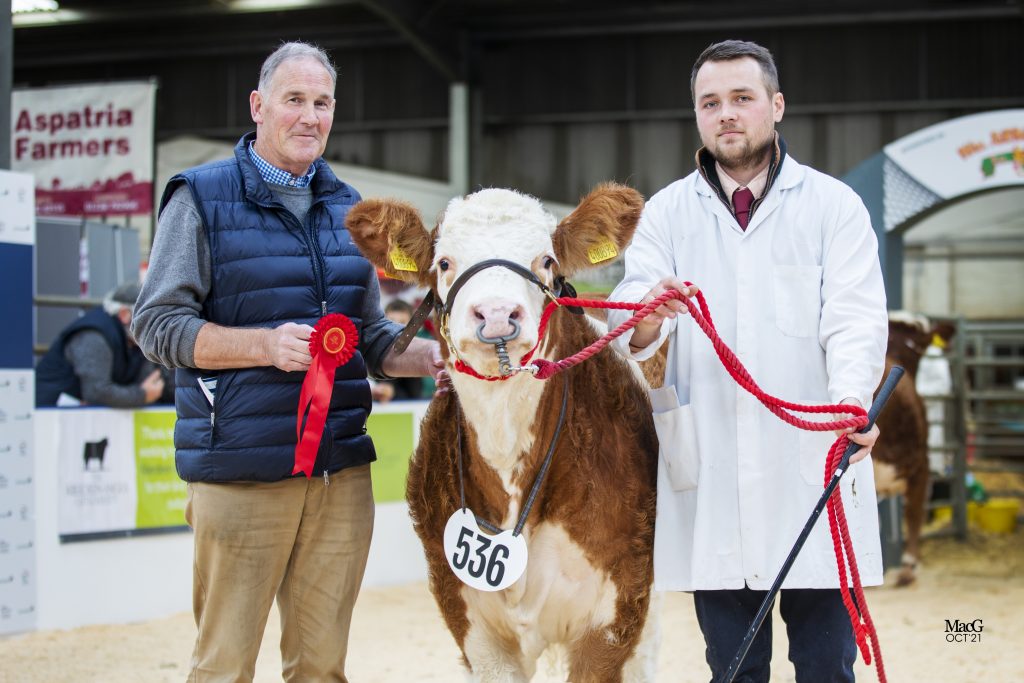 Rounding the day off was a high quality Young Handlers Class that saw the following placings:
1st Abby Forsyth; 2nd Callum Leedham; and 3rd Catherine Nicholas.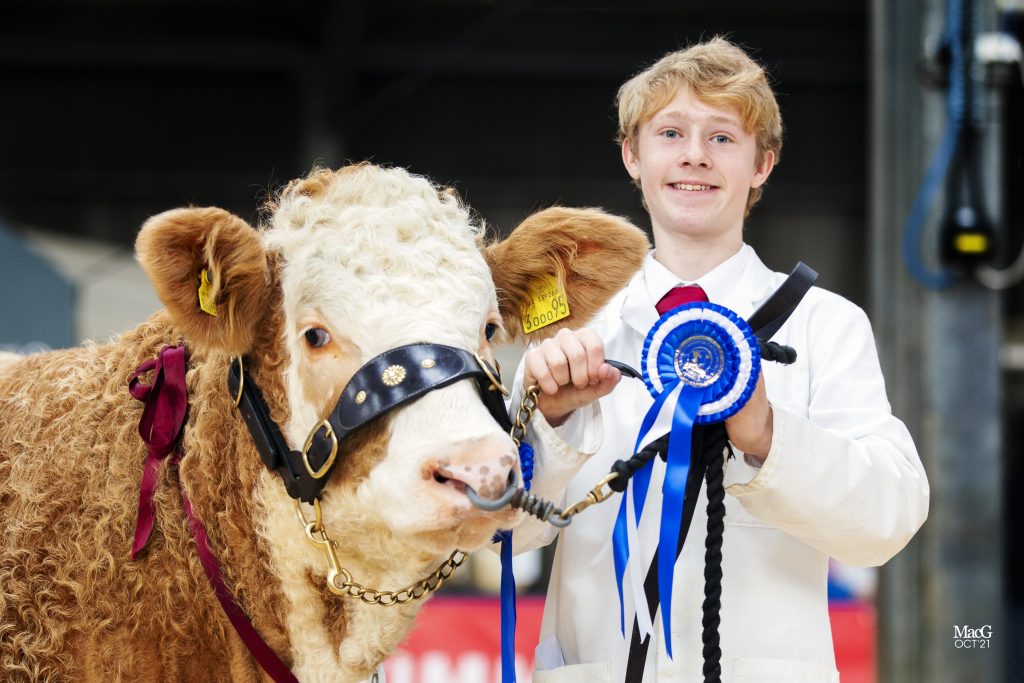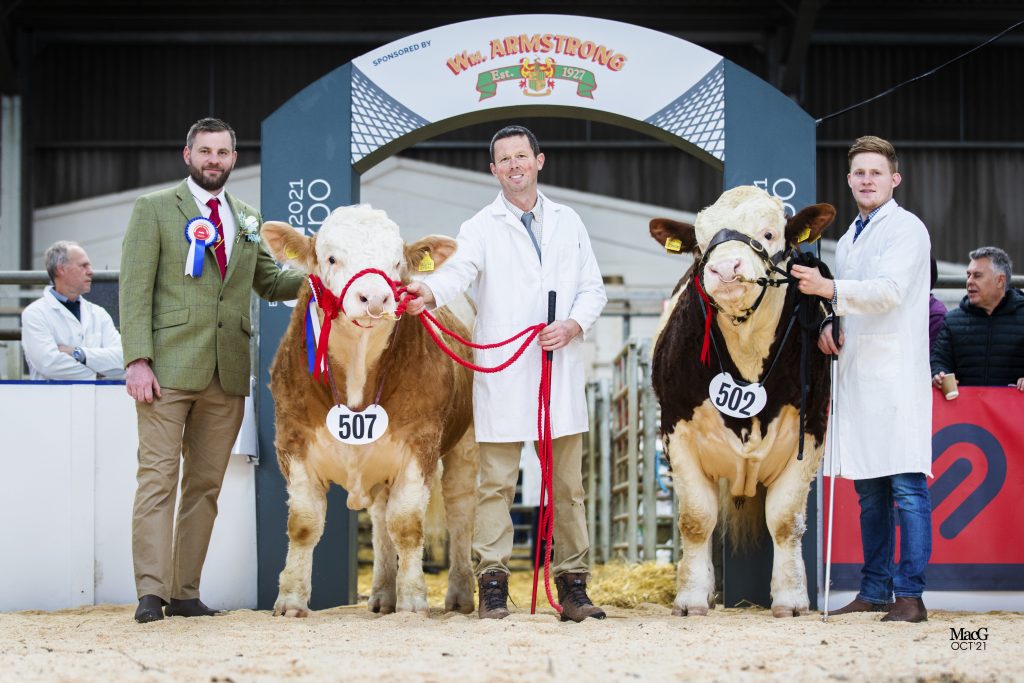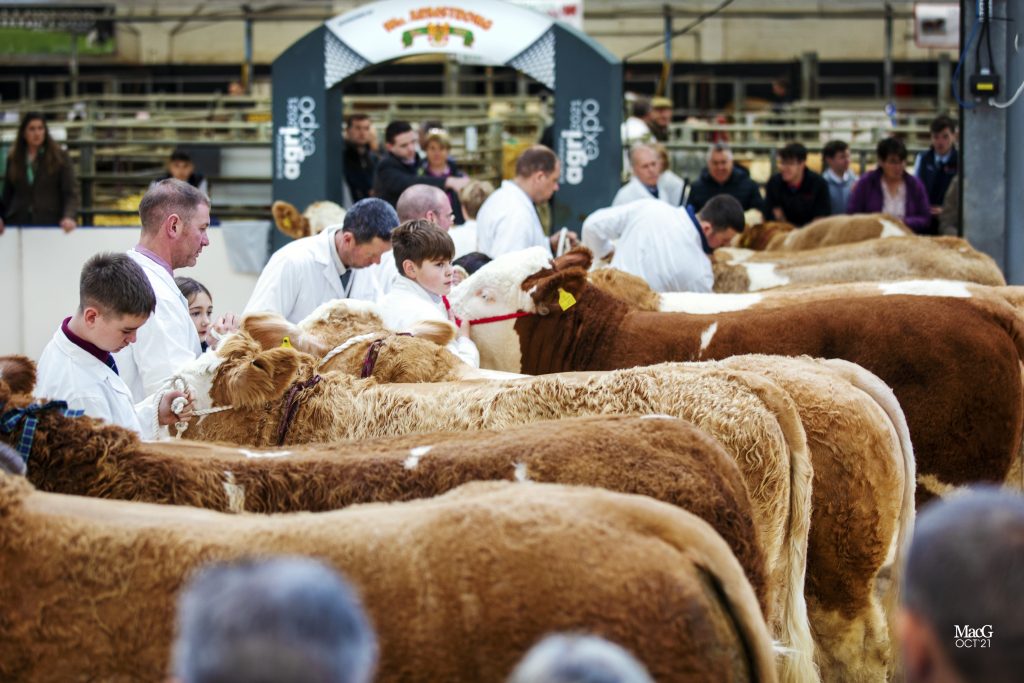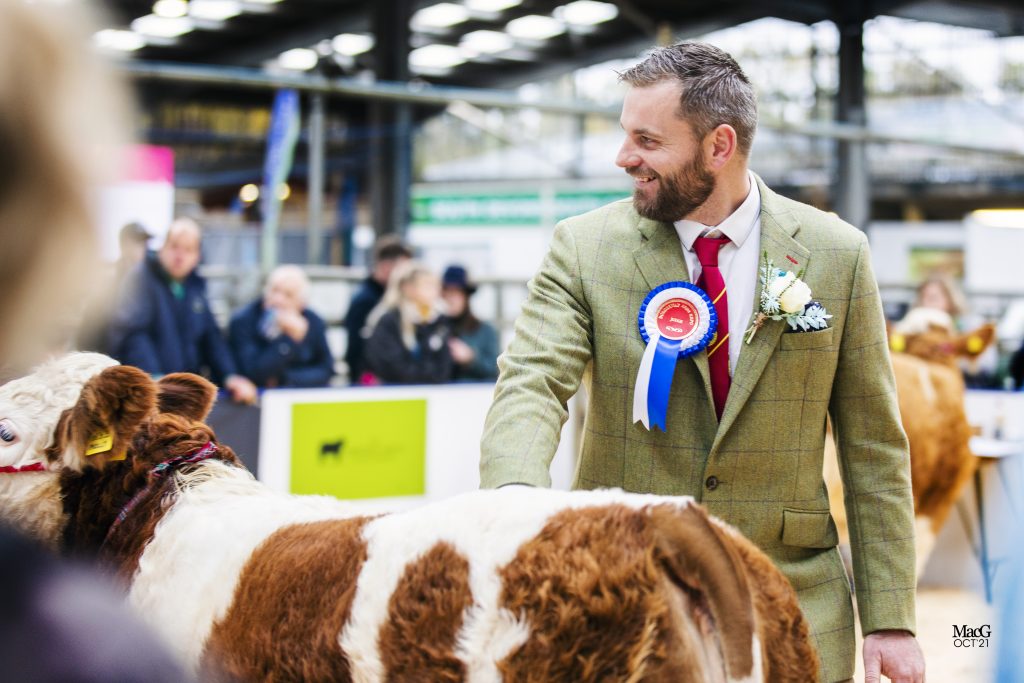 The North West Simmental Club & The British Simmental Cattle Society would like to sincerely thanks all of the sponsors for their kind support of this event and who were:
Overall Champion Calf: Barlow Trailers Ltd
Reserve Overall Champion: Barlow Trailers Ltd
Champion Pairs: Bowland Foods
Class Sponsors:
H Pigney & Son, Appleby in Westmorland
Aspatria Farmers
Genus
J Stobart & Sons Ltd, Wigton
High Keenley Farm B&B, Allendale
Agrifeed Solutions, Preston
Starlyne Feeds, Wellingborough
Newbiemains Simmentals, Annan
Scotpen