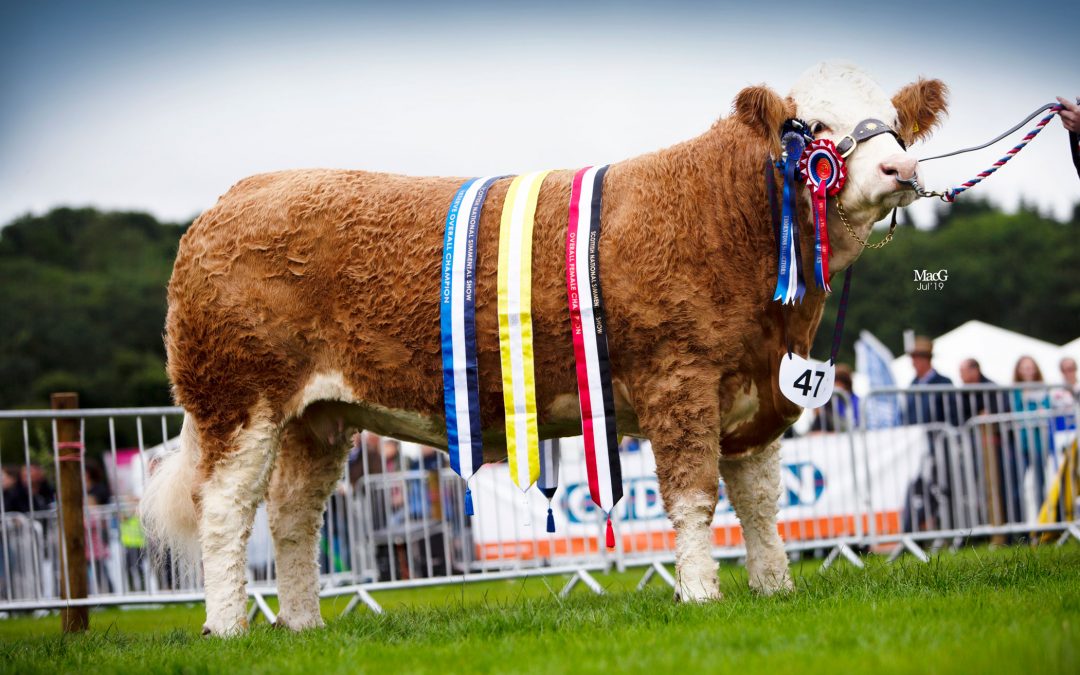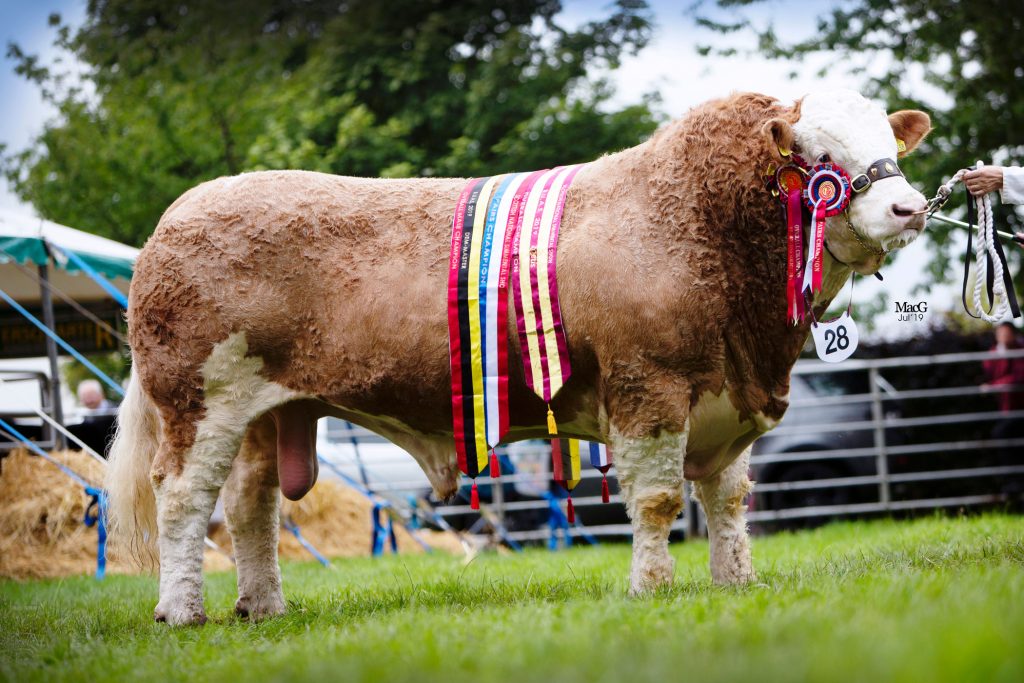 The morning of the show and you arrive at the ground unsure of where to go/who to meet and apprehensive and hopeful that at least the majority agree with your choices in the classes.
With then a Champion probably a female, knowing my preference, going forward to represent the breed in the Interbreed.
Well clearly nothing was going to plan as the start of showing brought torrential rain and I began to wonder was my day and those having animals forward to be spoilt with discussions held about judging inside.
These were soon put to one side with those showing having none of it, bringing animals out and my sincere thanks goes to each and every one of you for making my day special and giving me the opportunity to judge the Scottish National Show this year in Kelso.
The bull classes in age order (July/December 2018) saw two very equally presented animals forward with the nod going to Newbiemains Jax over Braidwood Jed from Ms. Moffat.
The next class (April/June 2018) saw a very correct/well balanced young bull from the Gwynne family take first place over those from the Smith/Goldie and Bishop families.
The January born bulls were then paraded and Chestermann Jupiter immediately caught my eye as definitely one for the future and he was placed first above Jagger from the Smith family.
The senior bulls were brought forward and bearing in mind the weather, here the three bulls walked on through the mud/rain and were a credit to our breed.
I brought forward Drumsleed Hivy as the winner of this class, closely followed by Iceman from Jim and Patricia Goldie with then Jacob from the Houldey family.
Drumsleed Hivy went on to be my Overall Male Champion followed by Iceman as the reserve.
The females began with a very good class in the April to August 2018 age group with 5 forward.
My winner Woodhall Jocelyn was a very smart heifer who caught my eye on entering and went on to be given the Overall Junior Female Championship.
The Woodhall herd had 2 others in the class who were split by the Simmers families Backmuir Kreole Jazz with Manor Park Jess Wilde who was giving away age/size.
In the next age class, January to March 2018 of the two forward Brandane J-Lo took the honours and went on to be tapped out as the Reserve Junior Female.
I had been told there would be animals forward who would catch the eye and that had certainly been the case with the males and juniors paraded to that point.
The rain had slowed down and in came 4 heifers born in 2017 with Sterling FCUK Impuls looking every bit as good as she had when I have seen her both on the show circuit and again at Stirling taking the red card.
Followed by heifers from the Goldie and Lyle families that would have red cards on other occasions.
The cow class unfortunately had only one entry David Craigs Kennox Taras Gem who I had been looking forward to see now she had calved.
Clearly the calf was being done well and in turn this had left Gem in her working clothes.
She still went on to be my Reserve Female Champion with her calf Gem's Kitkat taking Best Calf 2019.
This then left me with a super Male Champion who had great legs and feet, who moved despite his weight as if he was on a track against a lovely in calf heifer, who you could say was at '12 o'clock' as far as fitness was concerned, so on this occasion, my Champion was Drumsleed Hivy, bred, owned and shown by the Smith family, he was a credit to all their hard work.
My Female/Overall Reserve went to Sterling FCUK Impuls from the Simmers family with my hope being that she comes out next year with a calf at foot and if she looks like she did here there will be many more red rosettes on the way.
Thank you again to everybody for putting up with me and I look forward to competing against you all next year at the 2020 show in Carlisle.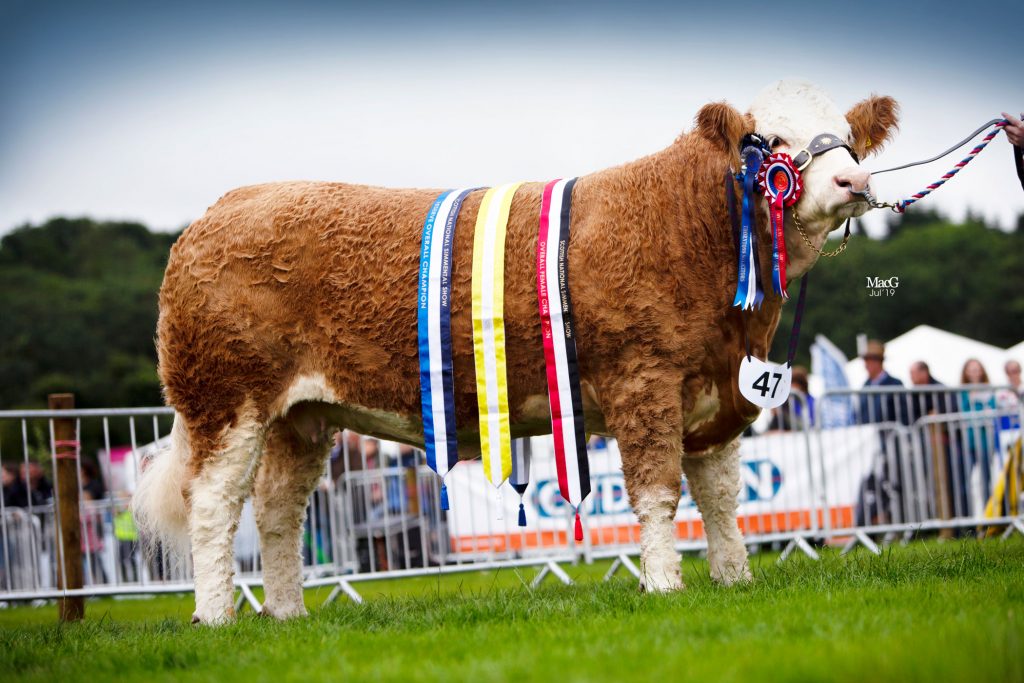 DATE: 26th July to 27th July 2019
JUDGE: Mr D Donnelly
CLASS & POSITION
NAME OF ANIMAL
SIRE
DAM
EXHIBITOR
Male & Overall Champion
DRUMSLEED HIVY 16
HAYSTAR CRACKER 11
DRUMSLEED VALONIA
MR G W SMITH
Female Champion & Reserve Overall Champion
STERLING FCUK IMPULS
STERLING GINO 15
STERLING CANDY'S F.C.U.K
REECE & ANDREW SIMMERS
Reserve Male Champion
SKERRINGTON ICEMAN 17
SOWENNA ARISTROCRAT 09 9
SKERRINGTON RHONA 32ND
JIM & PATRICIA GOLDIE
Junior Male Champion
CHESTERMANN JUPITER 18
ATLOW DIXON 12
DEERHURST GI-GI 15
MESSRS N & N GWYNNE
Reserve Junior Male Champion
DRUMSLEED JAGGER 18
WOLFSTAR GORDY 15
DRUMSLEED CARRIE
MR G W SMITH
Reserve Female Champion
KENNOX TARAS GEM
SOWENNA ARISTROCRAT 09 9
ANNICK HELEN'S TARA
MR DAVID CRAIG
Junior Female Champion
WOODHALL JOCELYN
ISLAVALE FRONTIER 14
WOODHALL DAHLIA
H & J MACASKILL
Reserve Junior Female Champion
BRANDANE J-LO
TEAM CELTIC 11
STERLING BACARDI'S FUNKY
FRANK GWYNNE
Bull, born before 31st December 2017
1. DRUMSLEED HIVY 16
HAYSTAR CRACKER 11
DRUMSLEED VALONIA
MR G W SMITH
2. SKERRINGTON ICEMAN 17
SOWENNA ARISTROCRAT 09 9
SKERRINGTON RHONA 32ND
JIM & PATRICIA GOLDIE
3. LISSADELL JACOB
CURAHEEN GUNSHOT (P)
TAWLEY GRETTA
MR D C HOULDEY
Bull, born between 1st January & 31st March 2018
1. CHESTERMANN JUPITER 18
ATLOW DIXON 12
DEERHURST GI-GI 15
MESSRS N & N GWYNNE
2. DRUMSLEED JAGGER 18
WOLFSTAR GORDY 15
DRUMSLEED CARRIE
MR G W SMITH
Bull, born between 1st April & 30th June 2018
1. CHESTERMANN JIMMY 18
OVERHILL HOUSE DATA 12
CHESTERMANN BASTION HILARY
MESSRS N & N GWYNNE
2. DRUMSLEED JURA 18
KILBRIDE FARM BENONE 10
DRUMSLEED VALTINA
MR G W SMITH
3. NEWBIEMAINS JEFFERSON 18
WOODHALL FANTASTIC 14
NEWBIEMAINS ECLYPSE
JIM & PATRICIA GOLDIE
4. LYNFIELD JOSEPH 18
DENIZES EXCLUSIVE 13
LYNFIELD PRECIOUS 5
M/S A E & C BISHOP
Bull, born between 1st July & 31st December 2018
1. NEWBIEMAINS JAX 18
NEWBIEMAINS GOLDEN EYE 15
WOODHALL FILOMENA
JIM & PATRICIA GOLDIE
2. BRAIDWOOD JED 18
CURAHEEN GOLD DIGGER
BRAIDWOOD FRECKLES
MS L J MOFFAT
Cow, born before 31st December 2015
1. KENNOX TARAS GEM
SOWENNA ARISTROCRAT 09 9
ANNICK HELEN'S TARA
MR DAVID CRAIG
Heifer, born between 1st January & 31st December 2016
1. DRUMSLEED HANNAH 16
KILBRIDE FARM BENONE 10
DRUMSLEED BERNITA 10
MR G W SMITH
2. CLONAGH HONEY CREAM
KILBRIDE FARM DRAGOON 12
CLONAGH EXPENSIVE CREAM
MR D C HOULDEY
Heifer, born between 1st January & 31st December 2017
1. STERLING FCUK IMPULS
STERLING GINO 15
STERLING CANDY'S F.C.U.K
REECE & ANDREW SIMMERS
2. NEWBIEMAINS ICANDY
WOODHALL FANTASTIC 14
NEWBIEMAINS FLORA
JIM & PATRICIA GOLDIE
3. VIEWFORTH DIPLOMAT TAMRA 2
GERRARD DIPLOMAT 12
VIEWFORTH TAMRA
JOHN & EMMA LYLE
4. JENNALYN JELLYBEAN NORA
CLONAGH WORLD CLASS
JENNALYN FLORA NORA
MR D C HOULDEY
Heifer, born between 1st January & 30th March 2018
1. BRANDANE J-LO
TEAM CELTIC 11
STERLING BACARDI'S FUNKY
FRANK GWYNNE
2. VIEWFORTH ESCALOP FLO
KILBRIDE FARM ESCALOP 13
VIEWFORTH WINSTON FLO
JOHN & EMMA LYLE
Heifer, born between 1st April & 31st August 2018
1. WOODHALL JOCELYN
ISLAVALE FRONTIER 14
WOODHALL DAHLIA
H & J MACASKILL
2. WOODHALL JENNIFER
ISLAVALE FRONTIER 14
WOODHALL GRETCHEN
H & J MACASKILL
3. BACKMUIR KREOLE JAZZ
KILBRIDE FARM DUKE 12
STARLINE KREOLE 10
REECE & ANDREW SIMMERS
4. WOODHALL JEWEL
ISLAVALE FRONTIER 14
WOODHALL CHRISTEN
H & J MACASKILL
5. MANOR PARK JESSE WILDE
CORSKIE EBAY 13
MANOR PARK WILDE
MR D C HOULDEY
Calf, born in Year of Show – 2019
1. KENNOX GEM'S KITKAT
WOODHALL FERRARI 14
KENNOX TARAS GEM
MR DAVID CRAIG