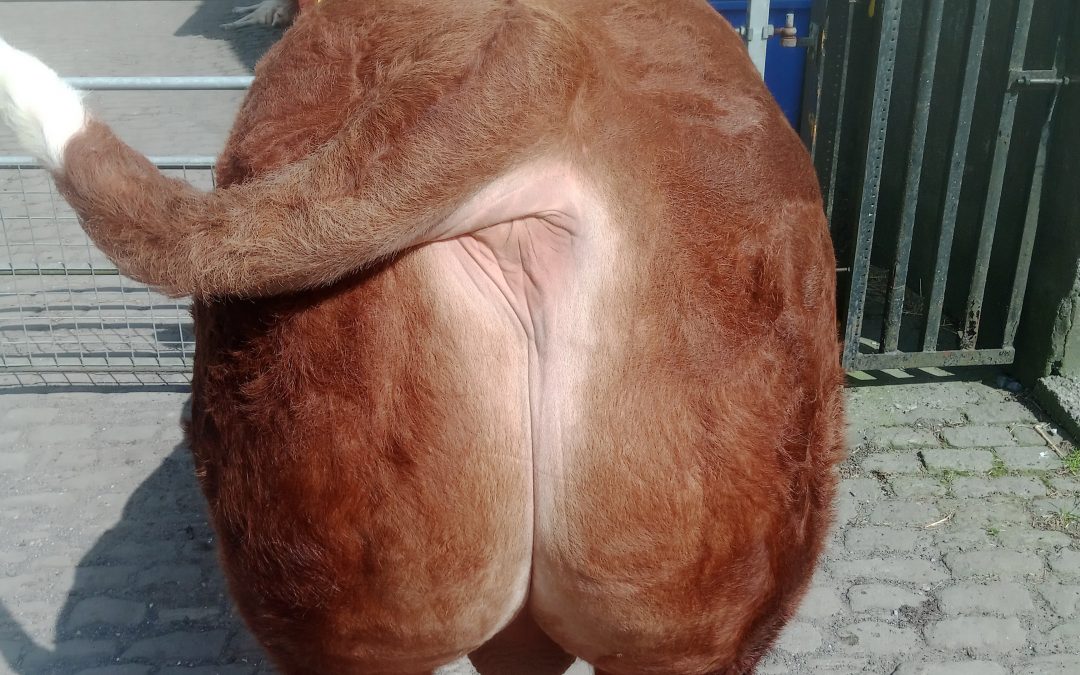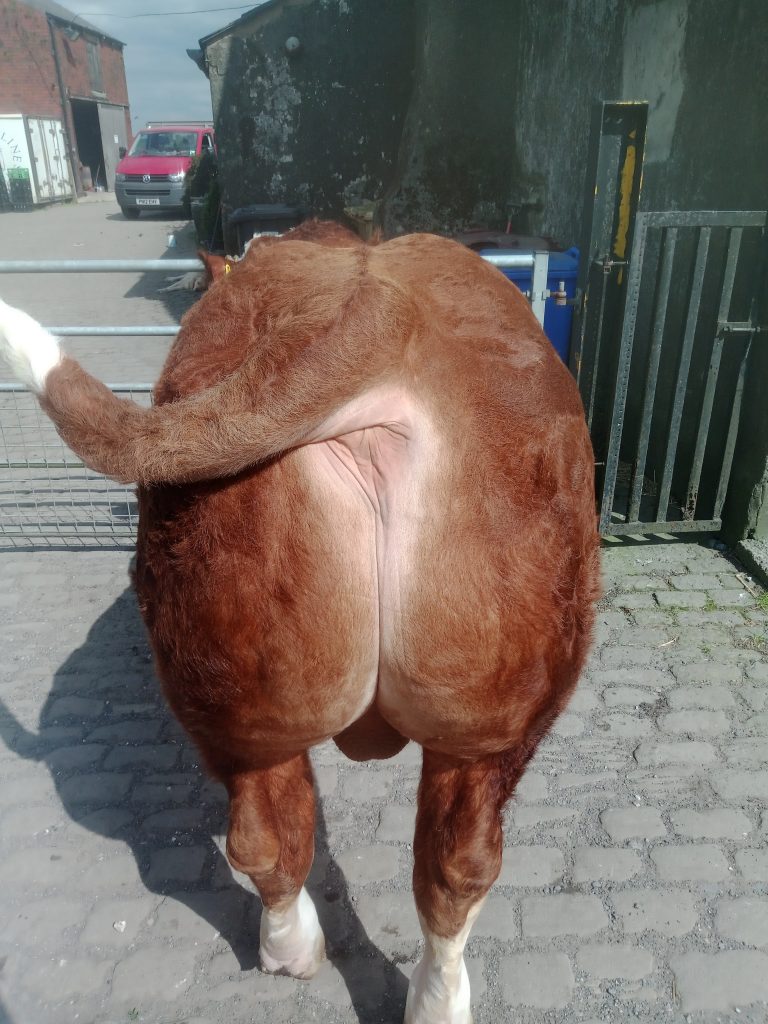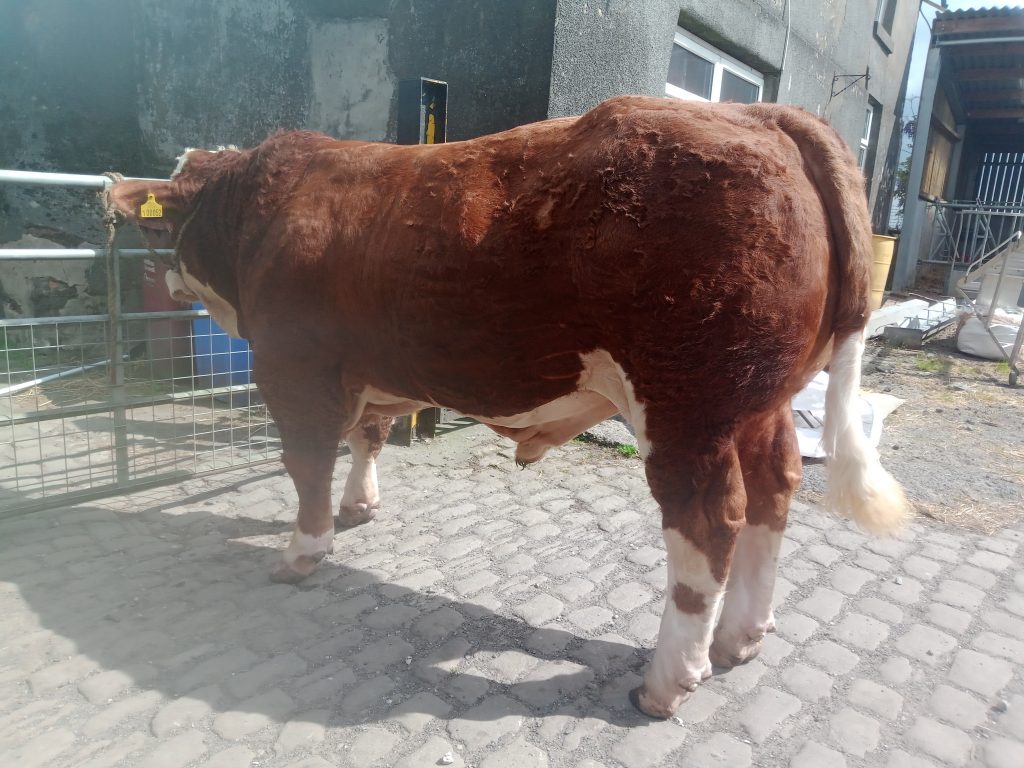 MARKET BRIEFS SEES SIMMENTALS LEADING COMMERCIAL SALES AT ABERDEEN; SEDGEMOOR; FROME; DINGWALL; SHREWSBURY; STIRLING; MARKET DRAYTON; AYR; GISBURN; WORCESTER; HUNTLY; ST. BOSWELLS; CARLISLE; ANGLESEY; SELBY; HEXHAM; LANCASTER; TRURO; LOCKERBIE; AND RUGBY
A bumper coverage of Simmental Market Briefs this week, as we play a little catch up, kicks off with a look back at Gisburn Market and their sale of Prime Cattle on Thursday 29th July. Leading a strong trade for bulls was Mr & Mrs Fitton, Moss Hall Farm, Lostock, Bolton with a fifteen-month-old pedigree bull (pictured). Put to the sale due to a hurt shoulder he weighed 756kgs with a dlwg of 1.56kilos per day. Selling at 266ppkg he made a market high gross of £2019.
Aberdeen & Northern Marts sale of 824 store cattle on 20th August saw heifers between 401-450kg topped by Simms from Nigley, Evie at £1,160 and 272.3p. On the 19th August, the same market held a sale of cast cows and bulls. Beef Feeding Cows averaged £1,067.14 and sold to £1,190 gross including a 772kg Simmental from East Kincraigie, Lumphanan. Boning Cows averaged £748.68 (+£140.91) and sold to £945 gross (twice), and firstly for a 642kg Simmental from 8 Skaill, Forss. Bulls averaged £1,177 (+£102) and sold to £1,550 gross for a 1,150kg Simmental from Law Farm, Insch.
In the sale of calves and stirks at Sedgemoor on 21st August, a larger entry than expected saw a continuation of the strong trade. Top price to £1070 x3 (14m) for Pure Simmental steers from R & J Cook.
Through the sale of weaned calves at Frome on 18th August, a very buoyant particularly for the Continental x calves saw good consignments from Mark Peters of Sussex which saw 3mo Simmental steers at £528 and heifers to £420.
At Dingwall on 18th August, Dingwall & Highland Marts Ltd., sold 186 store cattle and 104 adult head of breeding cattle. Bullocks (105) averaged 230.7p and sold to £1,400 gross for a 720kg Simmental cross from 33 Auchintoul, Altass. Cow with male calf at foot (40) sold to £2,750 gross for a Simmental cross cow with a Charolais cross calf at foot from Gorthleck Mains, Inverness. Cow with heifer calf at foot (33) sold to £2,500 gross for a Simmental cross cow with a Charolais cross calf at foot from Gorthleck Mains, Inverness. Cow with twin heifer calves at foot sold to £2,800 gross for a Simmental cross cow with Charolais cross calves at foot.
In a sale of weanling bulls at Shrewsbury Livestock Market on 17th August, the top price and top average went to Simmental X bulls from WG Bebbington & Son which topped at £850 and averaged £814. TB restricted cattle were also a flyer with 16 month old Simmental steers topping the market at £1220 or 244ppk.
At United Auction's sale of 824 store cattle at Stirling on 18th August, out of spec cattle averaged 184.47p to 203.50p per kg for a SimX from Boghall, and to £1270 for a SimX also from Boghall.In a sale of 524 rearing calves on 18th August at Market Drayton, a superb show of quality gave buyers plenty to choose from A strong trade saw Simmentals top the market at £450 for an entry from C.J. Tams, Stafford.
At Craig Wilson's Prime Cattle sale at Ayr on 17th August, 49 Beef Cows peaked at £1480 for a Simmental off Girvan Mains.
At Sedgemoor on 16th August, the UTM & OTM sale saw heifers sold to a top of £1449 for a Simmental (680kg) from THJ Denbee.In the sale of store cattle at Gisburn on 14th August, clean cattle saw a super homebred Simmental from David Moorhouse lead the way when selling for £1395 to regular buyer Andrew Atkinson.
On Saturday 14th August suckler bred bulls from DJ & M Edwards topped the feeding bulls section at Worcester Market with £1,020 for a Simmental X (10 months).
At Aberdeen & Northern Marts sale of cast cows and bulls on 12th August, Beef Feeding Cows averaged £1,083.68 and sold to £1,245 for a 668kg Simmental Cross from Colligarth, Sanday. Dunn Farm, Watten sold a SimX at £1,230. On the same day at a sale of prime cattle the heifer trade was led by Honeybank with Sim x at £1,421.20. At a further sale held for Orkney consignors, the beef cow trade was led at 215.9p per kg for a 514kg Simmental from P & F Ross, Lenahowe, Sandwick. Prime Cattle sold to £1,393.75 gross for a 625kg Simmental and 235p per kg for a 560kg Simmental from Maesquoy Farms, Harray.
At Huntly, on Thursday 12th August, UA held a store & OTM cattle sale. Some top quality bred cattle were forward meeting a keen demand for both yearlings and forward types. In the heifers, the top gross was £1250 for a pair of 562kg SimX's from Delfur Farms, Rothes. OTMS averaged 142.6p selling to a top of 191.2p per kg for a 570kg Sim from Delfur Farms, Rothes. The top gross in this section was £1260 for a 785kg Sim from Whitehills, Grange.
At H&H's sale of store cattle at St Boswells on 12th August, the heifers per kilo were led by Simmentals from Coxydene at 240.5p.
At Stirling on 11th August, held a sale of store cattle, breeding cattle, cast cows and bulls, and rearing cattle. Beef Cows and Bulls (187) averaged 149.79p to 211.70p per kg for a SimX from Tulloch Farms. In the rearing cattle, the sale was topped at £665 for a SimX bull from M/s Hair, Kilbride. Another strong show of beef stirks was met with a sturdy trade throughout with the leading price being Lochside (SimX) £600.
At Carlisle on 11th August, a very good show of 505 store cattle forward at Borderways saw an absolute flyer of a trade where well fleshed cattle were the easiest to sell on the day. The Crichton family of Rottington Hall, Whitehaven featured in the top end prices with Simmental crosses at £1510. In the weaned cattle Simmental bulls reached heights of £1185 and £1110 from McColm and Brewis, Awhirk Farm.
On Monday 9th August 2021, Caledonian Marts Ltd at Stirling had forward 414 Store Cattle at their fortnightly sale. Heifers averaged 218ppkg selling to 254ppkg for a pen of Simmentals from Inshanks, Stranraer.
At H&H's Prime Cattle sale held on 9th August at Carlisle, heifers were a flyer of a trade with a days top of £1761.18 achieved by Messrs Goldie, Newbie Mains, Annan with a Simmental purchased by Eric Hall.
Calves and Stirks met a firm trade with a keen demand for continental types at Gaerwen Livestock Market, Anglesey on 9th August. Female stirks topped at £450 for Simmentals from B Griffiths, Garth Fawr.
At the store cattle sale held at Selby market on 7th August, all classes were in demand. Top price store beast on the day was the pick of a great pen of Simmental bulls from WJ Hollingsworth, Midhope Hall Farm, Sheffield selling at £1405. Further bulls from the Hollingsworths sold for £1335,£1305,£1300.
At Thainstone on 6th August, Aberdeen and Northern Marts sold 1,150 Store Cattle, Young Bulls and Young and Weaned Calves. Bullocks (502) sold to £1,600 gross for a 738kg Simmental cross from Wallfield, Lochhills. Heifers (437) averaged 239.8p and sold to 328.7p per kg and £1,880 gross for a 572kg Simmental Cross from Gladhill, Garmouth. In the young and weaned calves a great show of cattle forward met a brisk demand especially forward condition cattle with an outstanding red and white Simmental Cross heifer, scaling 572kg from Messrs Smith, Gladhill, Garmouth topping the sale at £1,880.
Hexham & Northern Marts at their weekly store sale on 6th August saw cattle at 11-16 months led by Simmental x steers at £1030 from Hedley West.
In the sale of calves and stirks on 6th August at NWA's Lancaster Auction Mart, Simmental bull calves sold to a top of £3335 for a Simmental X from JR Newsham & Son.
In a sale of Beef Cows at Truro Livestock Market on 4th August, Simmental x's led the way to 164p (740kg) for Messrs R M & S J Jones of Breage, Helston.On 4th August at United Auctions Stirling market's store sale, out of spec cattle averaged 225.55p to 233.90p per kg for a SimX from Wellees, and to £1310 for a Sim from Wellees.
If you have any snippets of Simmentals performing well at markets around the UK then please forward them to information@britishsimmental.co.uk We'd be very happy to include them in future Simmental Market Briefs.